I did a thing and signed up for my very FIRST #oneroomchallenge just now!
After seeing @katiesaro post that on a whim late last night she signed up I thought what the heck I will do the same!
My happy place is definitely my home. I look forward to having projects going and love the design stage. So what better time or reason to spruce up another room in our home.
I would normally shy away from a challenge like this as I definitely subscribe to slow design. And not in the romantic sense of the word that I take my time and make everything super intentional. I do, but let's be honest it's slow design because kids, life, all the above slow it down. So I'm excited to have an end date for this project and motivation to keep it moving.
The room I chose is our master bedroom. It seems to always be the neglected room of the house. Our second and last baby has officially been in his own room for a couple months so there is no longer a bassinet or changing table in our bedroom and it's time to give it a refresh. My plan is to go for a moody but still minimal vibe. I love the look of low lit rooms that create some mood and drama. Since I like to keep most of the house light and bright, this will be a good room to experiment with. I'm hoping to play around with deep wood tones, high contrast, minimal furniture and an eclectic and artistic feel with the artwork and decor. This will be a big pivot from the light and brightness of the room now.
The current state of the room…..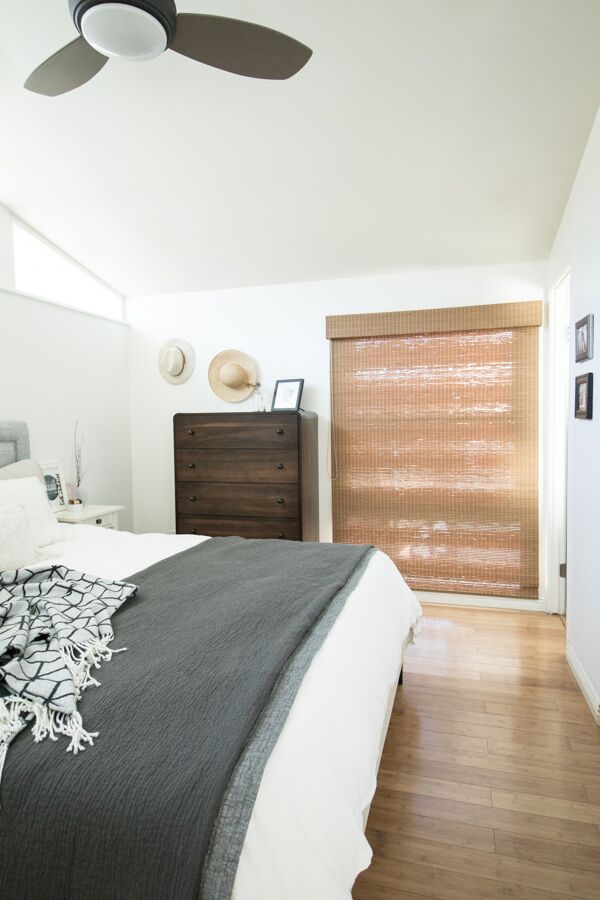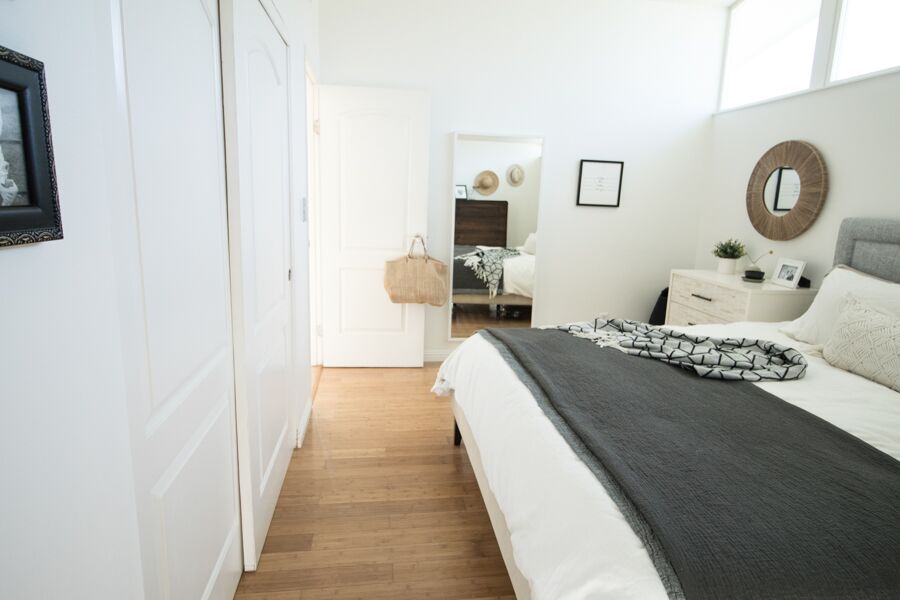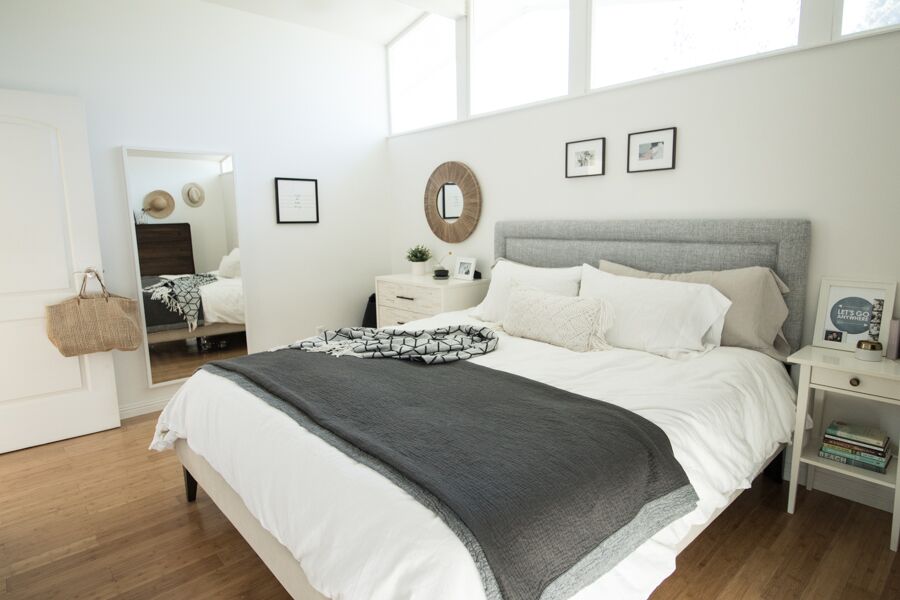 Right now it's pretty much a blank canvas. White walls, not much artwork, we've already removed the closet doors. I love the windows but I have considered extending the wall treatment up to include a bit of covering for them. Still brainstorming that one. I want to change the feel of the room drastically so toning down some of the light from the clear story windows may be the option.
Here is a little idea of what is to come…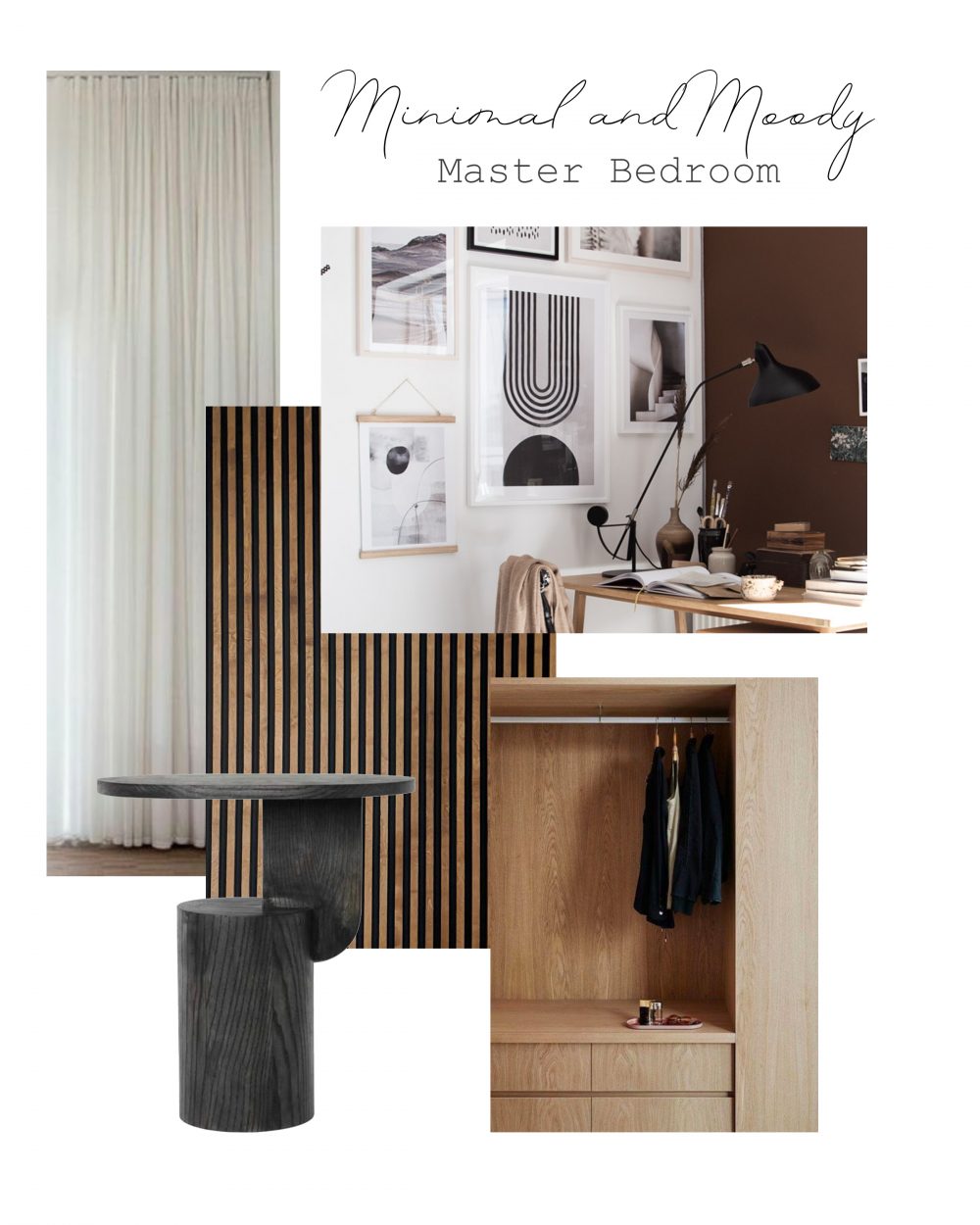 This may adjust a bit as I have only had a few hours to pull together my ideas. I would like to replace the window wall with full length curtains across the entire width. I plan to do a wood treatment along the headboard wall, an art gallery wall on the current mirror wall and depending on budget built in storage and closet doors. I will update a plan break down by week next post.
Just wanted to share a quick inspiration and plan to get started, can't wait to share more!
If you want to learn more about the #oneroomchallenge and see the other designers and guest participants head over to https://www.oneroomchallenge.com/orc-blog I am in great company.