It's a happy day around here as I have some progress on my new studio! It's now a blank canvas that I already feel inspired to be in. The power of paint never ceases to amaze me.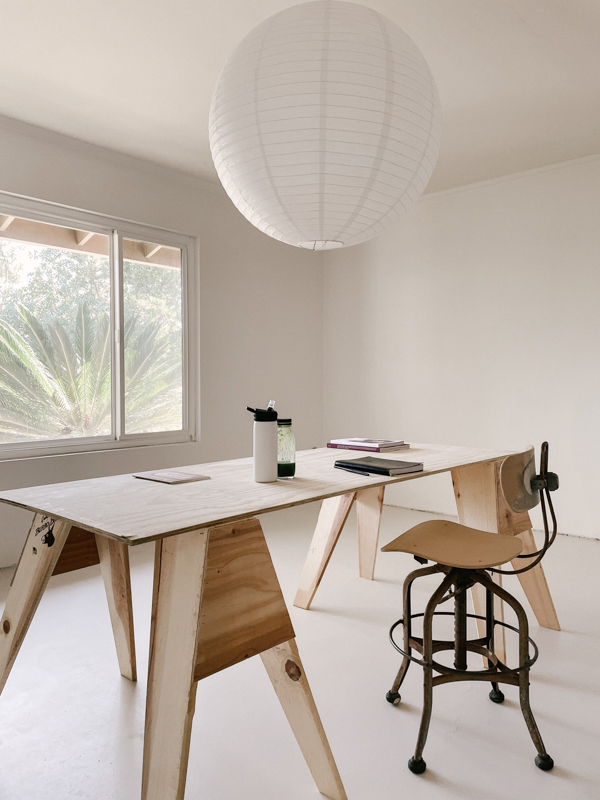 In my last post I shared the design plan and the room I decided to turn into my new workspace.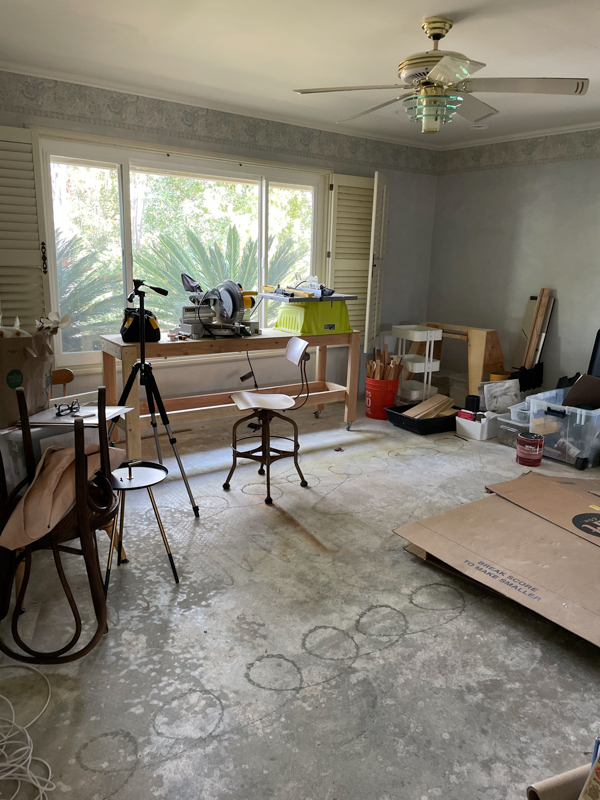 The room is the main bedroom in the house that we are slowly renovating. Since this bedroom and attached bath are going to be the last to get a gut renovation, we decided it would make the perfect creative studio for the time being. Especially as I was currently between places and as you can see has been a dumping ground for tools and supplies.
The past few weeks were all about demo and paint. To start with the wallpaper border had to go.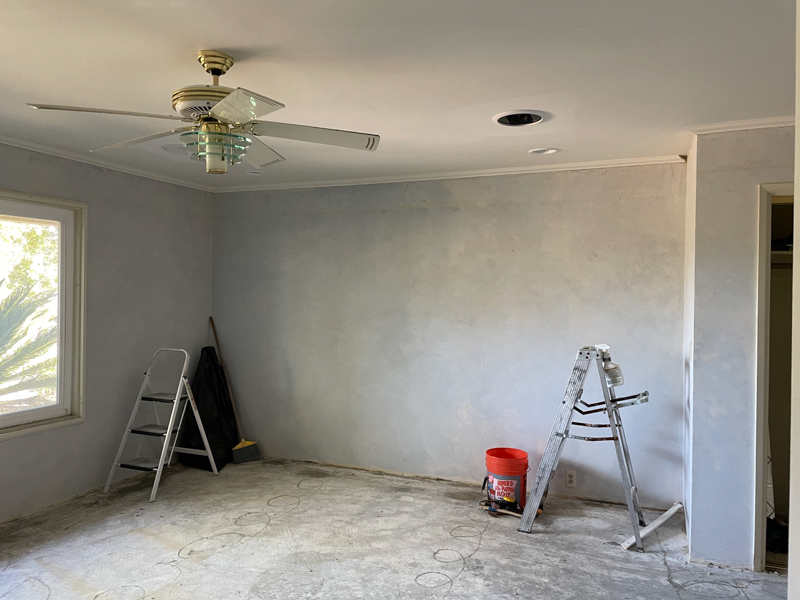 Removing wallpaper is tedious and shoulder breaking work I wish upon no one. I am already reconsidering how I'm going to tackle the 4 more rooms of wallpaper in the house. There really is no easy way to remove. Saturate, saturate, saturate, and get to scraping. But it really is so satisfying once it's gone.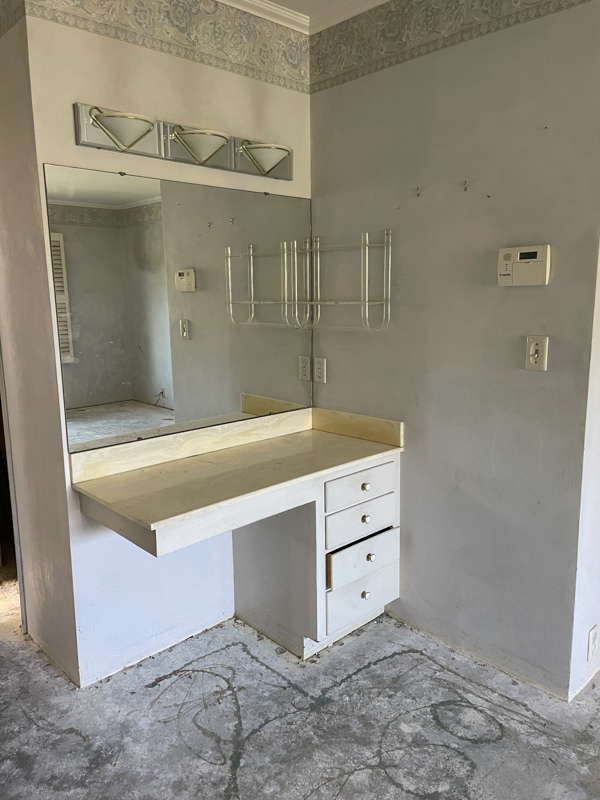 We removed the original 60's vanity saving the mirror, light fixture, and knobs as they could be used down the road in another way. I always try and repurpose what I can.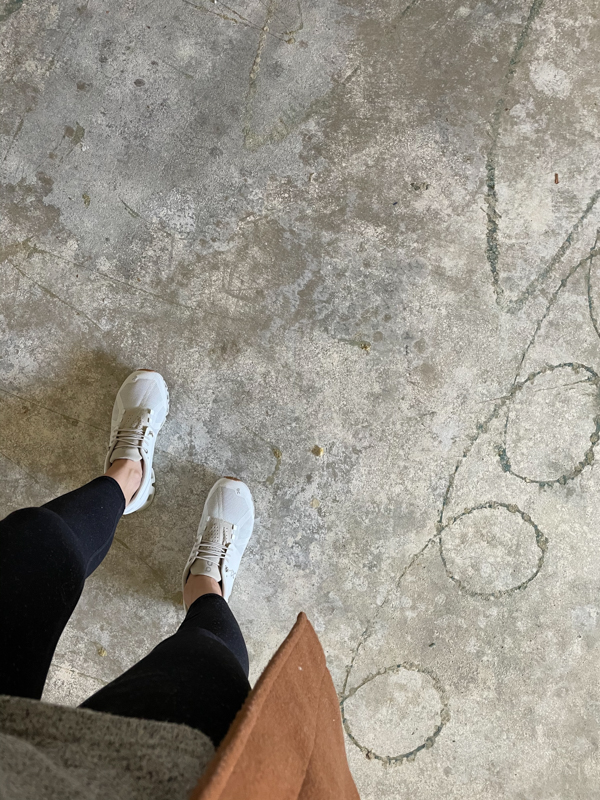 After removing carpet you're left with glue, paint over spray, and holes from the tack strips. Since this is a phase 1 refresh I wanted to keep the cost down. A nice budget friendly option is painting the floor.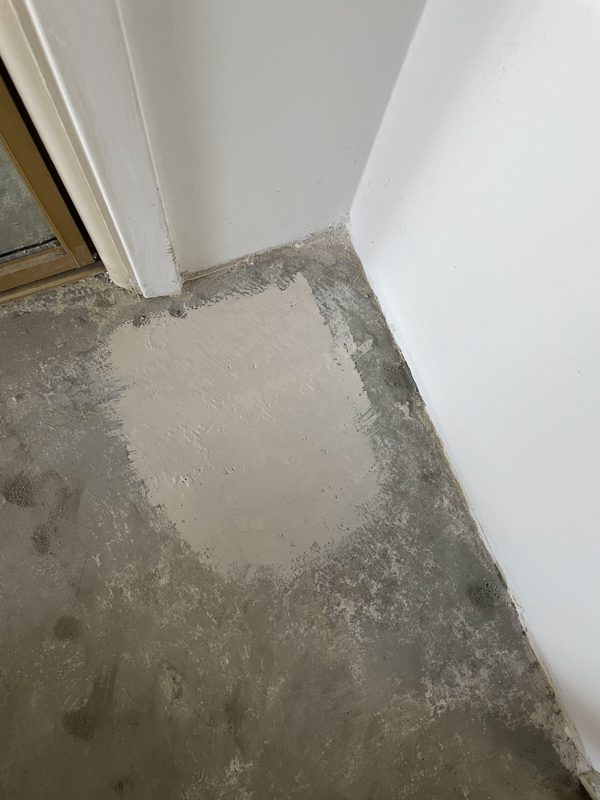 The glue was scraped up, holes filled with quickcrete, and cleaned very well to remove all dust. I found many tutorials on how to paint concrete floors and found this detailed one helpful.
I tested the color and adhesion before painting one coat of concrete and masonry bonding primer, letting that dry 4 hours then 3 light coats of Behr Porch and Patio Paint in White Cloud. Letting dry between each coat.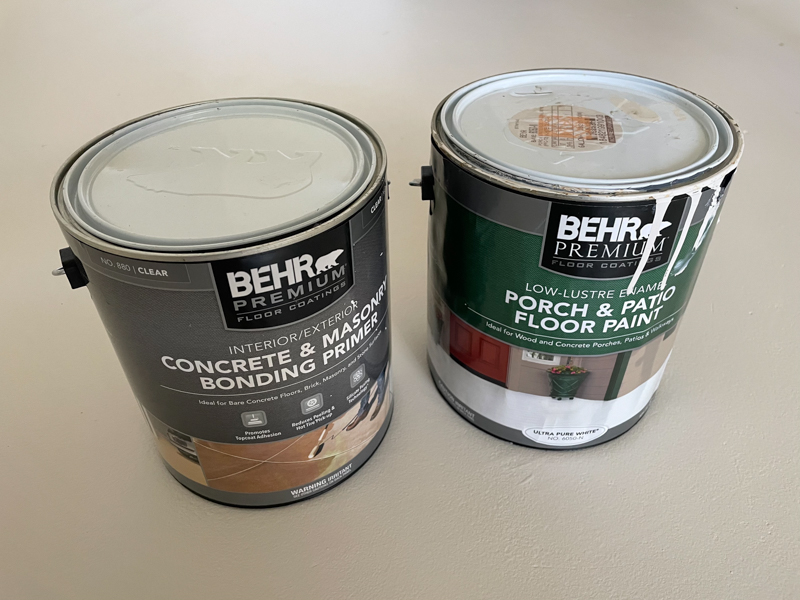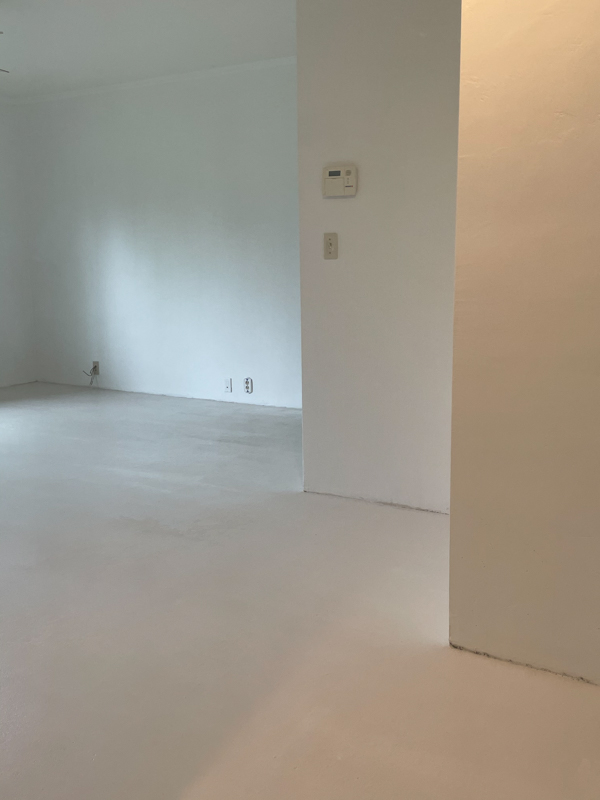 I could see this being a great option is a garage and laundry room as well. It gives a clean and fresh look. I didn't go too crazy with smoothing the floor out beforehand and I'm still happy with the results.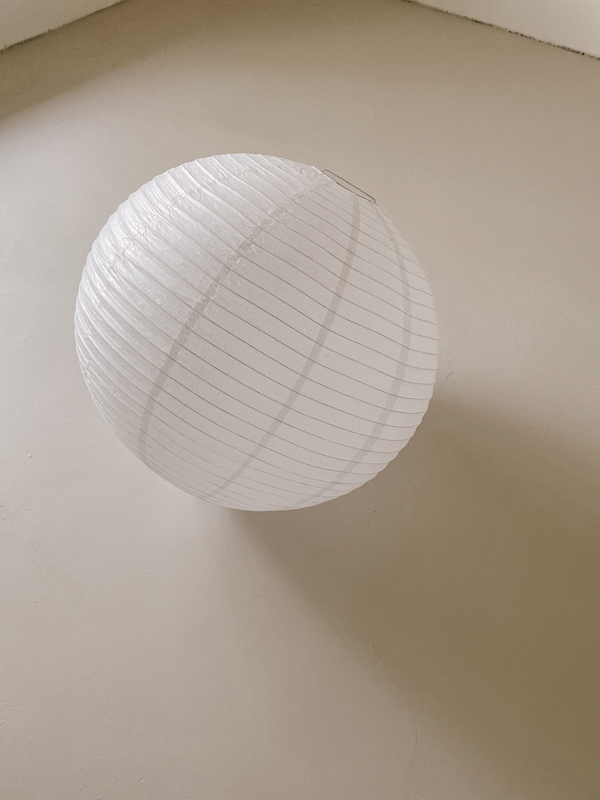 Next replacing that ceiling fan was a must! I purchased a simple white pendant light and a 30″ paper lantern spending around $40, it made this Noguchi inspired light such a steal! I love it.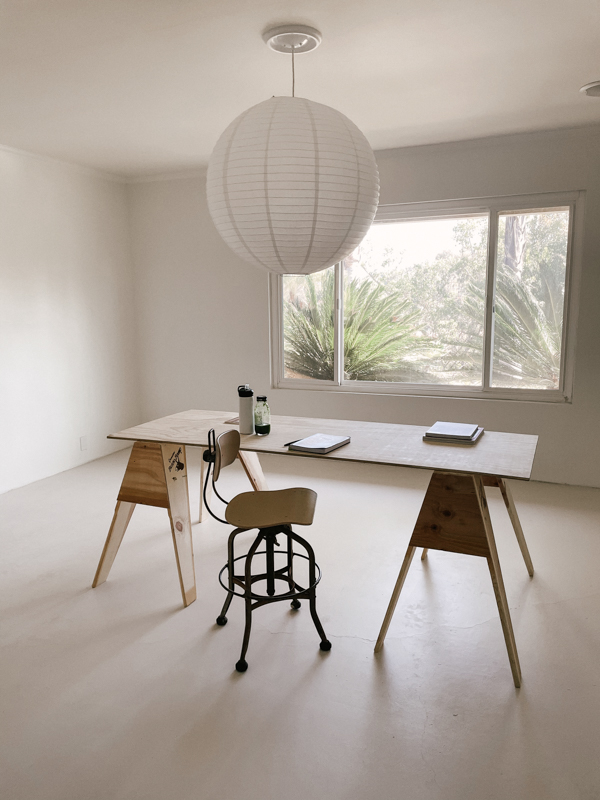 I was so excited about the fresh space I set up a temporary work desk and started enjoying working in my new studio. A proper worktable and some storage are next on the list.
I also have plans to add a hand painted mural to the floor. I was thinking something terrazzo like in an earthy palette.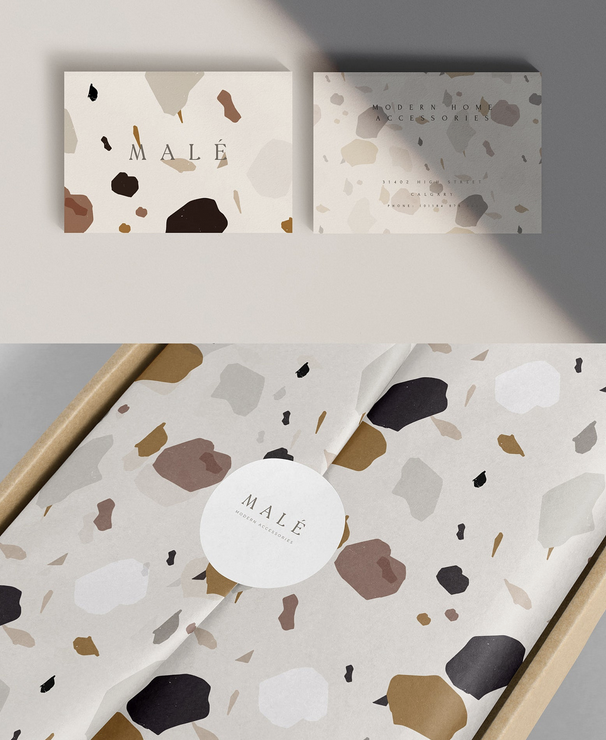 But, I came across this and love it! I also think some larger scale organic shapes will be much easier to create and a nice way to add visual interest to the floor. I may still wait a bit as at the moment I'm enjoying the freshly painted vibe of the room in it's current state.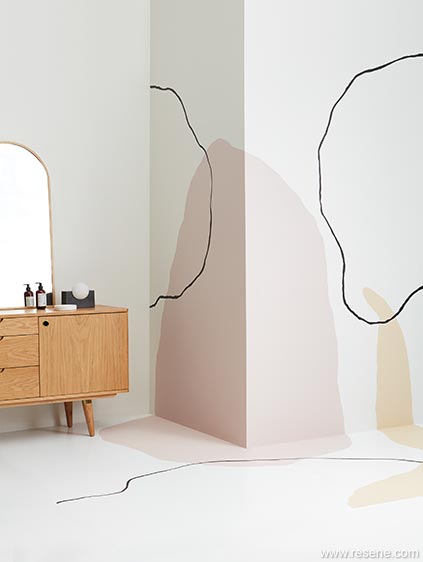 so, what do you think…floor mural or not?
Till next time!