Well I did it again! I signed up as a guest for the Fall One Room Challenge after completing my first one in Spring making over our master bedroom. It was a great way to stay motivated during the stay at home order, be part of a community (albeit virtually), and do what I love. I am so excited to be involved again!
If you are not familiar the One Room Challenge it is a biannual event happening in Spring and Fall. It was started by Linda Weinstein as a way to challenge herself and her friends to complete a design of just one room. Since then, Linda has partnered with Better Homes & Gardens and other collaborative sponsors to create what is now a highly-anticipated design event in its 18th season.
The challenge is a lot of fun and a great way to channel my design energy into something that will actually get finished. This one is extra exciting as we JUST BOUGHT ANOTHER HOUSE! It's a 1968 mid century ranch that the owners lived in for 46 years. Can you imagine!? It's full of history and has so many fun 60's elements to it that I want to freshen up but preserve.
With all these new spaces that need updating it was hard to pick just one BUT after taking a poll on Instagram I finally landed on this room that I call The Lounge…complete with it's own wet bar.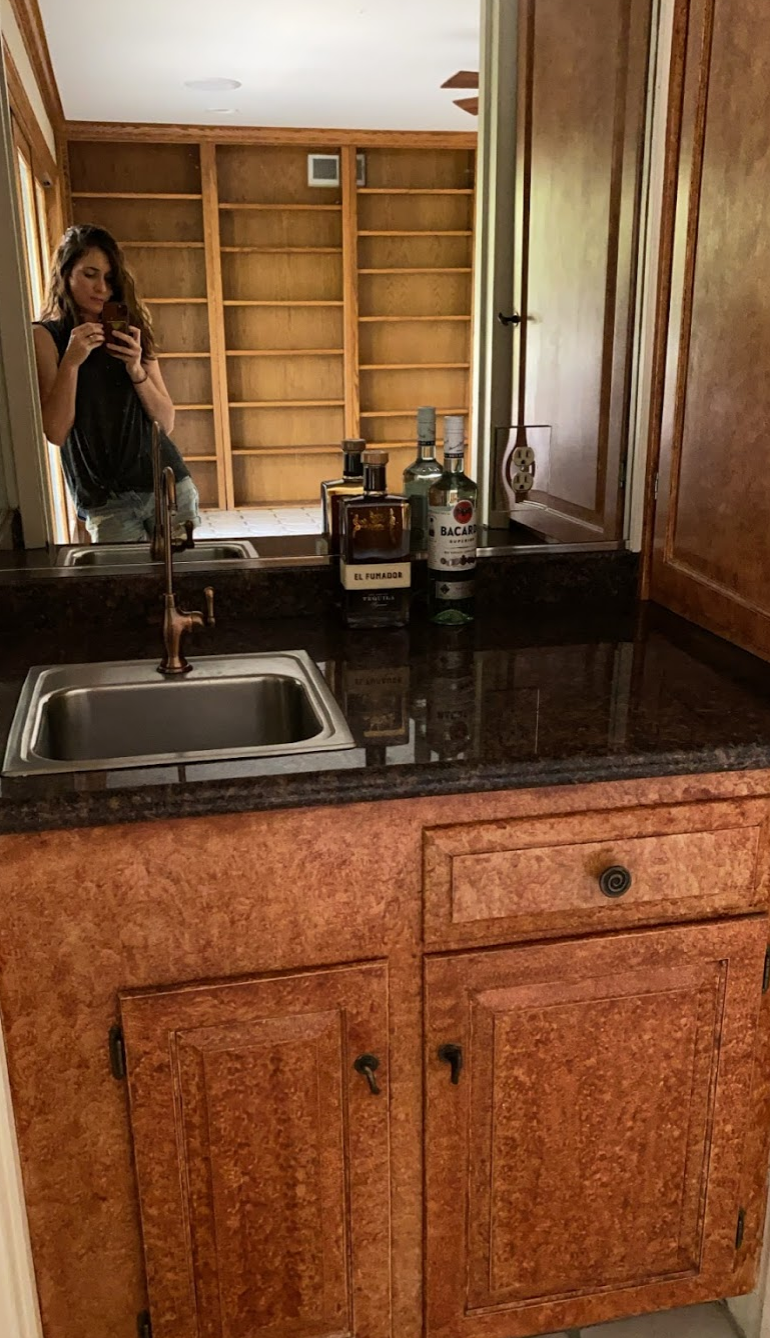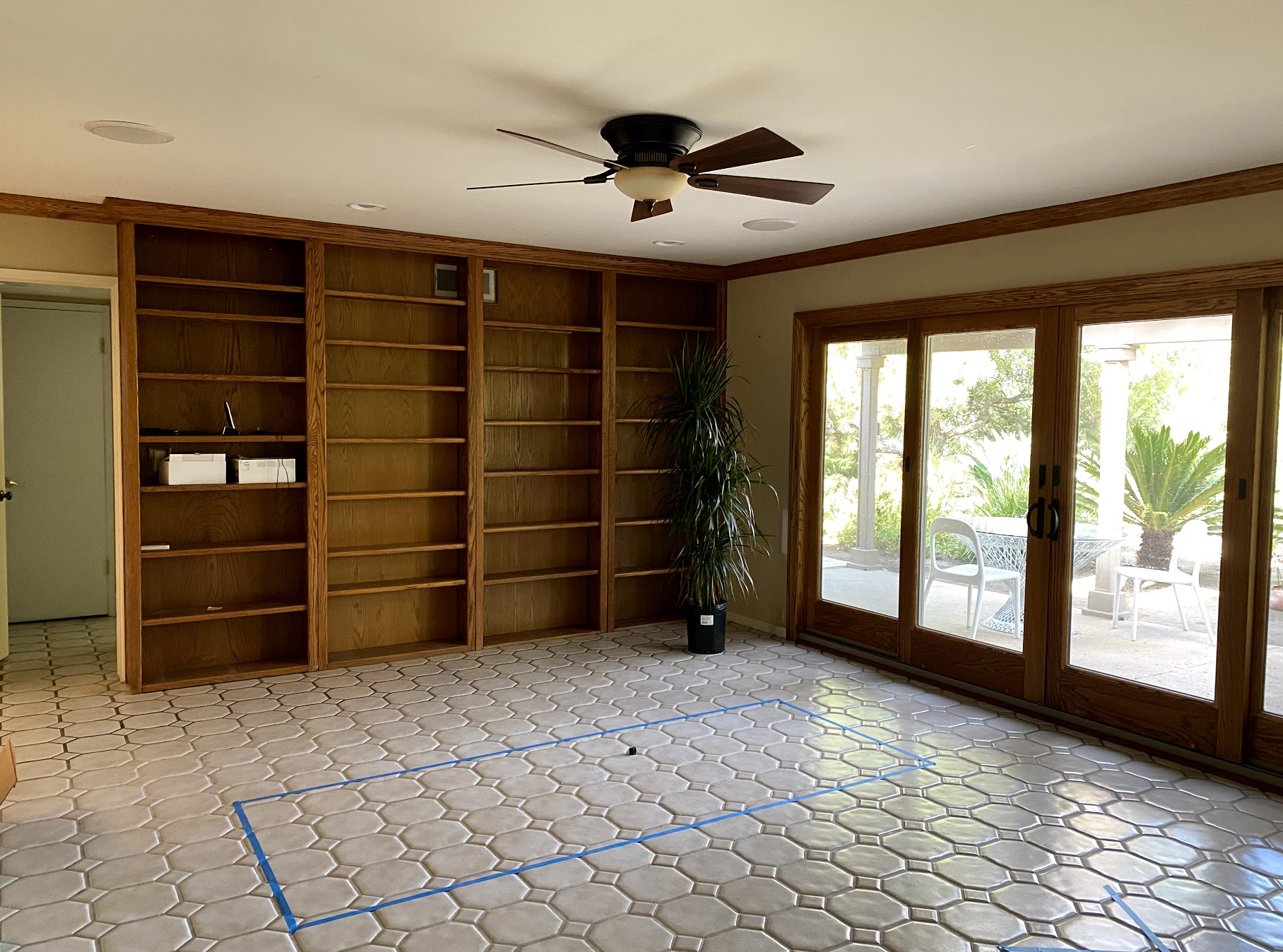 The room is in the center of the house and opens into the kitchen and has sliding doors to the outside. The gas fireplace is double sided, it has a functioning wet bar, and one thing I love that is still in tact is the layout. I am so used to homes with a wide open floor plan that there is a bit of charm to the individual rooms. There are doors closing off this space and I can just picture the cocktails and conversations that went on in here after dinners.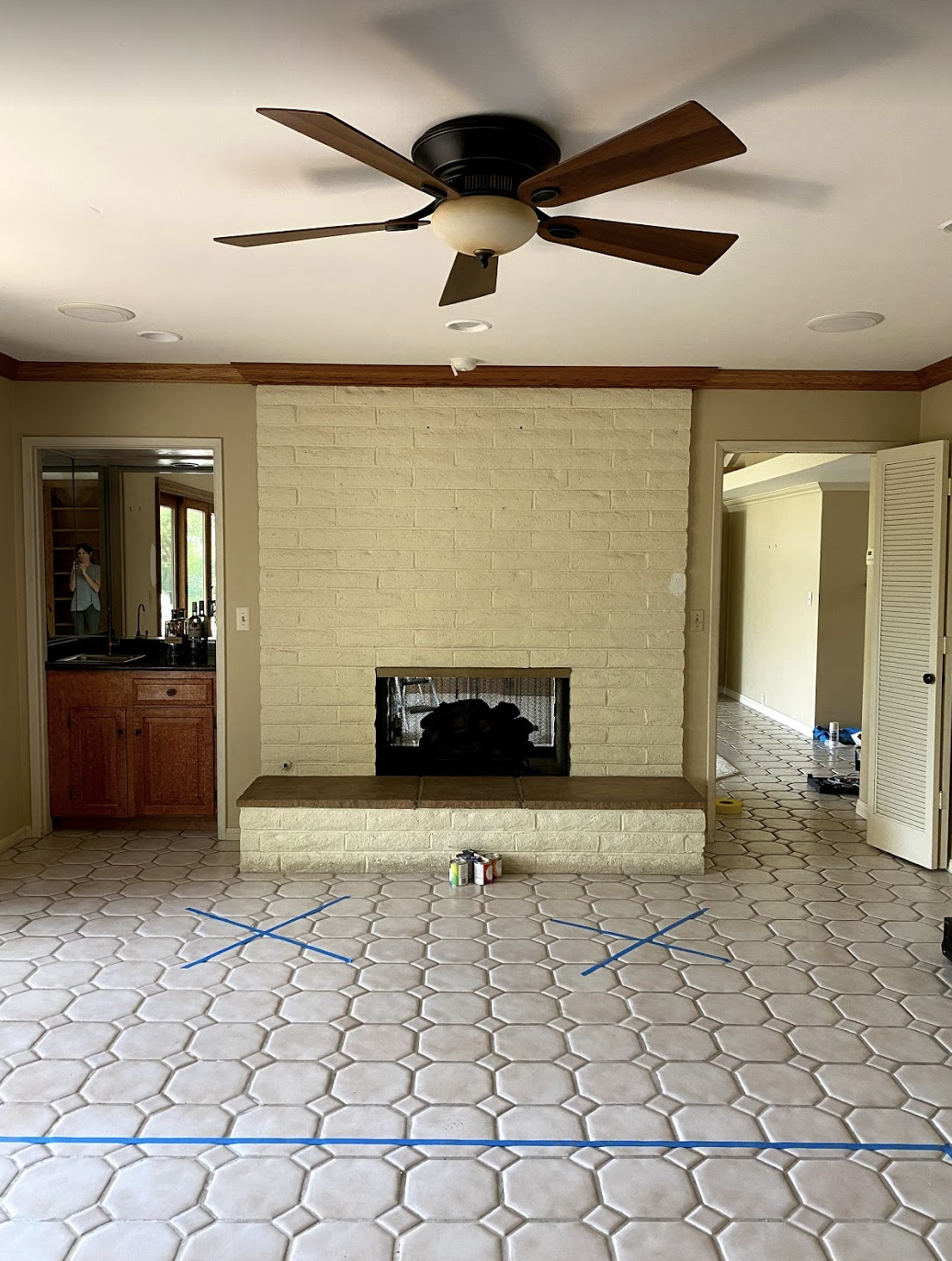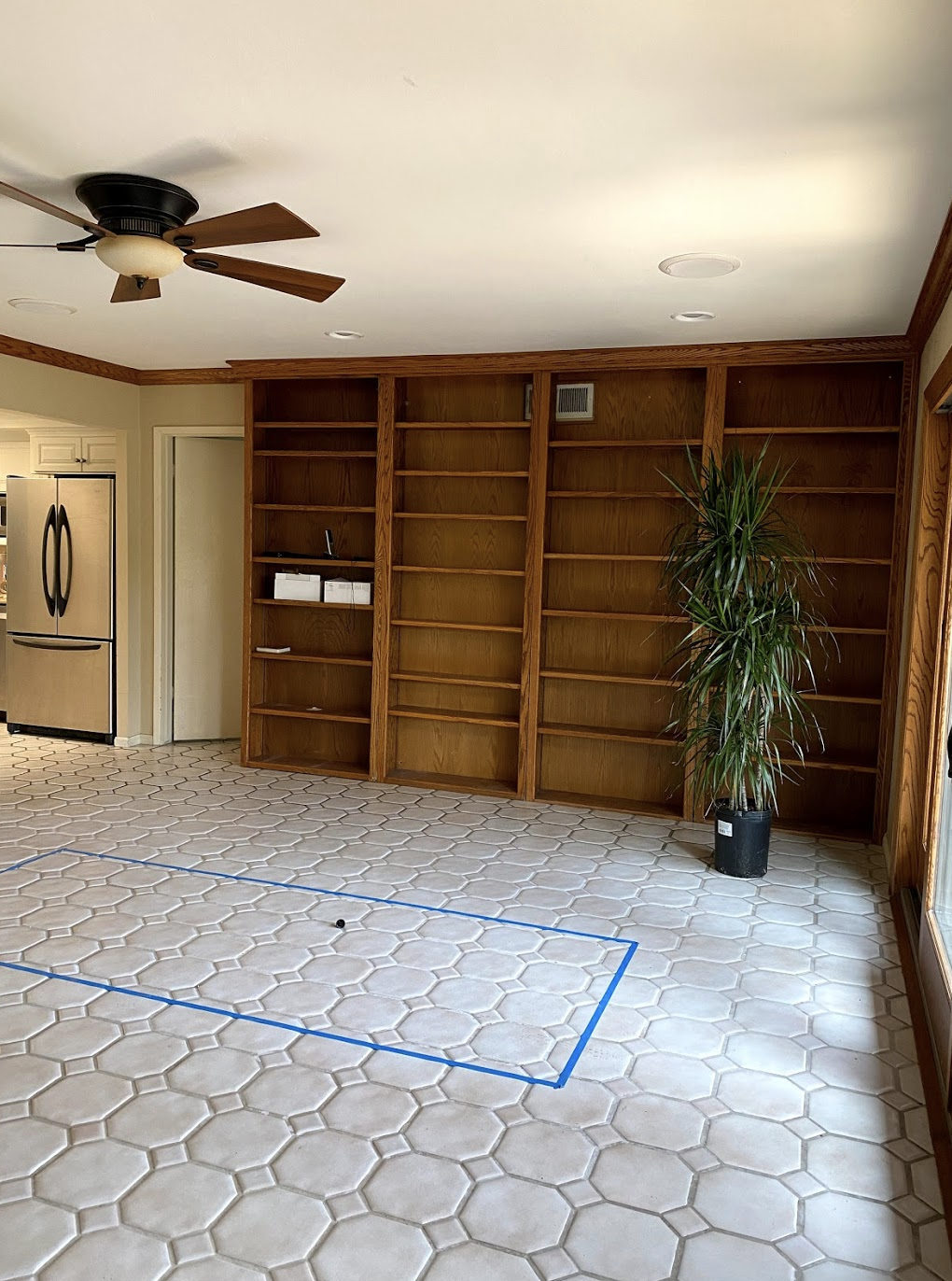 Here is how it looked BEFORE we moved in…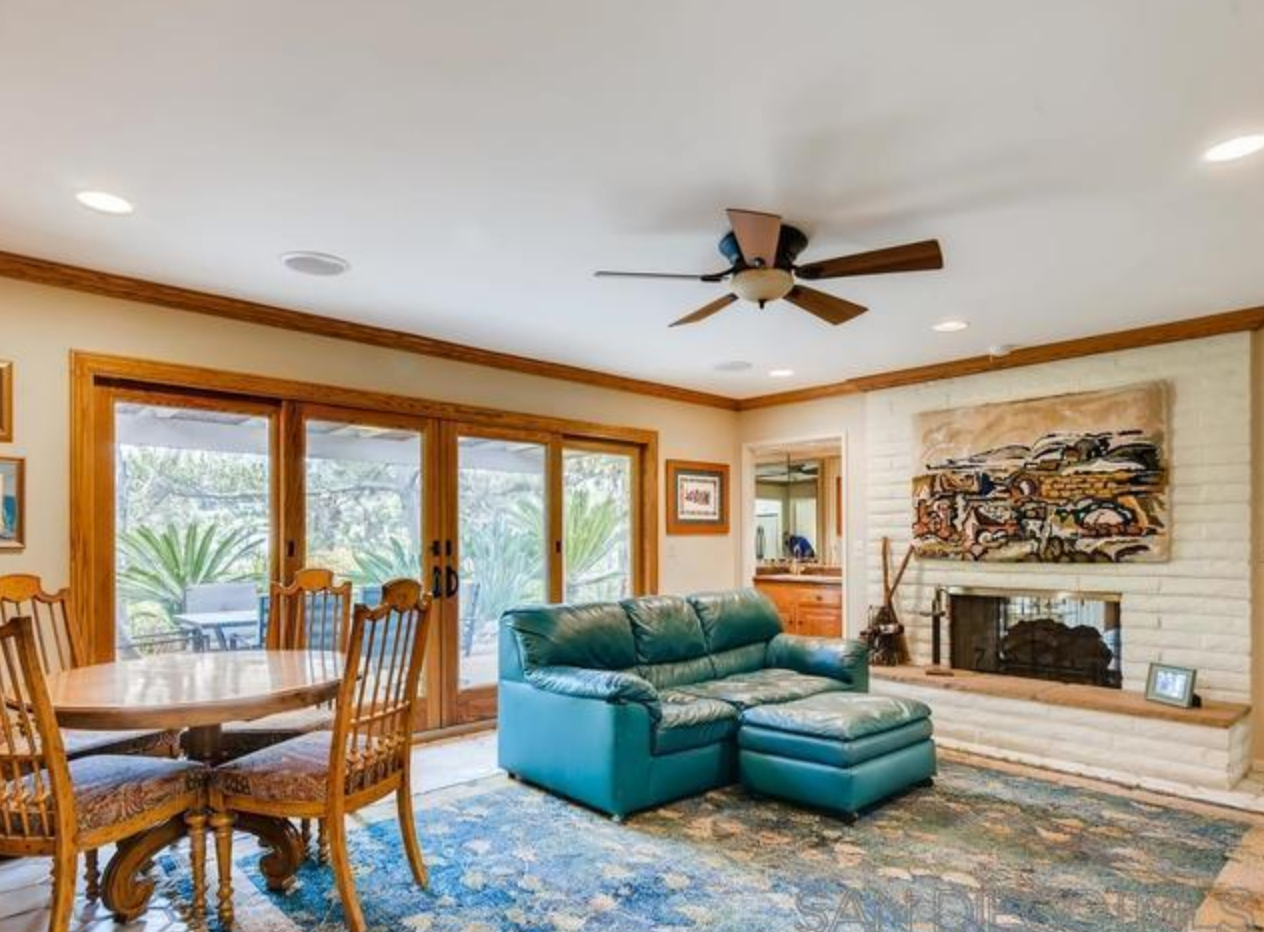 The Design Plan:
My plan for the room is to create a conversation area and a cozy but swanky lounge vibe. As far as demo I will be removing the crown molding to honor the architecture of the home better but plan to keep the built in bookshelves. They will make for some good styling moments. Surprisingly I like the tile floors and plan to keep them through the phase 1 reno of the whole house. They are in good shape except for some stained grout in the kitchen and some of the lounge which I plan to remedy at a later date. It will be a nice neutral floor for this challenge.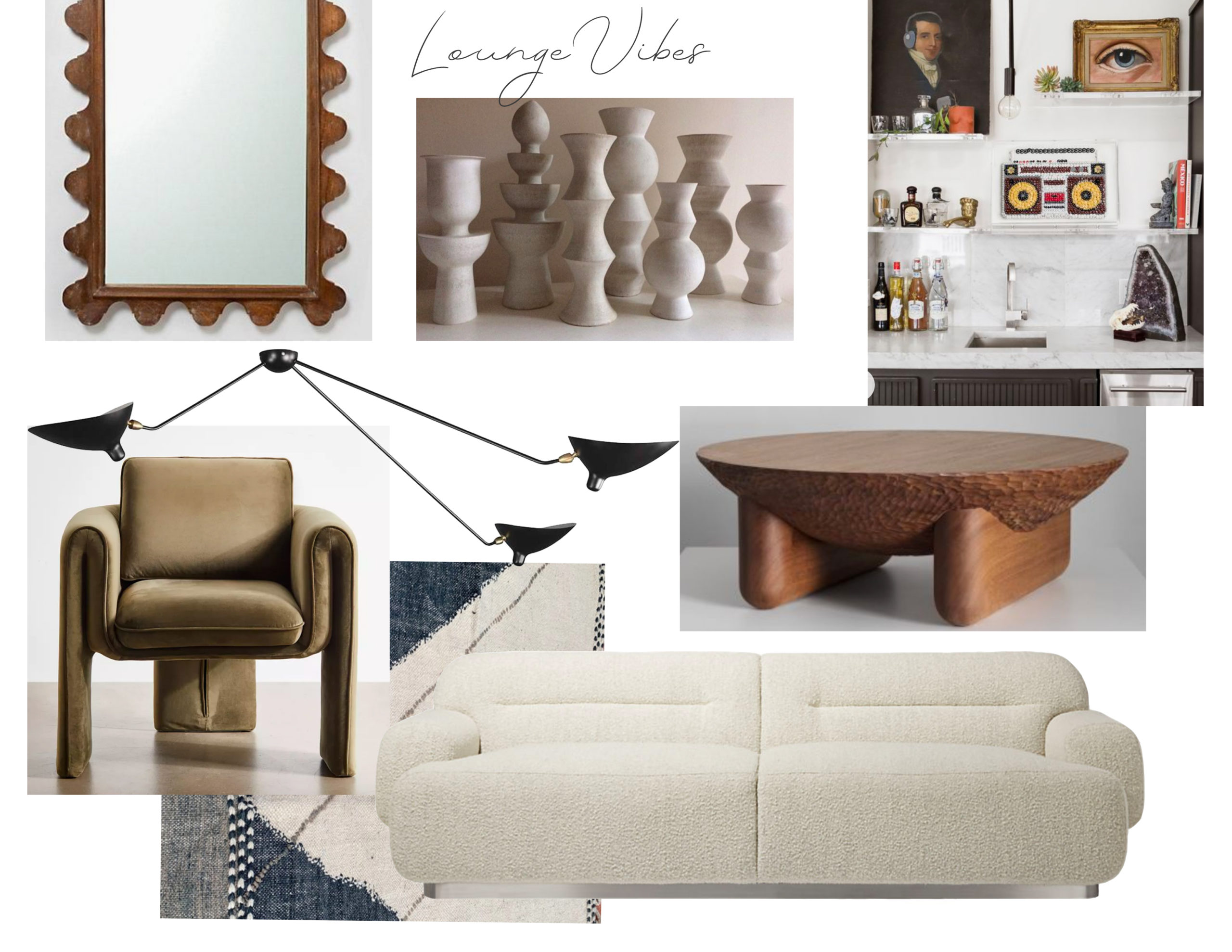 The room will get a fresh coat of white paint because the lack of light is my only complaint. There is way too much warm wood going on so all will get painted except the doors. I'm hoping they won't be as orange once the room is painted. The wet bar is getting it's own mini makeover with some paint, lighting, shelving, and styling. I am very into the new post modern movement and plan to incorporate some furniture pieces and accessories to play up that vibe. Think sculptural tables, lots of curves, and a touch of quirkiness.
Covid has still made a mess of ordering anything online so I did place an order for a sofa and a pair of chairs but plan to thrift, build, or reuse as much as I can to limit the lead times.
On the To Do List:
1. Remove crown moulding
2. Patch, Primer, and Paint walls and ceilings
3. Install new moulding along bookshelves
4. Primer and Paint bookshelves
5. Build out a deeper shelf for record player
6. Paint wet bar cabinets and replace hardware
7. Install new lighting
8. Build out wet bar shelving
9. Build a coffee table and mirror
10. Style bookshelves with art and decor
You would think I had learned my lesson from the slat wall project that I shouldn't overload myself with builds and that 6 weeks flies by! But nope….here we go, wish me luck!
I hope you are excited to follow along in the coming weeks. I will also be sharing weekly progress and more in video here and here.
And if you want to see the full Minimal and Moody Master Bedroom Reveal from my first One Room Challenge…check that out below.
Lastly, to learn more about the #oneroomchallenge and see the other designers and guest participants head over to https://www.oneroomchallenge.com/orc-blog I am in great company.
See ya next week!
Jennie