Well it was the first official week working on the Fall One Room Challenge. If you missed the room I chose and am in the midst of transforming, check out Week 1 and the design plan here.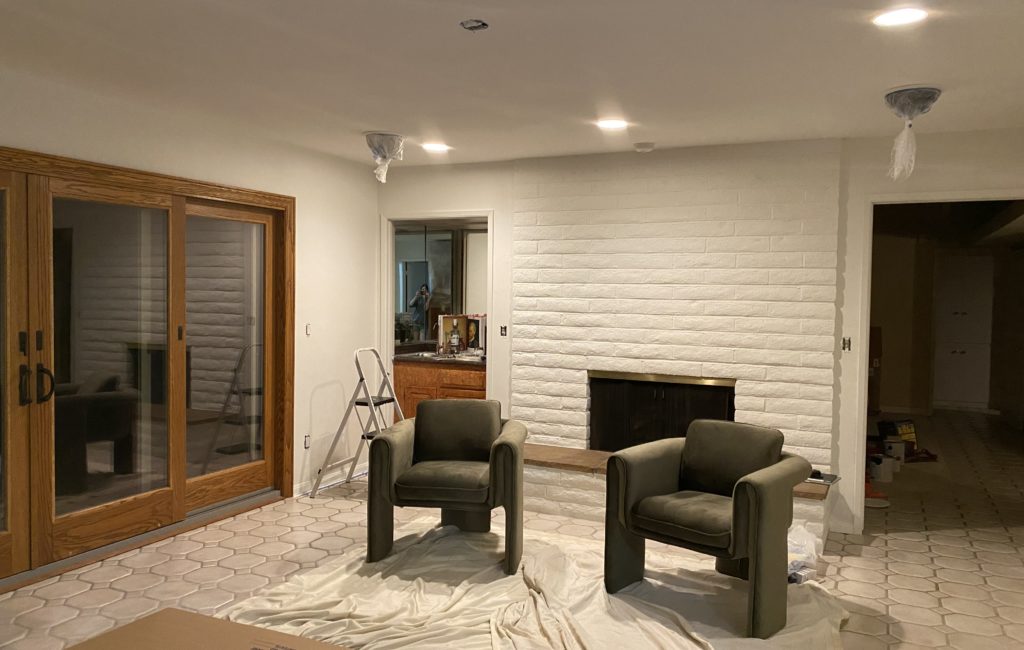 This week was all about demo,  prepping the walls, and paint. A lot of white paint specifically.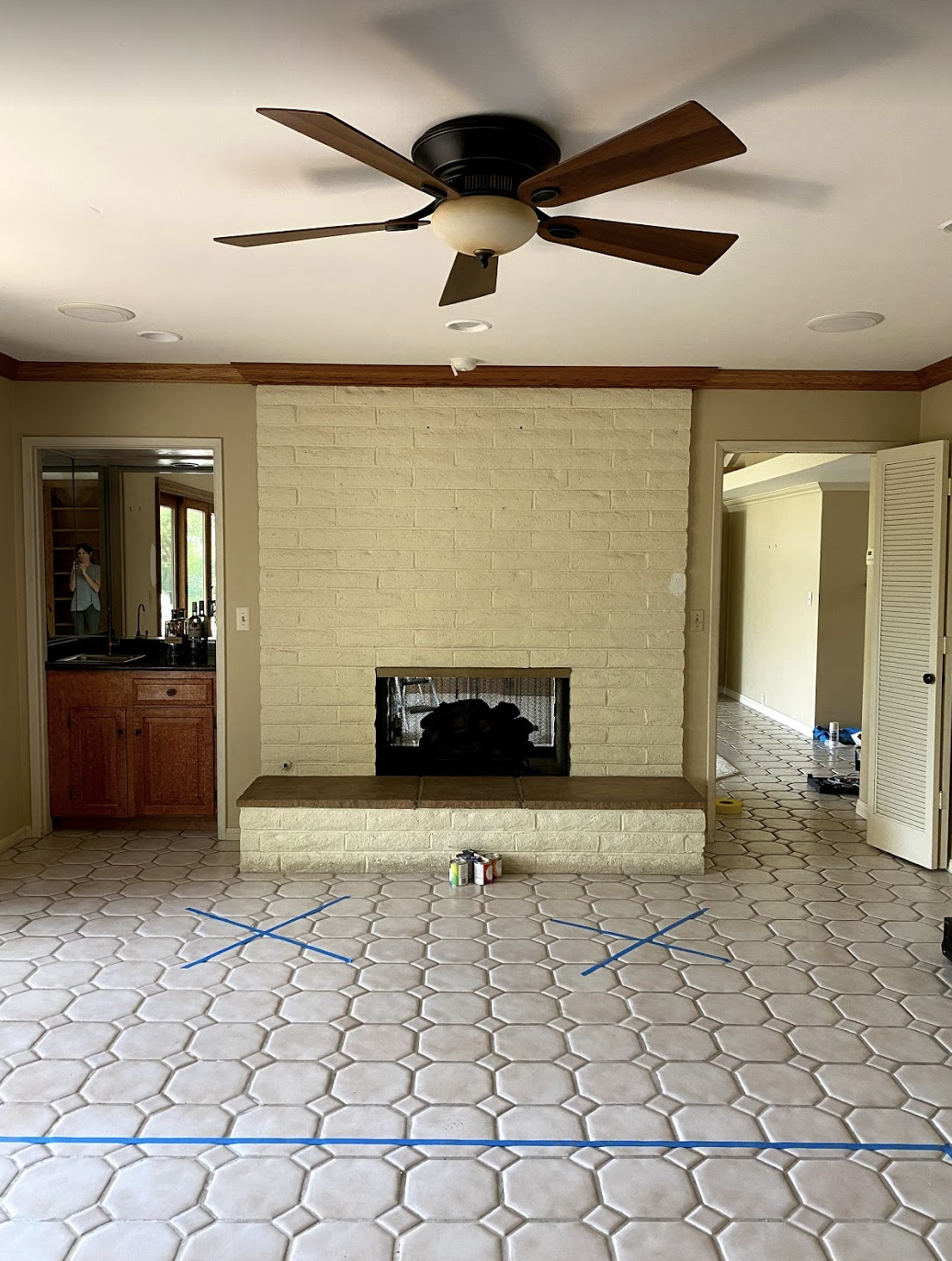 First thing that had to go was the oak crown molding. It was doing nothing for the style of the house and height of the ceilings. Instantly with it removed the room felt taller and less cluttered.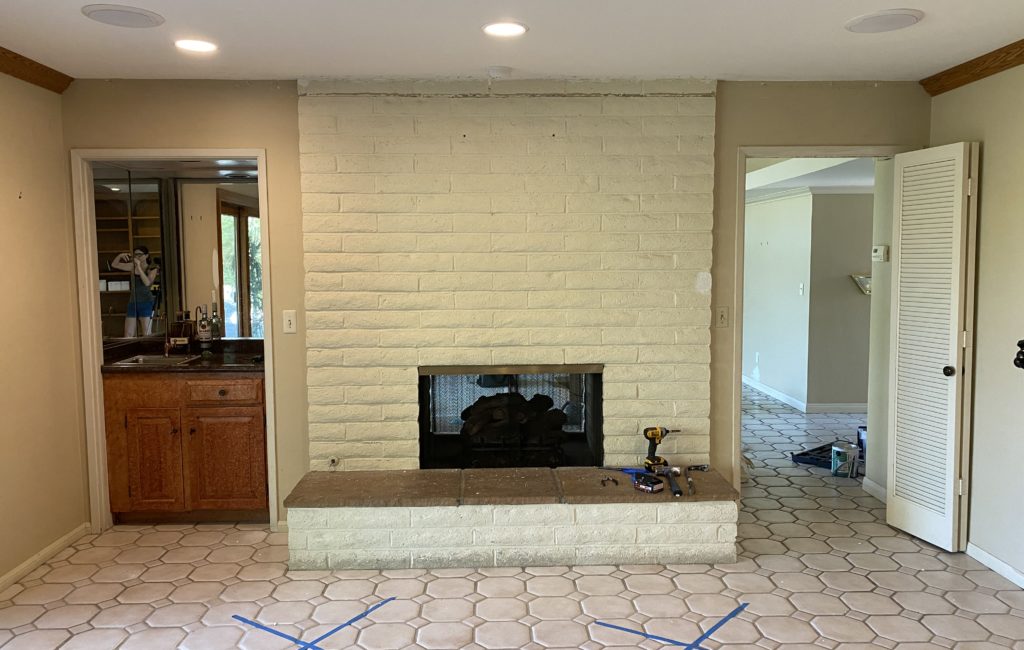 There was a lot of wall repair and patch work left after removing the crown molding. The installers had used backer blocks with a handful of 2″ long framing nails every 6 inches or so. After a few attempts my husband figured out screwing a screw into the block and removing it like a nail with a hammer created the least amount of damage to the drywall. Then it was my turn to patch and repair the walls and ceilings and start prepping for paint.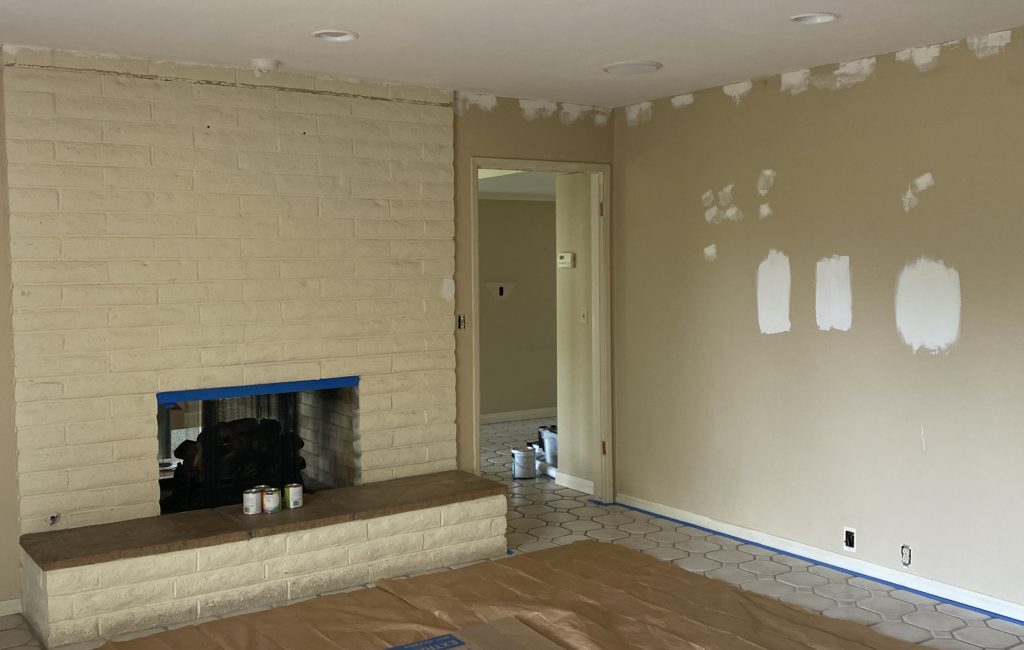 Picking out white paint isn't always as easy as grabbing a can of white off the shelf and slapping it on the walls. Not only are there a plethora of colors to choose from but light and undertones to consider. I knew I wanted this room a creamy white but the challenge was the room is super dark for most of the day. We have plans to take down a wall that would let more in but until then I didn't want to white to look dingy and grey in the corners which is common when painting a dark room with the wrong white. I also wanted to compliment and tone down some of the pink and beige undertones from the original tile that was staying. My go to crisp and modern whites looked too stark with the tile and the low light.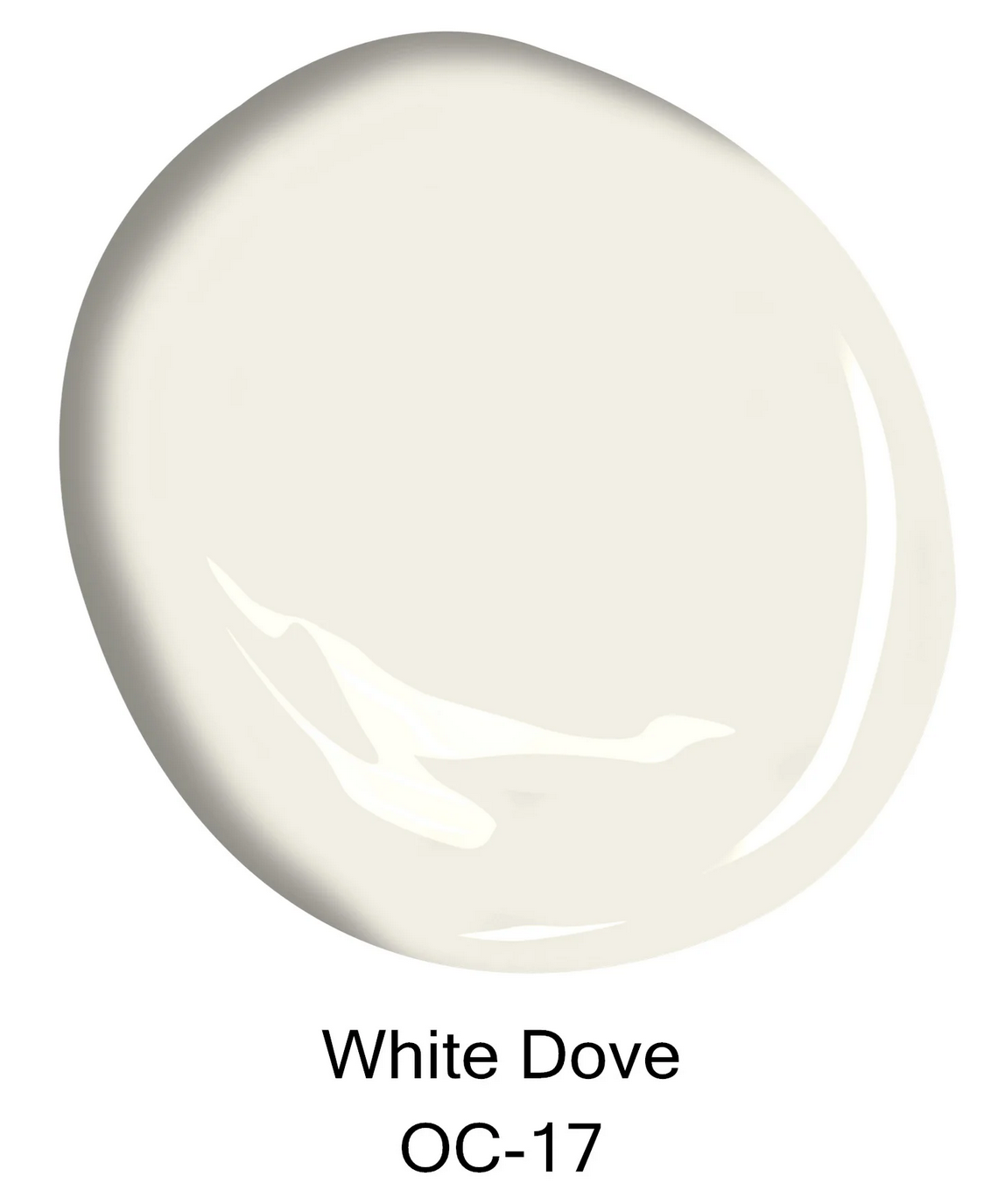 So I tested a few warmer whites like Benjamin Moore Cloud White and BM White Dove and ultimately decided on White Dove for it's creaminess. Next to the yellowish color that was in the room already it pops a bright creamy white. When I tested a patch over primer it showed much more yellow and had me worried that it would be too yellow. Exactly why you always want to patch test over primer and give it a few days to see all the lighting throughout the day.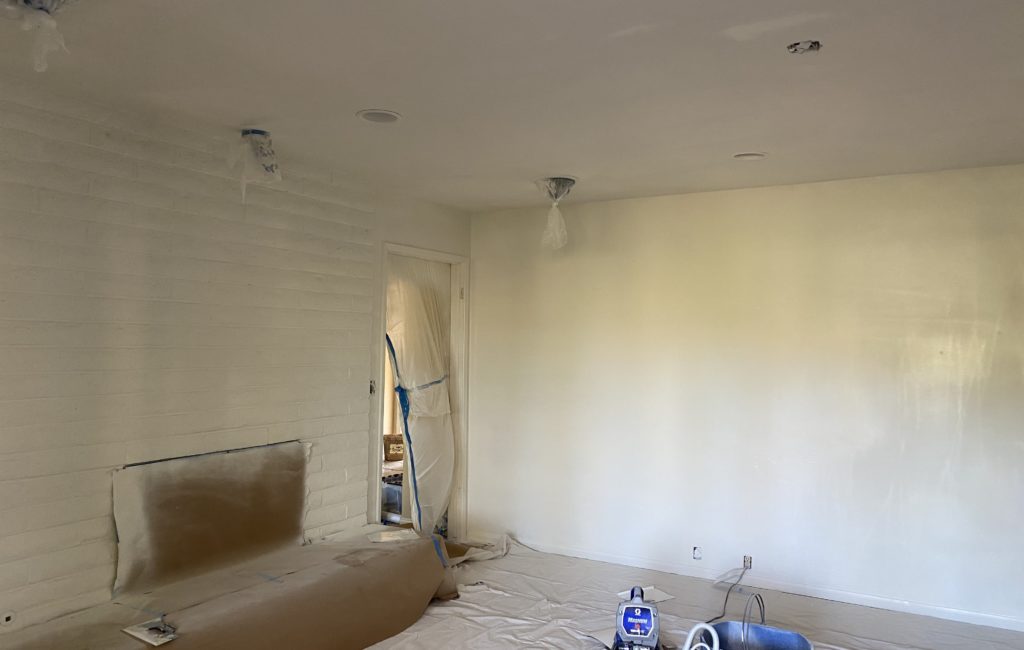 Ultimately I stuck with White Dove and used it in flat on the ceiling and fireplace and eggshell on the walls and bookshelf. I tested out using a sprayer for the whole room. Which jury is still out if I save time with that as there was alot of preparing the room to be sprayed. Covering the 3 openings, sliding doors, flooring, etc. I think I prefer rolling walls but the sprayer works wonders on shelving, cabinetry and the fireplace with all it's nooks and crannies. I don't think I prefer either for ceilings. I just really hate painting ceilings in general but I sure love a freshly painted room.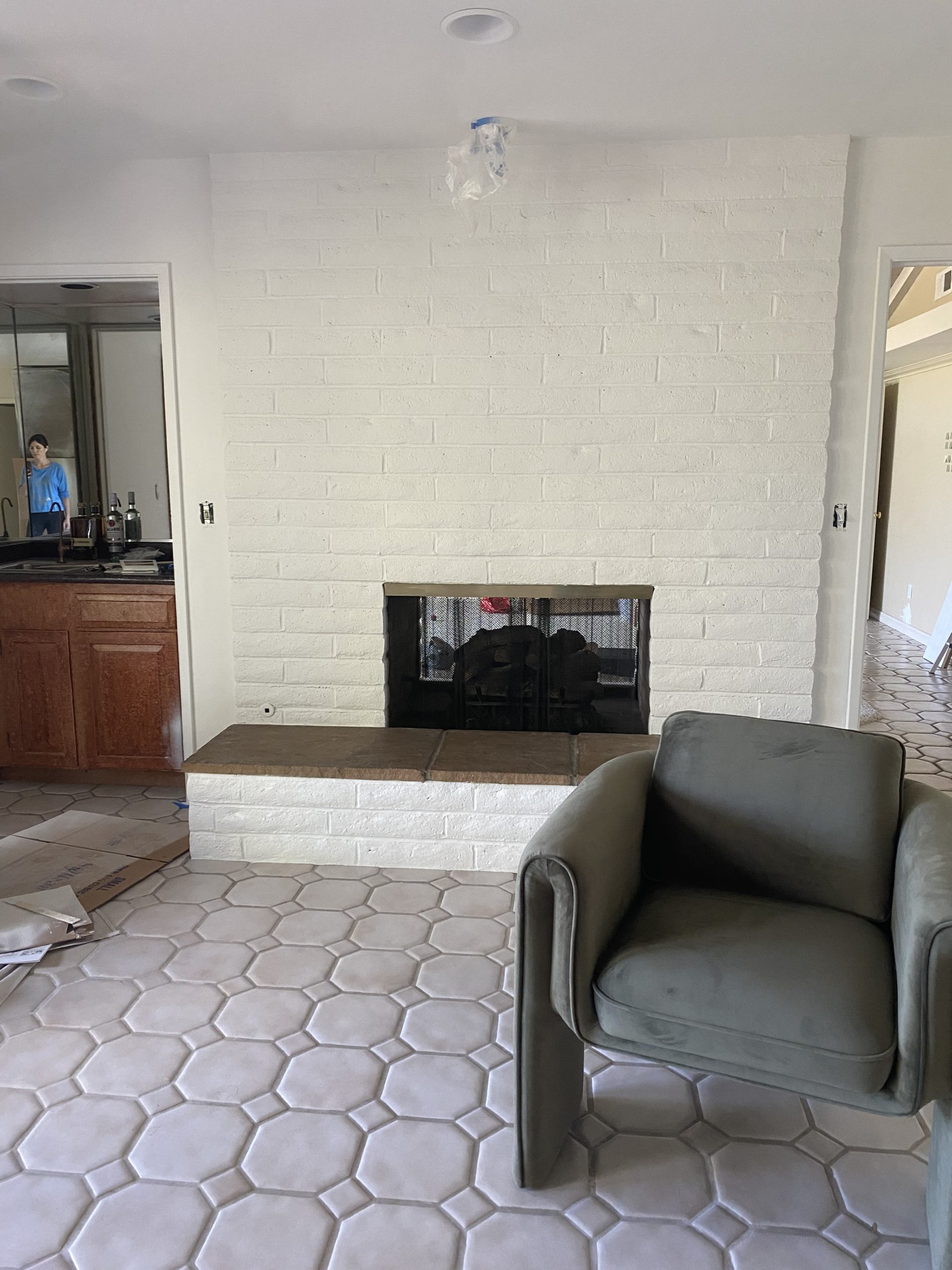 I went back and forth on painting the bookshelf or not. Even sketching up a few ideas.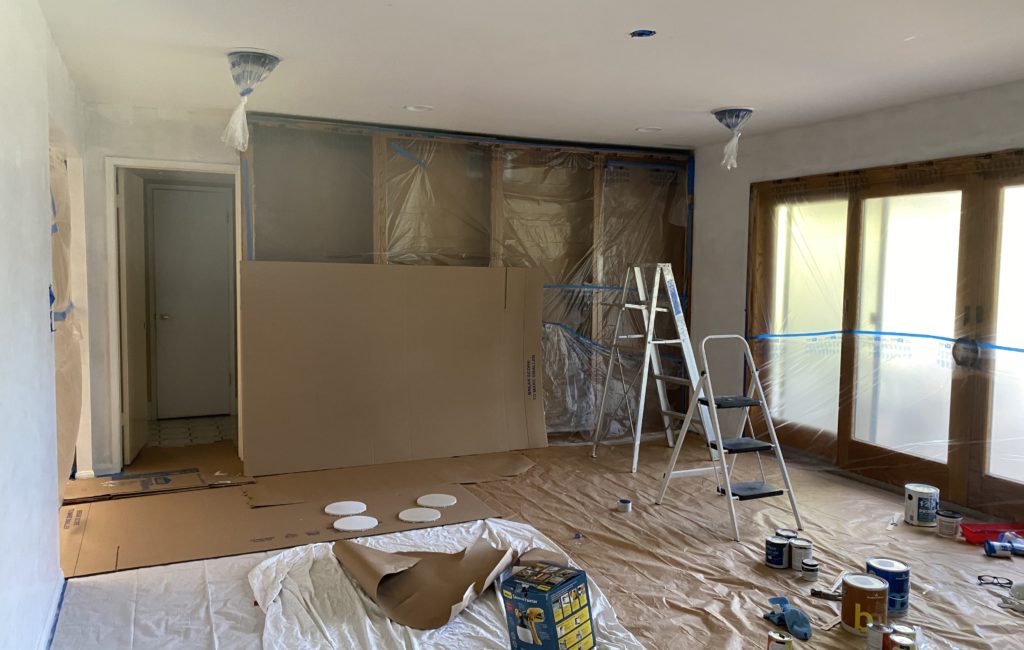 I ended up taping it off and have decided to keep the back panel wood for texture but paint the front molding, sides, and shelving all the same white. It definitely would be easier to spray the whole thing but I came across this image and was inspired to try out the two tones.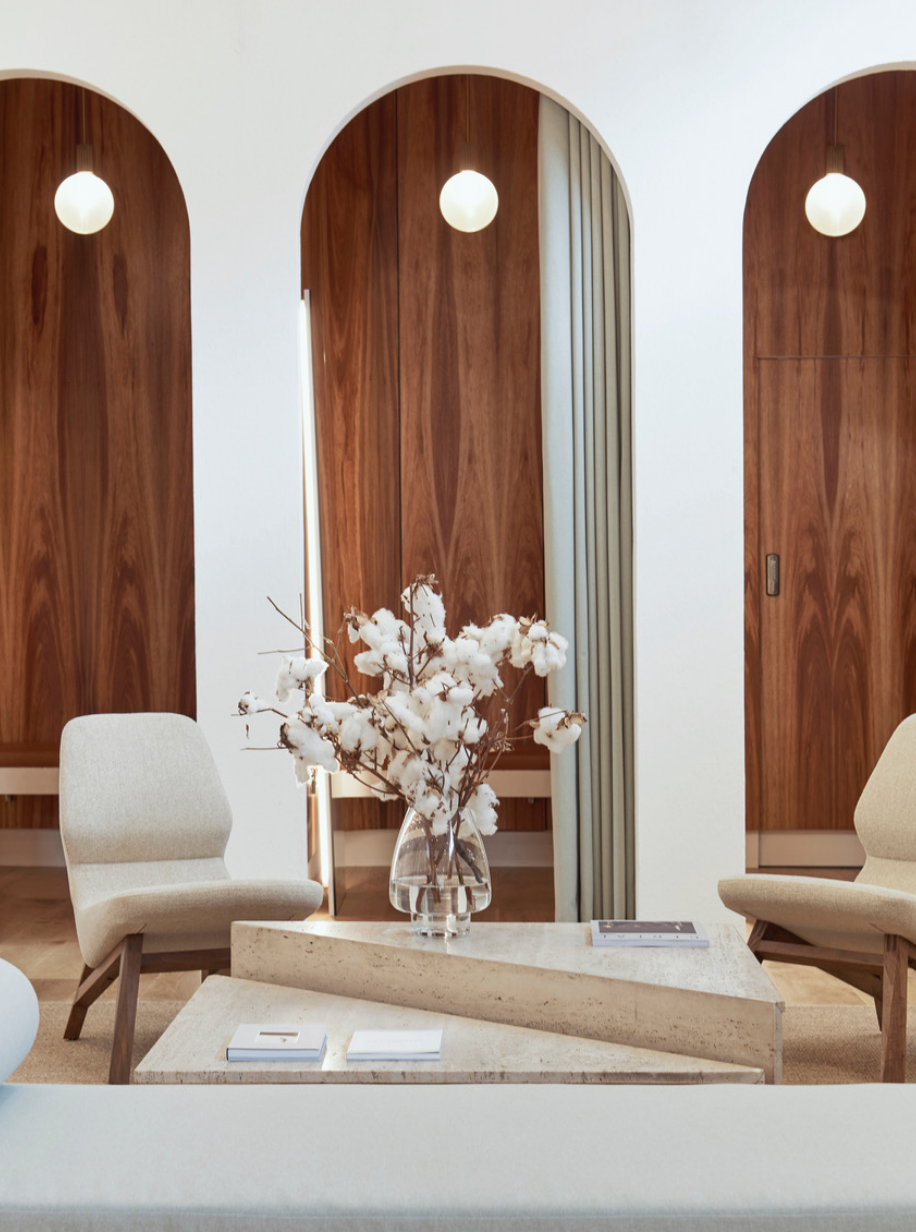 On the To Do List:
1. Remove crown molding
2. Patch, Primer, and Paint walls and ceilings
3. Install new molding along bookshelves
4. Primer and Paint bookshelves
5. Build out a deeper shelf for record player
6. Paint wet bar cabinets and replace hardware
7. Install new lighting
8. Build out wet bar shelving
9. Build a coffee table and mirror
10. Style bookshelves with art and decor
Be sure to check out other guests of the Fall One Room Challenge, there are some great rooms being transformed and lots of inspiring projects.
See you next week!
Jennie