One of my favorite parts about living in the same home for a number of years is seeing the progression of change over time. The fireplace has been one I have loved experimenting with. When I overhauled the color palette of our home last summer and changed out the floors and doors it was a perfect time to do a more substantial renovation.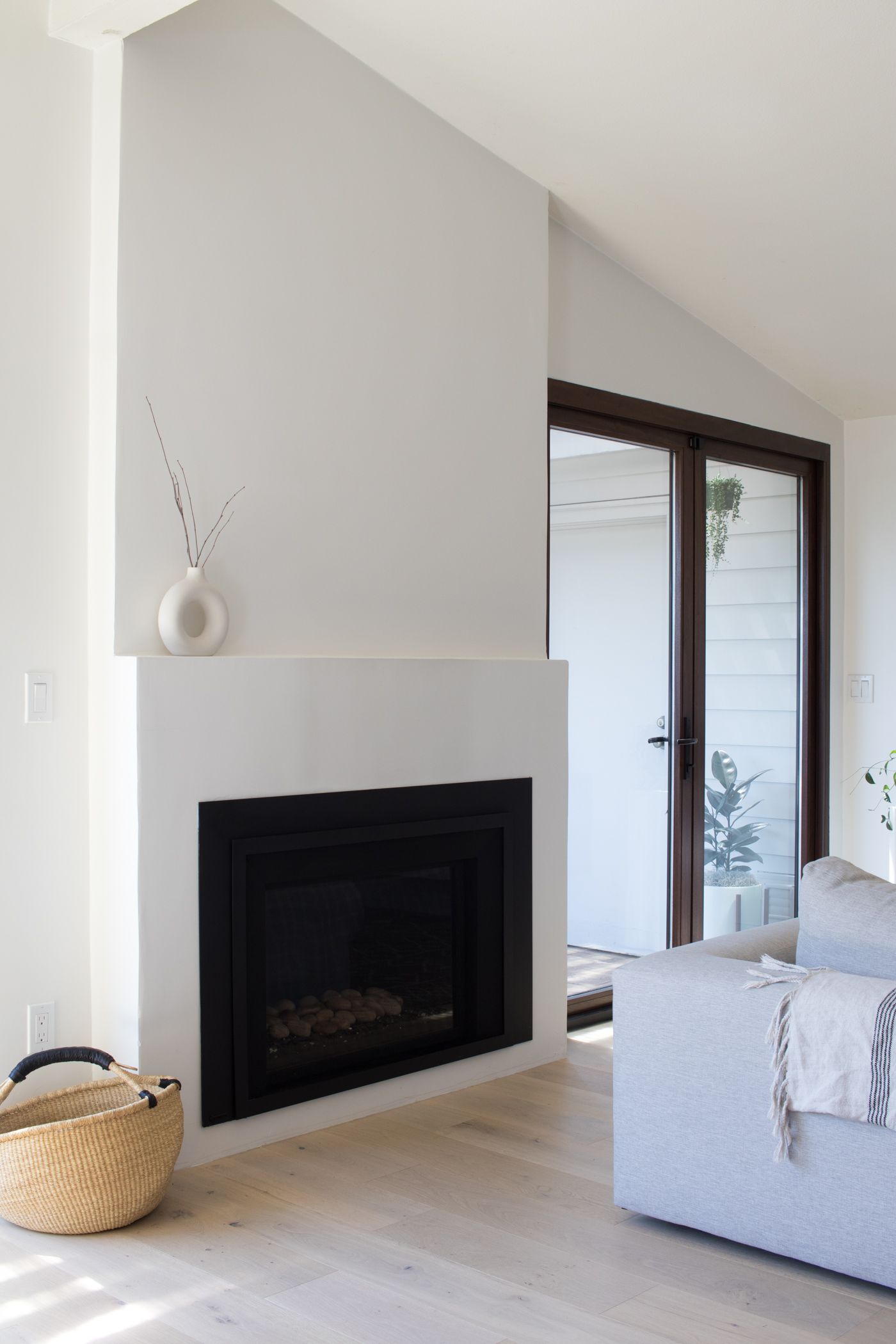 But let's back up a bit and show you what I started with and a few changes I've made over the years.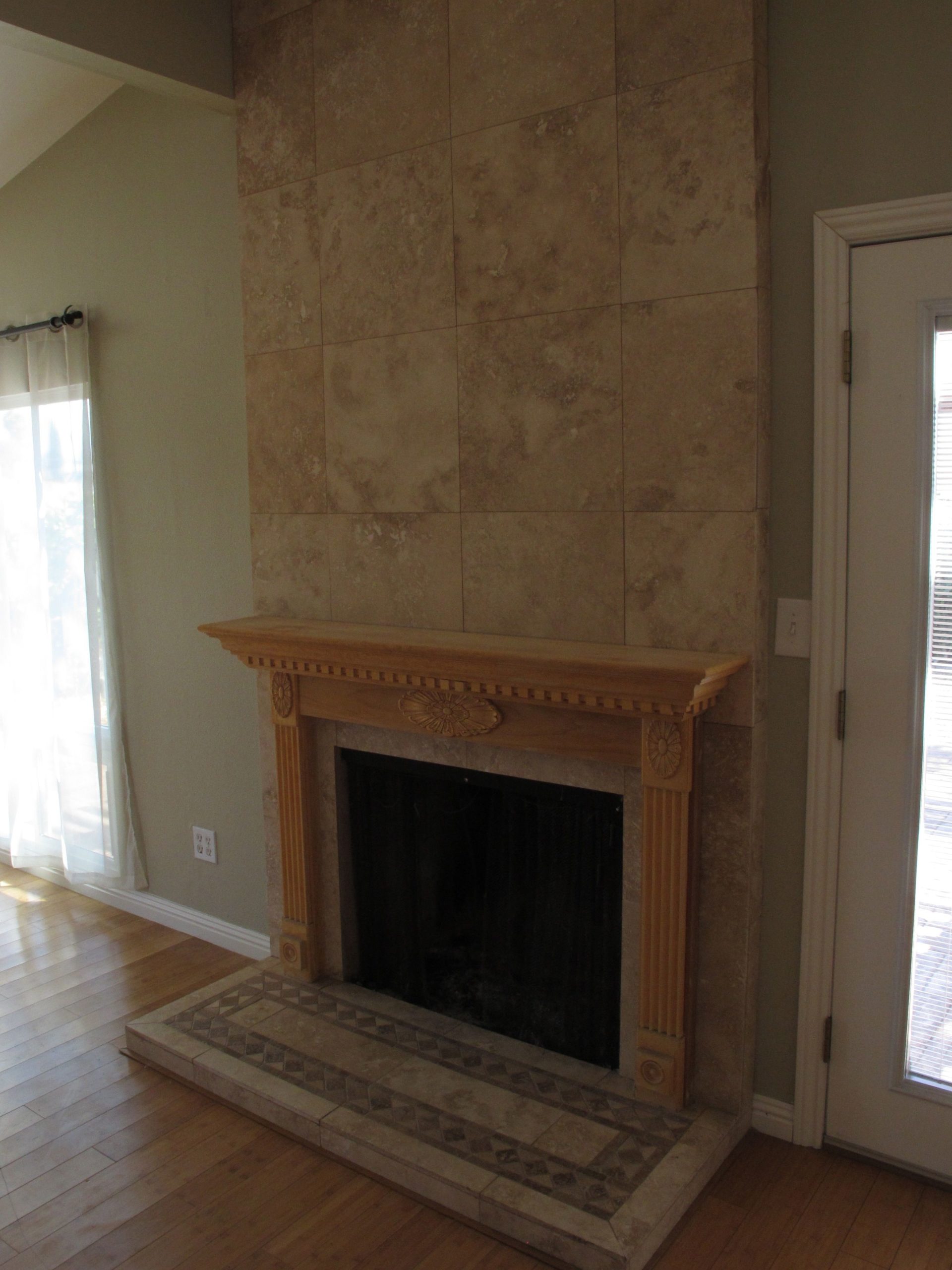 The fireplace did not represent a 1958 mid century style when we moved in. It had been renovated from the original brick to a poorly tiled travertine one and a very ornate oak mantle. A quick coat of white paint helped me get by for moving day and the holidays. (*one of my favorite Christmas DIY projects to date was that paper wreath made from sheets of music)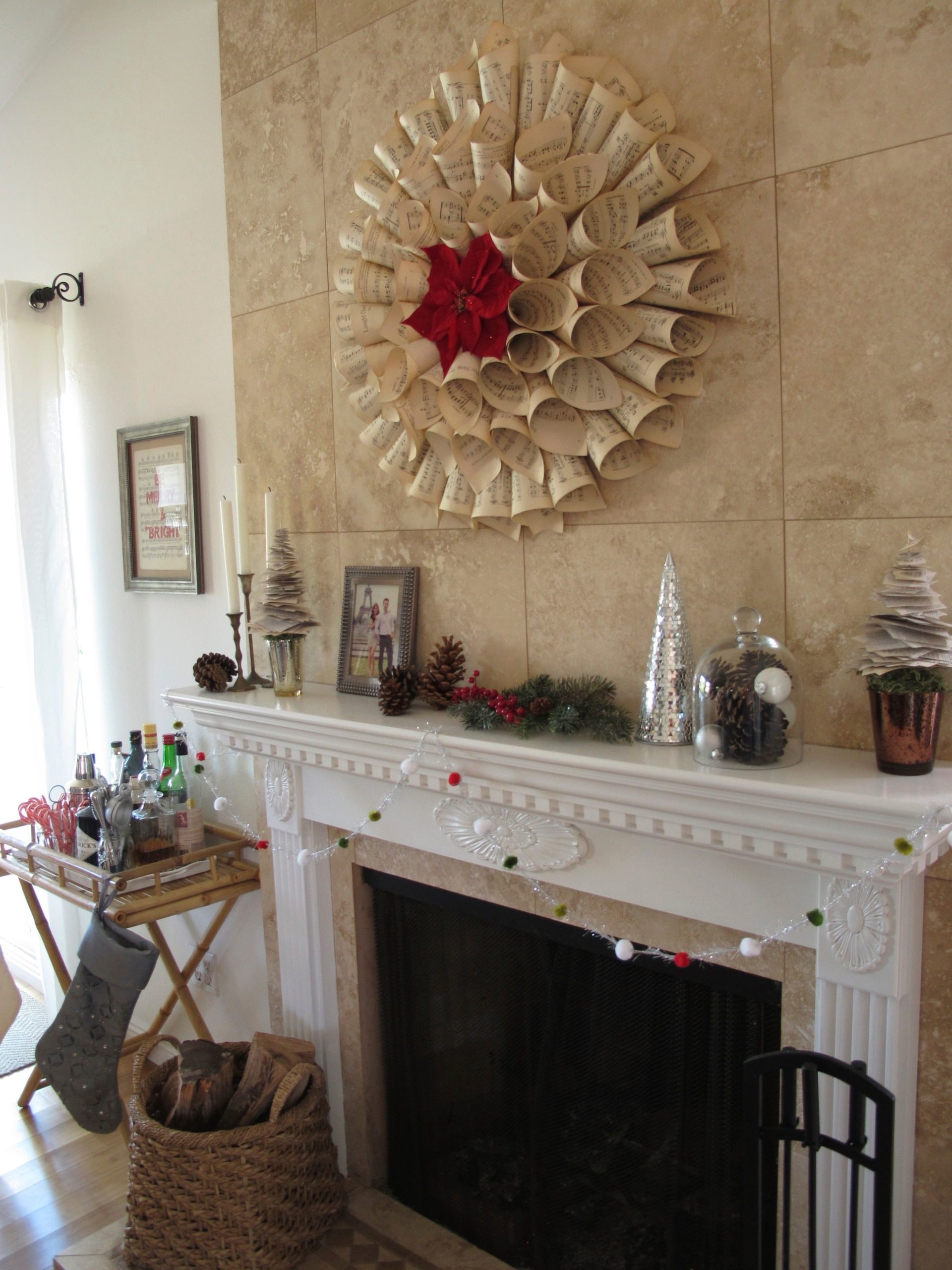 As I started to renovate the kitchen and bathrooms the more the aesthetic of the fireplace felt out of place. At the time I was swooning over a stacked bond dimensional tile look similar to this.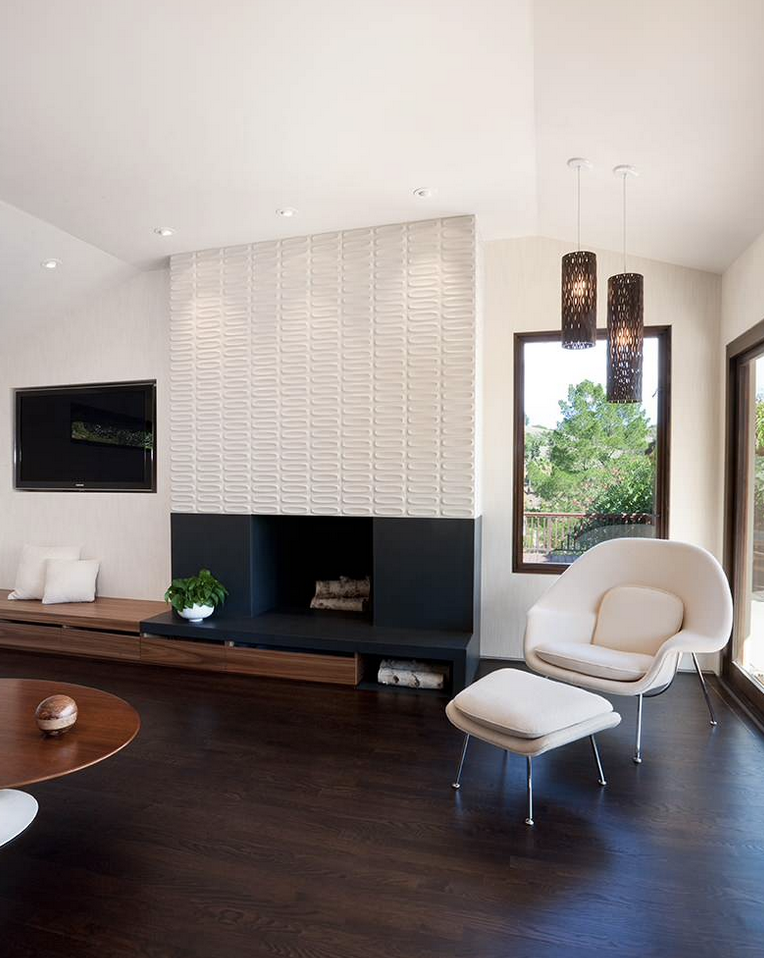 I was on the hunt for a budget solution as I wasn't quite ready to spend the cash to demo and re tile. That's when I stumbled upon a very economical option from Inhabit Living.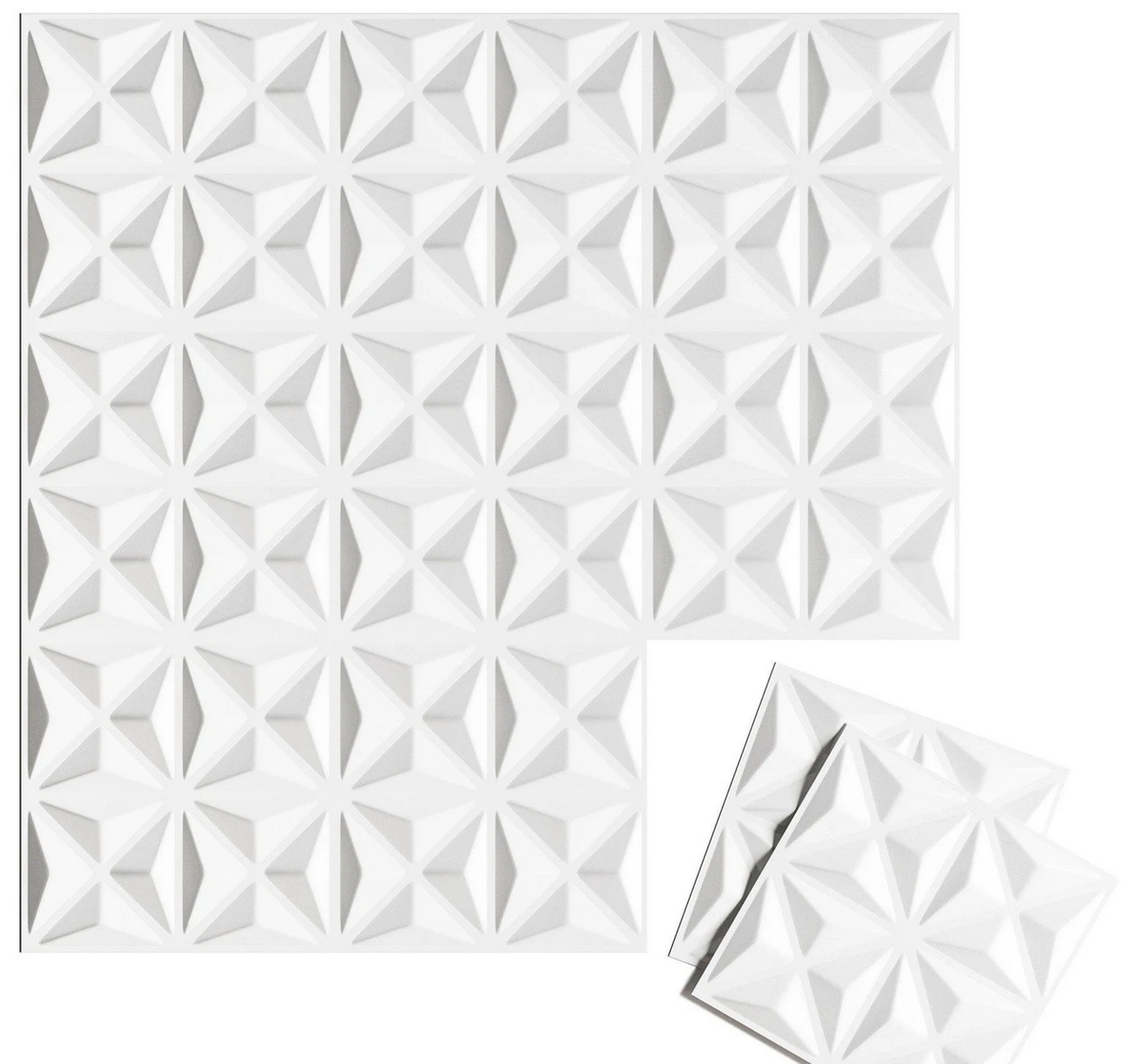 These 3D Wall panels are made from molded sugar cane pulp. Free of chemicals and VOC's it was such a unique option. The panels were lightweight and came in boxes of 12 in a 20" x 20" dimension. I removed the mantel for a modern look and then determined the best way to install the panels over the existing tile.
I decided to use tile mastic to adhere to the surface. Before I did that I primed the travertine tiles with a Bonder primer that helps tough to paint surfaces like glossy tile, glass, plastics and metals. I didn't want to chance the panels slipping around or not sticking so this primer worked wonders to prep the surface for the panels as well as paint on the bottom portion.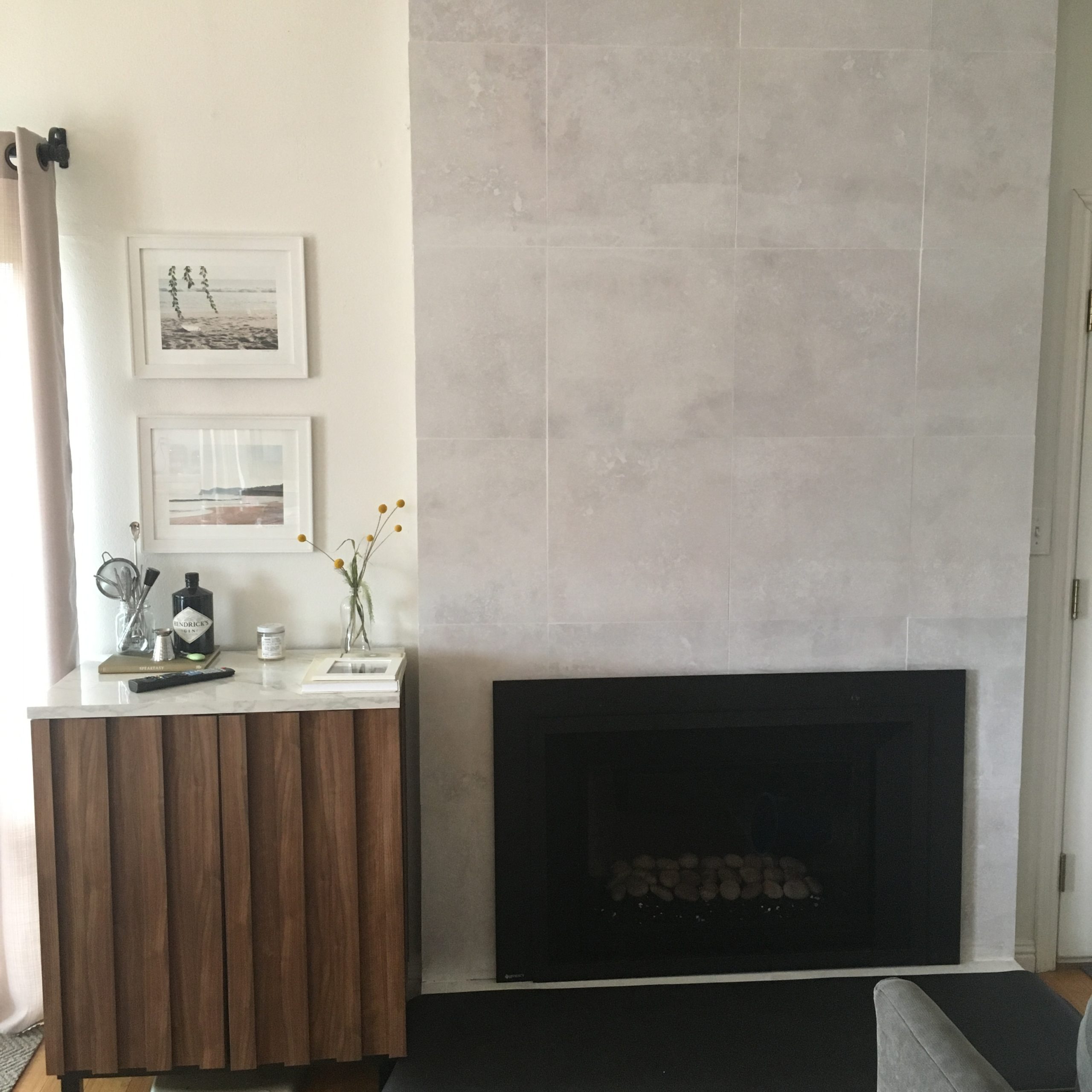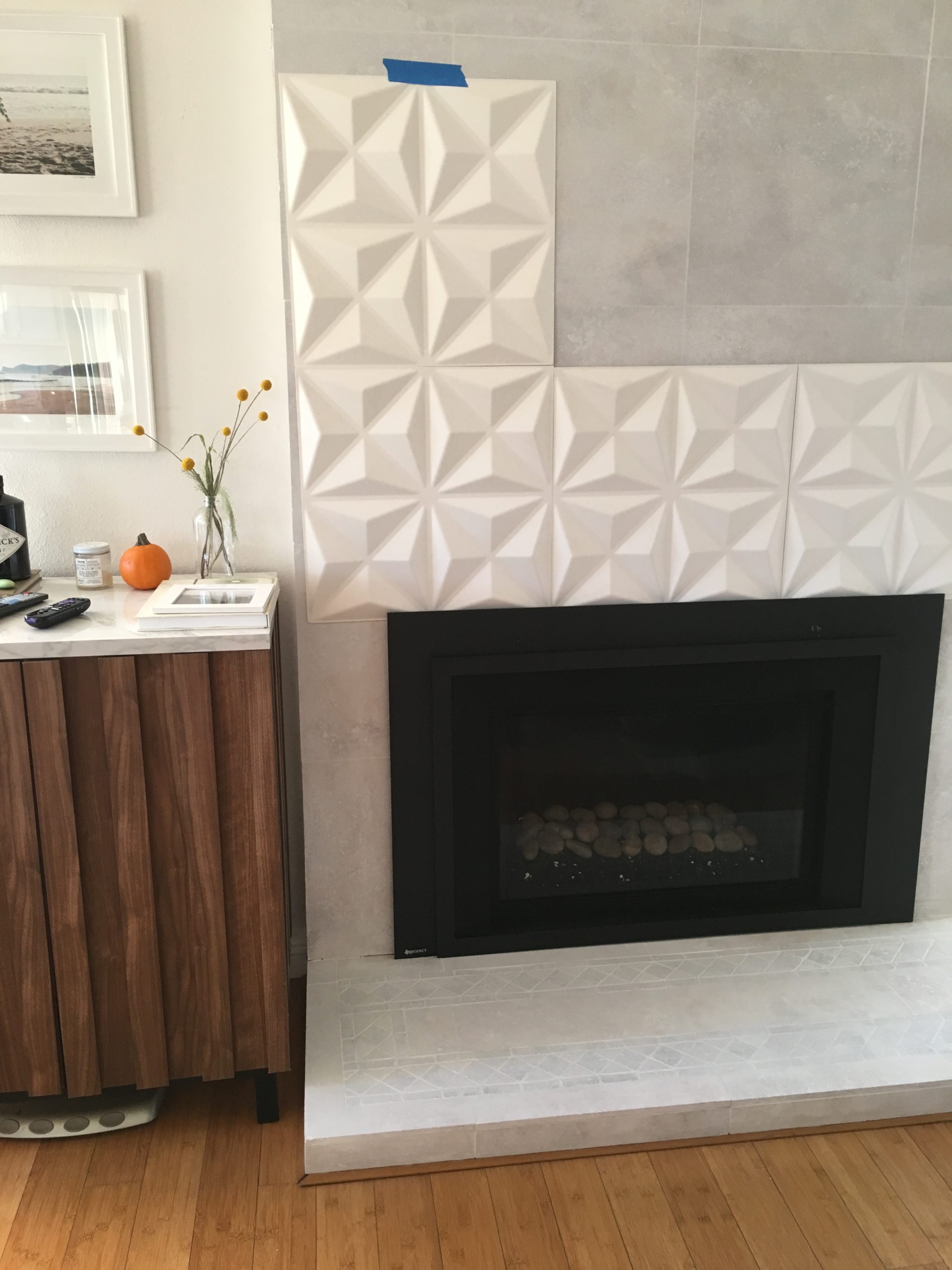 After priming I did a dry run and then used a light coat of tile mastic to adhere to the fireplace walls leaving no gap between panels. The installation instructions from Inhabit offer a thorough explanation on how to get the cleanest finish. The panels can be cut but because of the dimension they are hollow on the inside. So the cut side needs to be against a wall or molding. I was so happy with how they looked after install I chose not to drywall mud any cracks or paint. I loved the bright white matte texture. What a transformation for around $130 in supplies!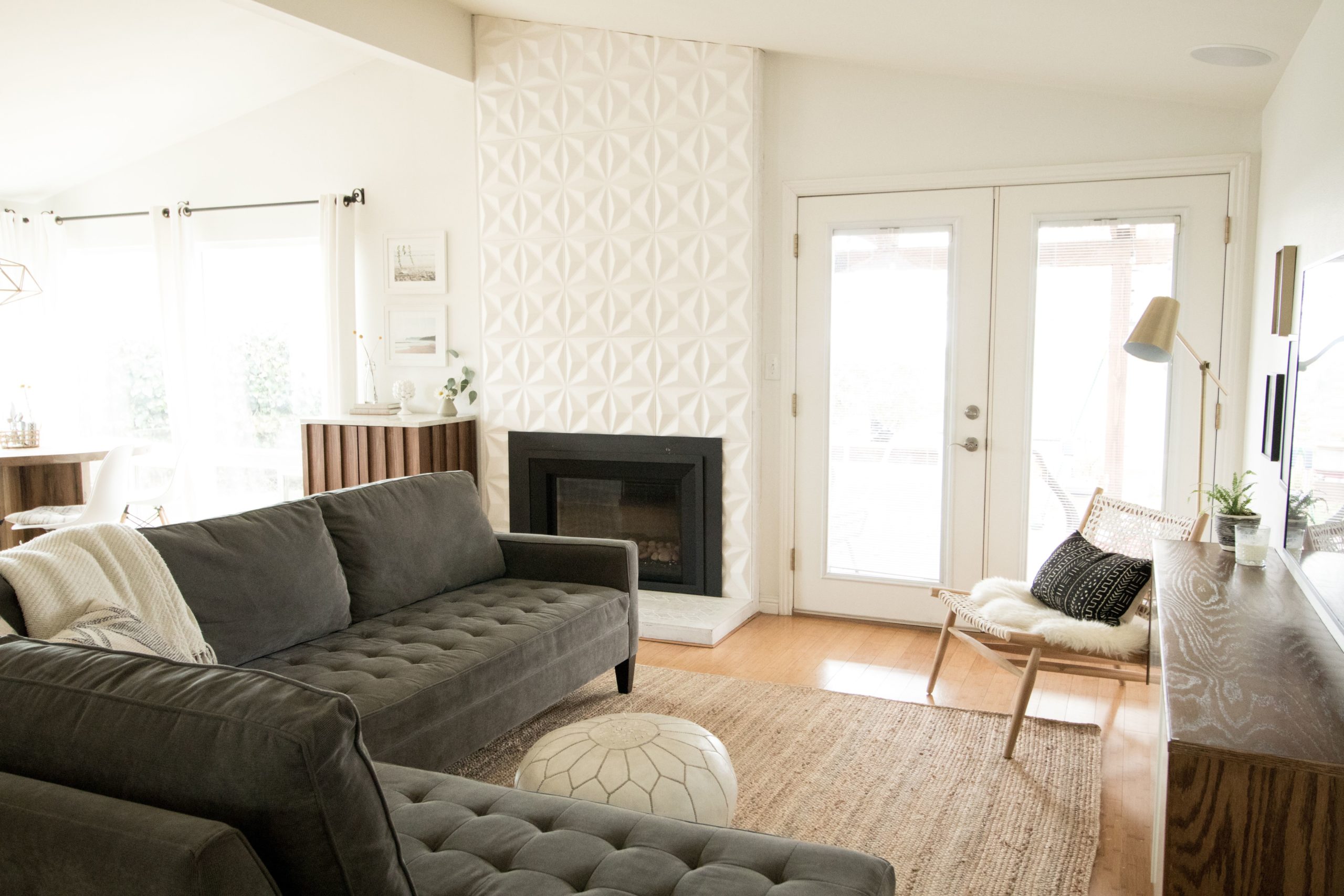 You can see from these images another big change we made…converting from gas burning to wood burning. That was the reason for the budget makeover on the surface. We were having issues with ventilation with the wood burning and in Southern California the way we use fireplaces and heat the gas one made more sense.
I found a local Fireplace store and they helped me pick out and order a gas insert to fit our existing opening. It has been a few years but I believe with install it was around $5500 to convert with the insert. We had our plumber run a gas line into the exterior of the brick and an electrician added a plug for the insert that would need power for the automatic igniter. Then the installer – who was recommend by the store we purchased from installed in a few hours. I love the ease of the gas fireplace. We use it all the time. It's the perfect spot to sit by and warm up on the chilly coastal mornings and evenings.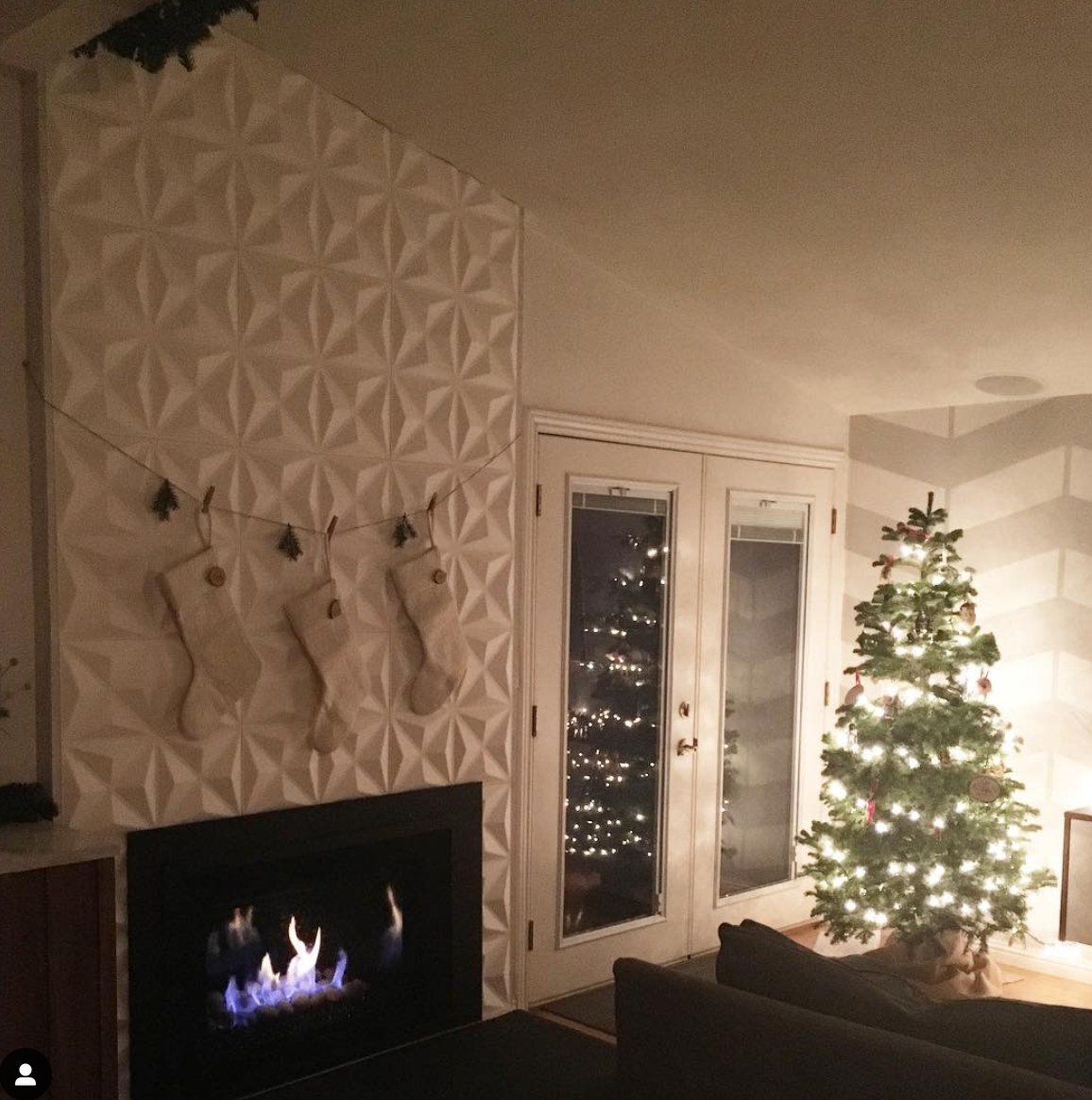 I also loved the look of these panels for so many years. Especially at Christmas. I couldn't get over how similar to tile they looked.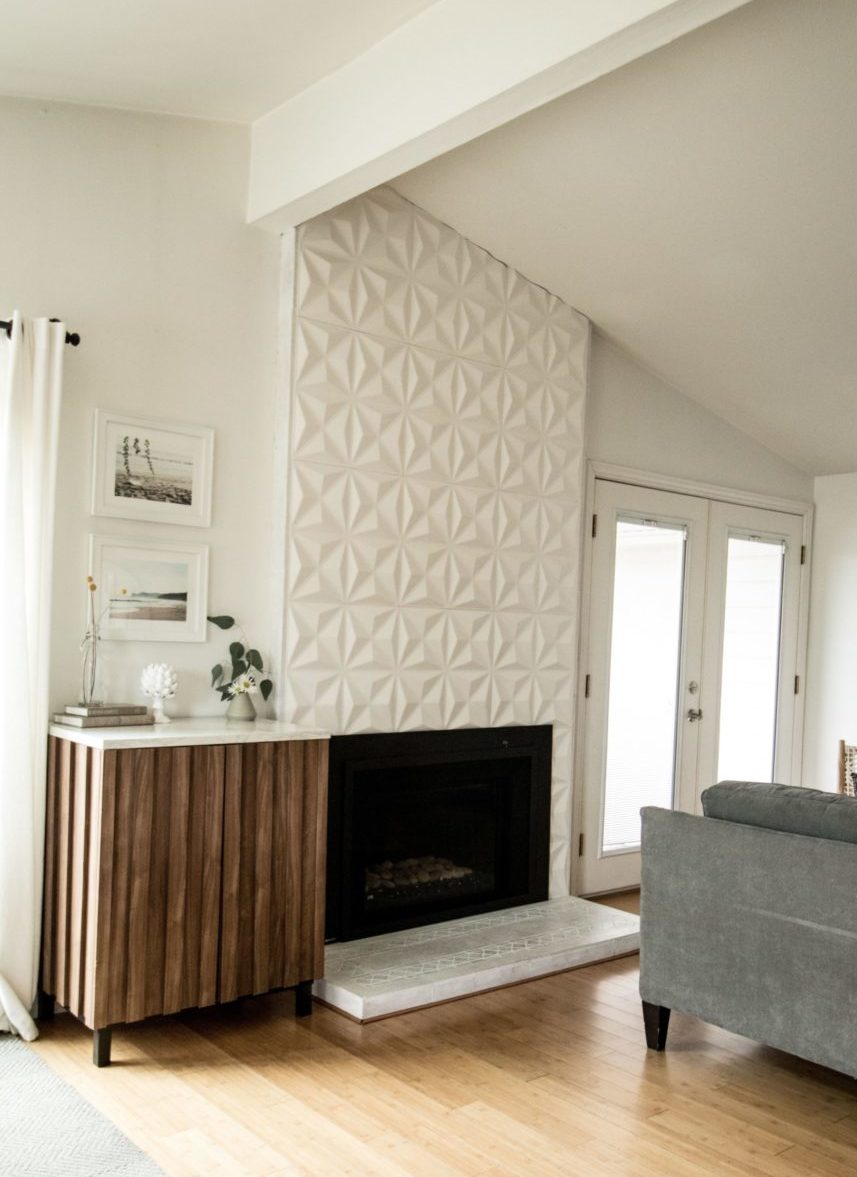 Now 8 years into owning this home I knew it was time for a full makeover. We decided to do a big refresh on our main living space. Replacing our floors and adding La Cantina bifold doors to the back of the house. This was the perfect time to remove the fireplace step and frame the fireplace to have a modern built in mantle. Because we changed from wood burning to a fully enclosed gas one the brick/tile step barrier was no longer needed for fire code.
I had been eyeing the look of smooth plaster fireplaces for some time and was in love with the texture and simplicity with a simple thin almost invisible mantle. This one from Jessica Kraus of @Houseinhabit was one I loved watching get made. It was a plywood base with plaster applied on top. (You can catch the whole process in her Instagram story highlights). Her husband did it all by hand. The thing is it was nearly impossible to find a contractor or tradesman who offered plaster in this application. I have found over the years I am about 2 years too early on these trends which can be challenging to execute.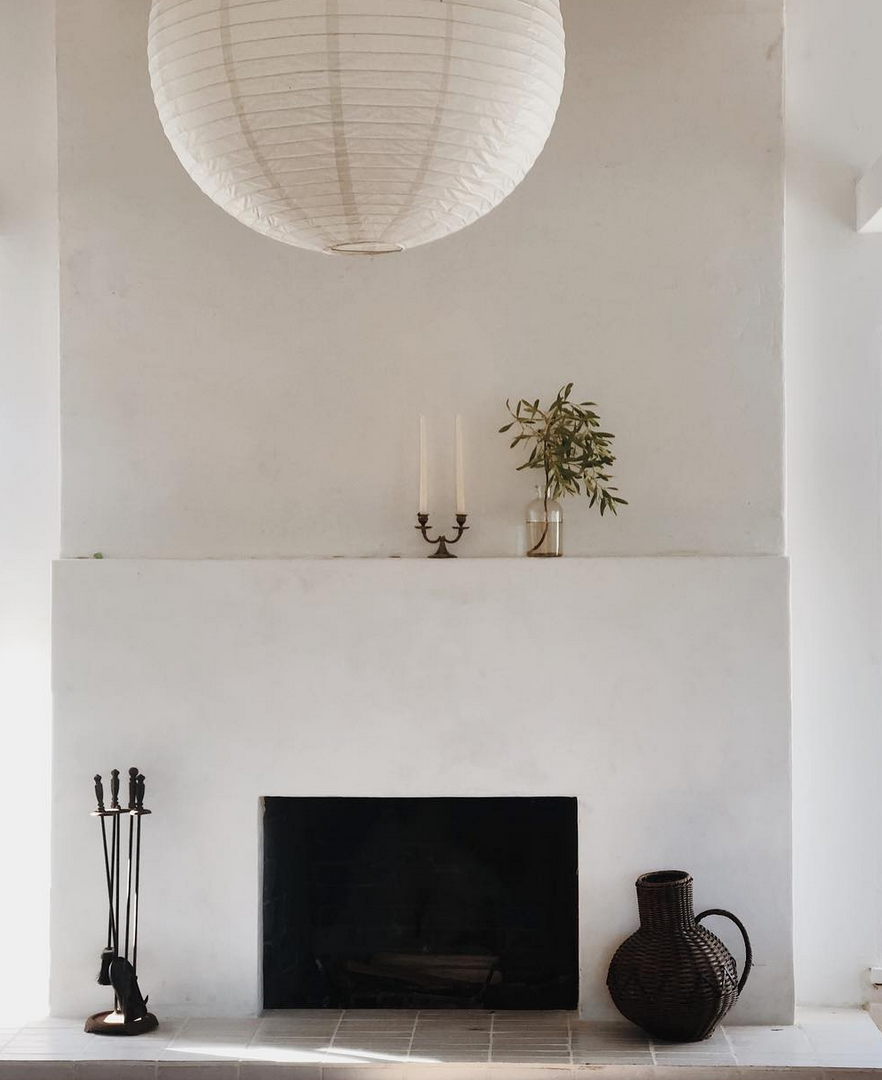 Another stunning modern and smooth fireplace inspo was this one by Carol Estes. The texture and way the light moved across it really stood out to me. It is a gorgeous addition to her sophisticated, neutral home. This look was achieved with a Santa Barbara smooth stucco finish. This is an option I found much easier to find skilled people to do. Especially here in Southern California where many houses are stucco.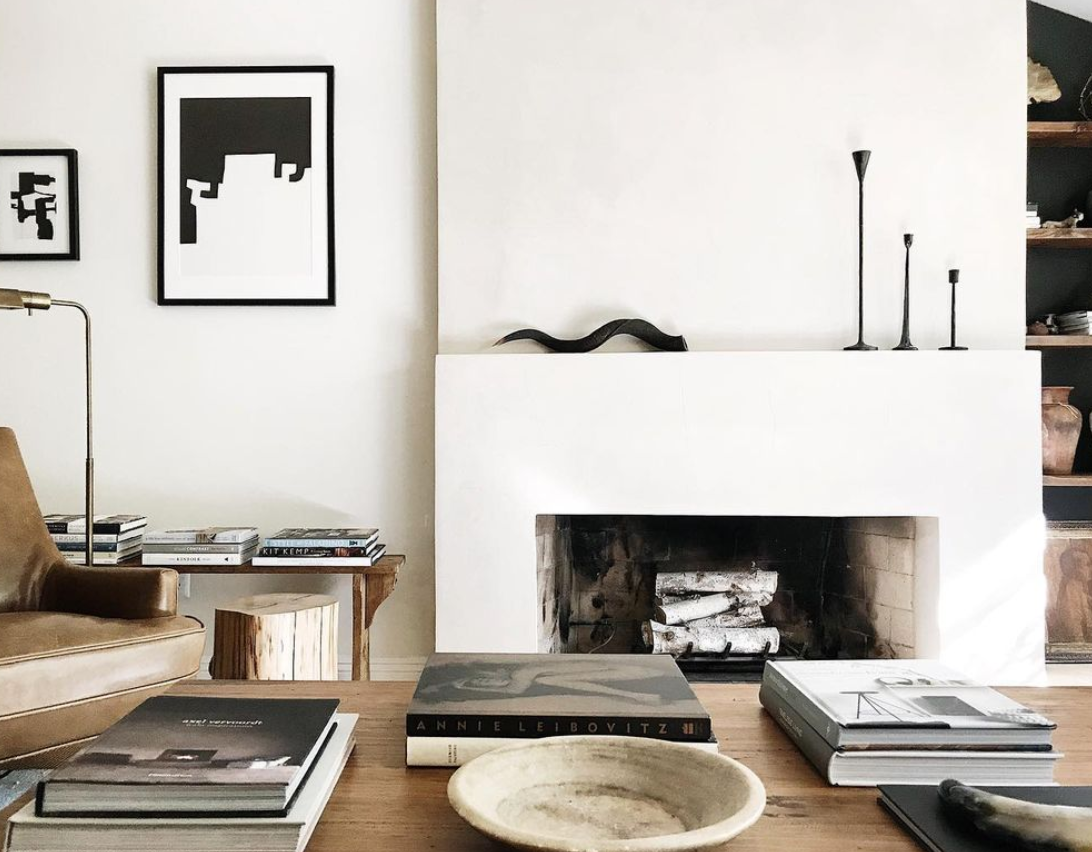 In the end here is the process I chose for our own remodel.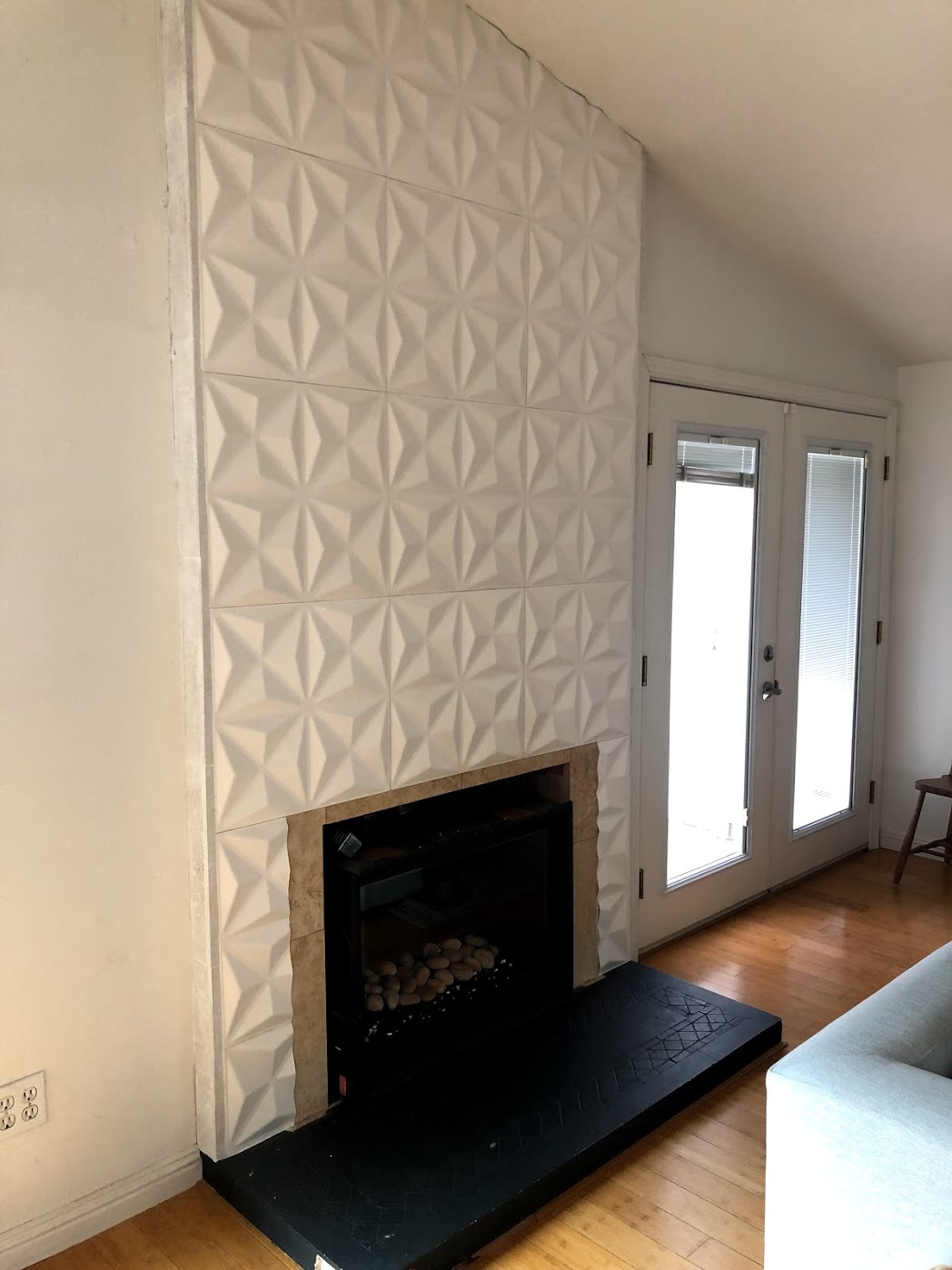 We started by removing the gas fireplace surround. You can see from this view the travertine tile underneath.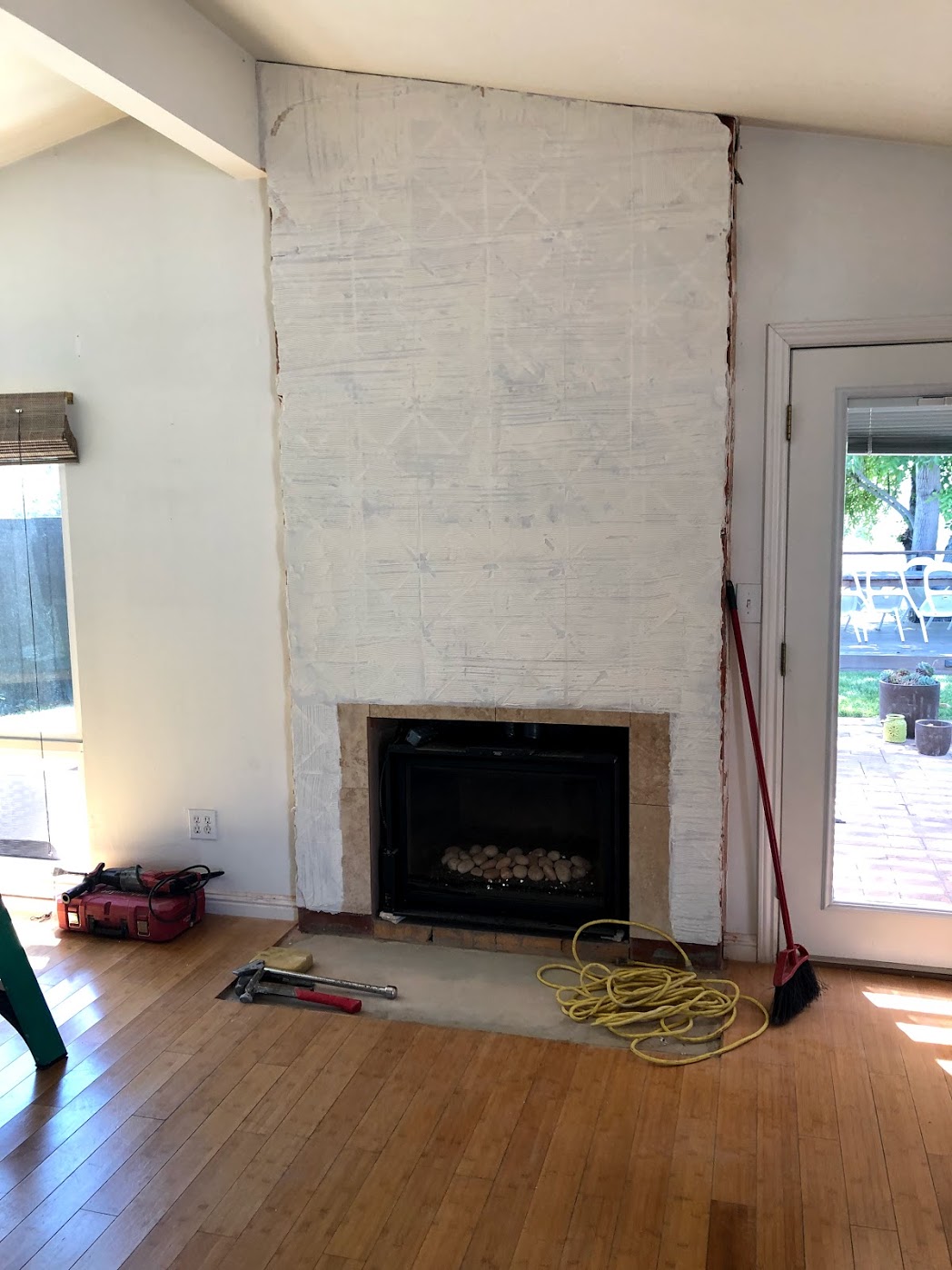 Next we scraped off the Inhabit wall panels which were an easy demo and broke up the tile and brick step. I instantly loved having that step gone! I wish I had done it years ago and just did a coordinating tile flush with the floors. Hindsight I tend to wait for the full renovation but these phase 1 fixes can go a long way too. The plan was to remove the travertine tile as well but as we started to attempt that it was causing a lot of damage to the brick underneath. Our contractor was worried about the integrity of the fireplace at this point so we made the decision to install cement hardie board right over top and work with what we already had. It changed the finish depth off the wall only by a small amount.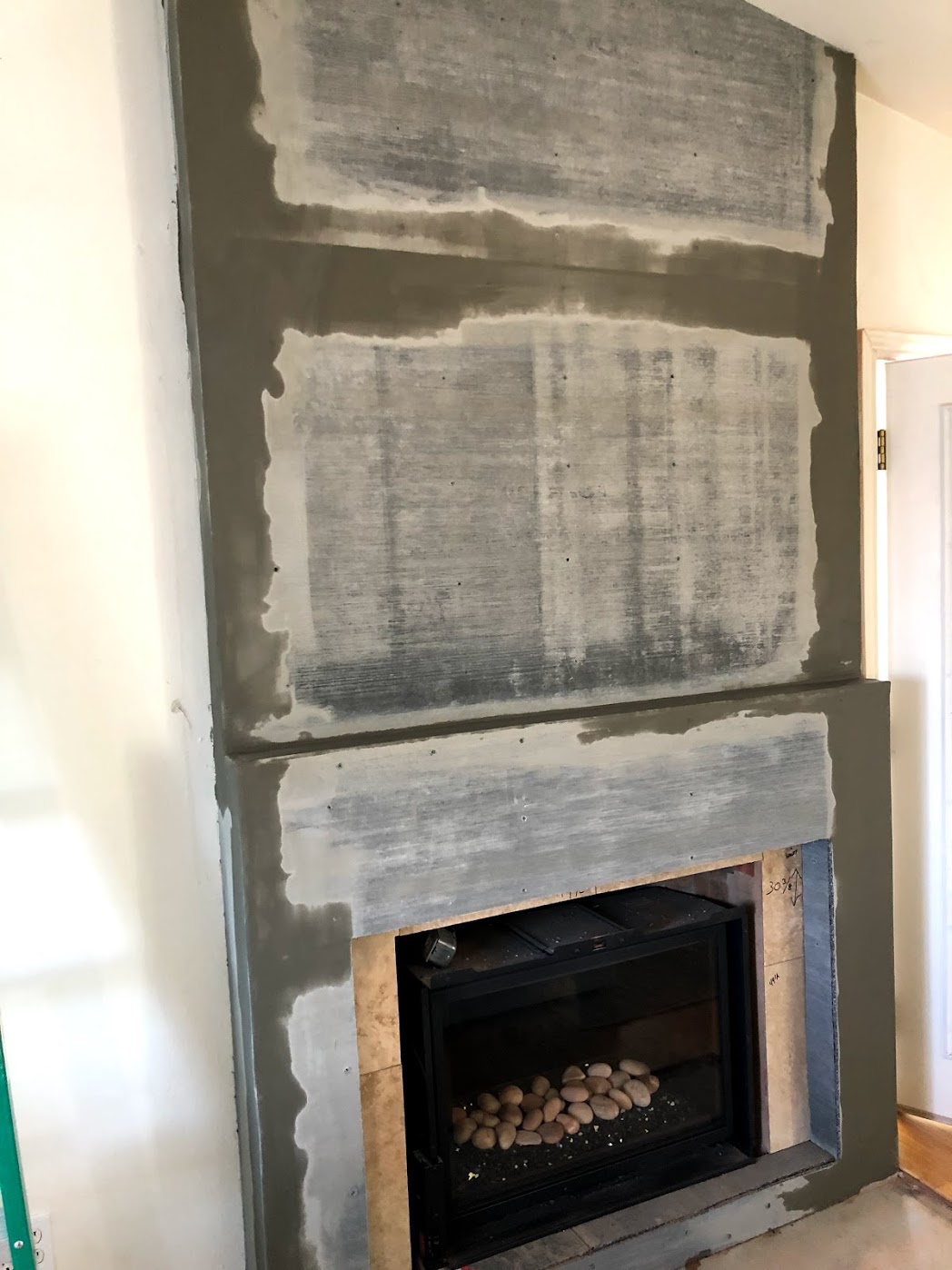 Not pictured – we built a 2×4 frame to create the small seamless mantle. The finish depth of the mantle is 3 1/2″.  The hardie backer which is cement board (used to prep for tile) was screwed into the travertine surround leaving an opening for the fireplace insert. The seams were covered with mortar.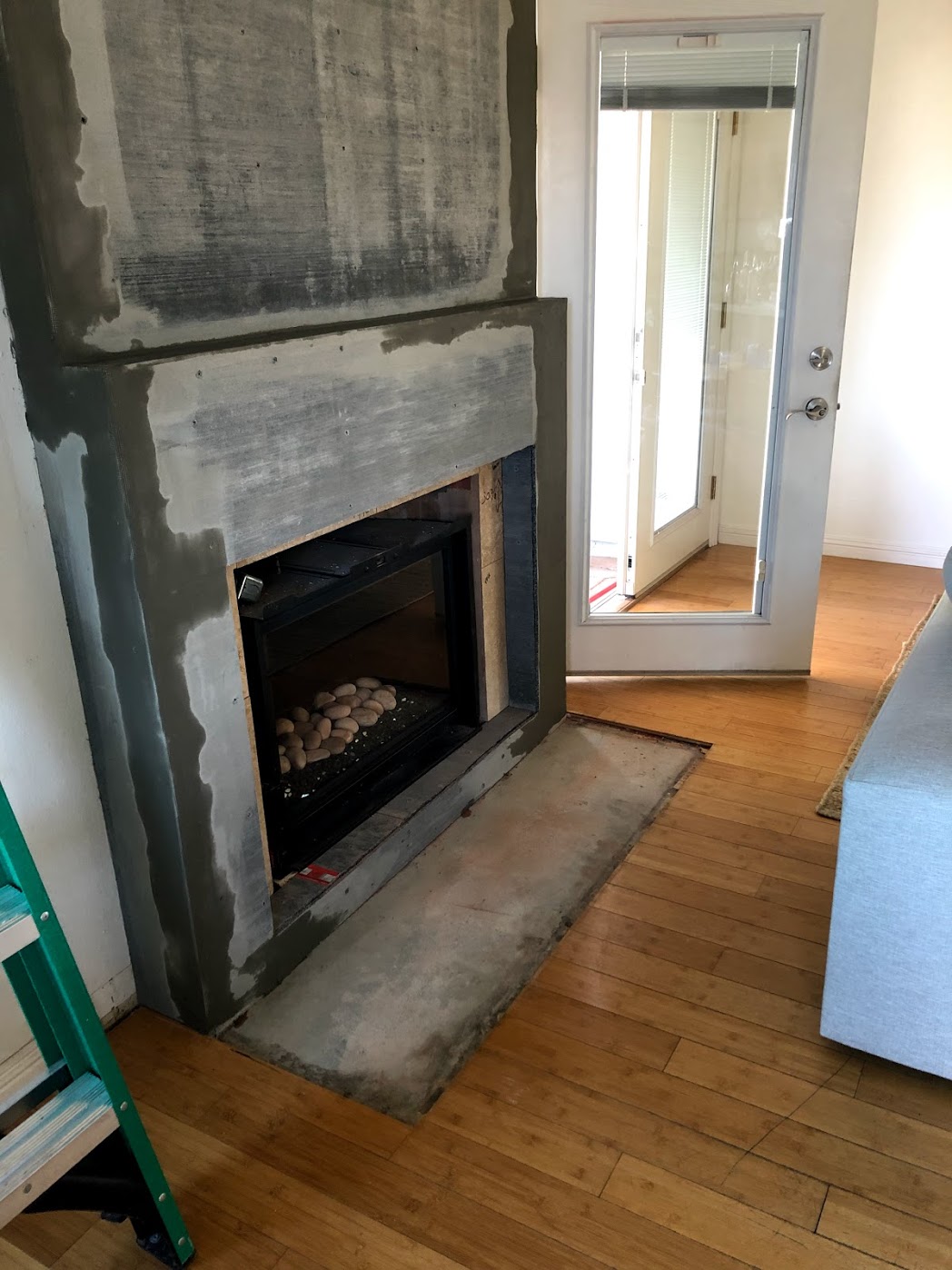 Now we had a smooth even surface to work with at the dimensions and style we wanted. Even at this stage I loved the clean look and the amount of floor space we gained.
Then it was time to apply a finish…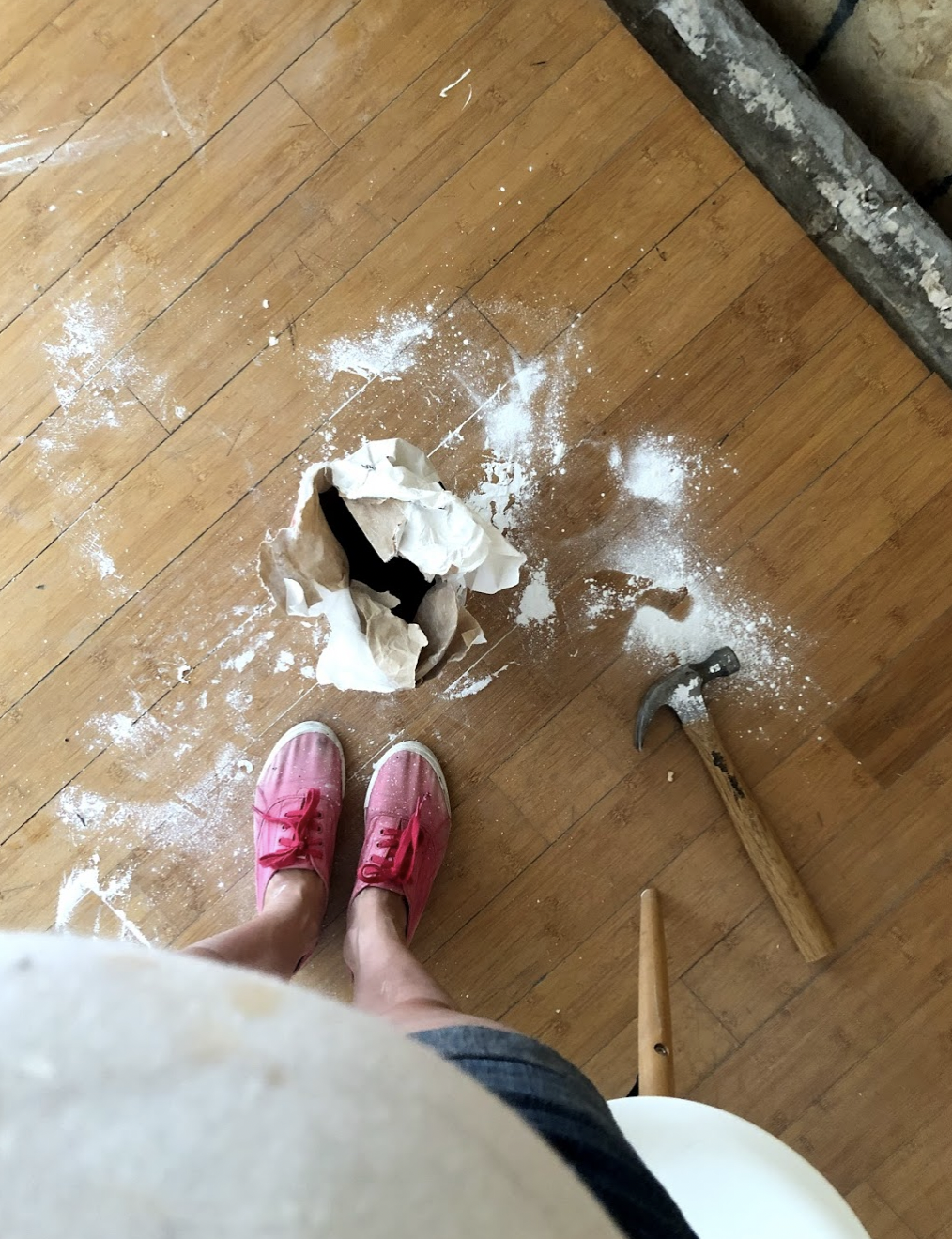 Although, I seemed to have forgot I was 8 months pregnant and still struggling with hyperemesis getting sick and fatigued daily. My last pregnancy was not kind to me.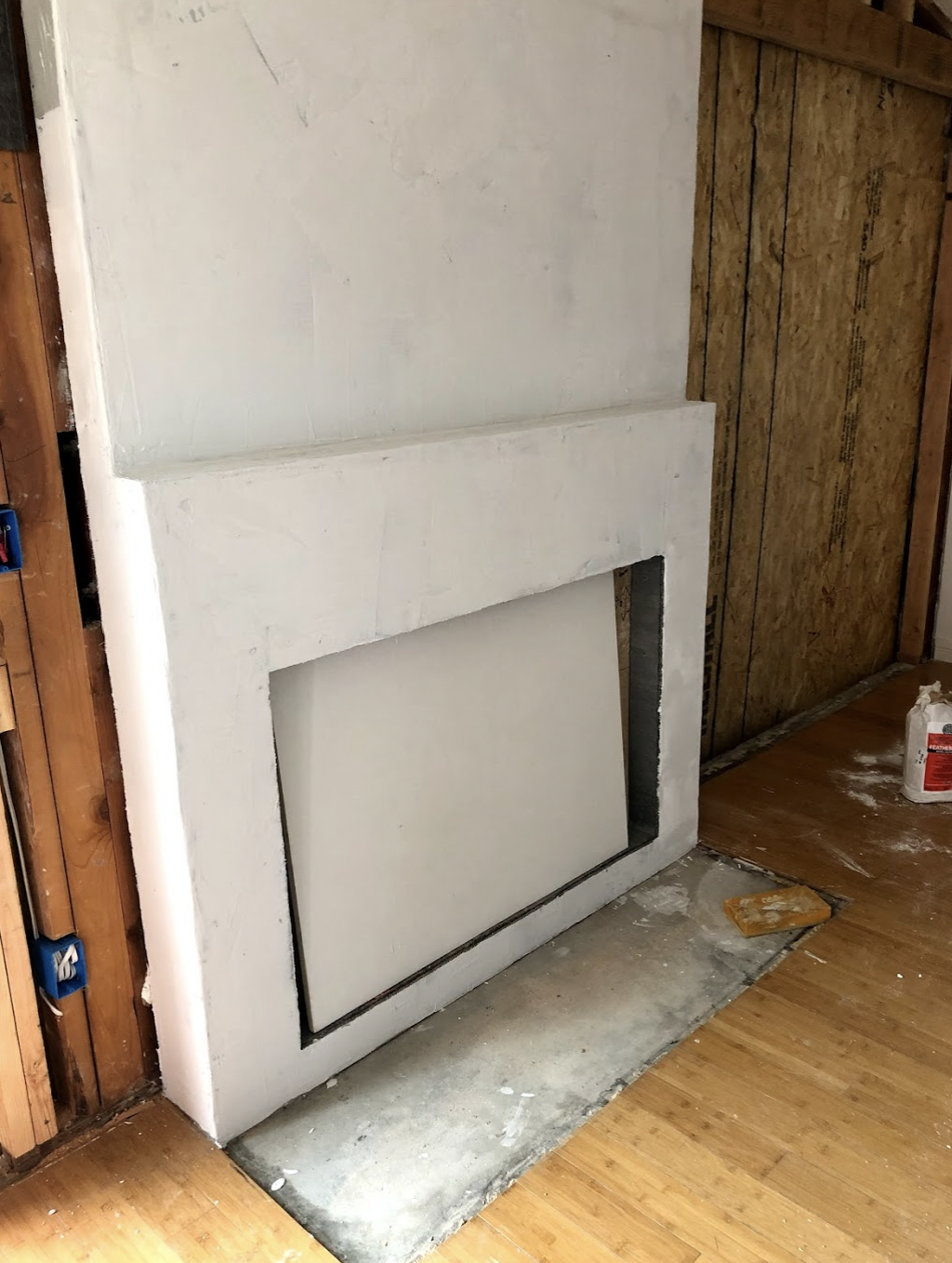 I almost completed one coat of the Ardex feather light concrete finish in white. I chose this product over plaster as I thought it would be easier to work with. In hindsight I may have just gone to my local big box store grabbed some plaster off the shelf and attempted it first. The Ardex product is expensive for a small bag. I have since used it for a coffee table project and loved the results. The 2 things that were different, I used warm water instead of cold and applied it flat as opposed to vertical. The consistency was more like batter where as with the fireplace I couldn't get it to stop turning into glue, then rock solid withing 1 minute. It was drying up way too fast to be workable and ended up being impossible to deal with. I realized real quick I wasn't going to see this project through without help.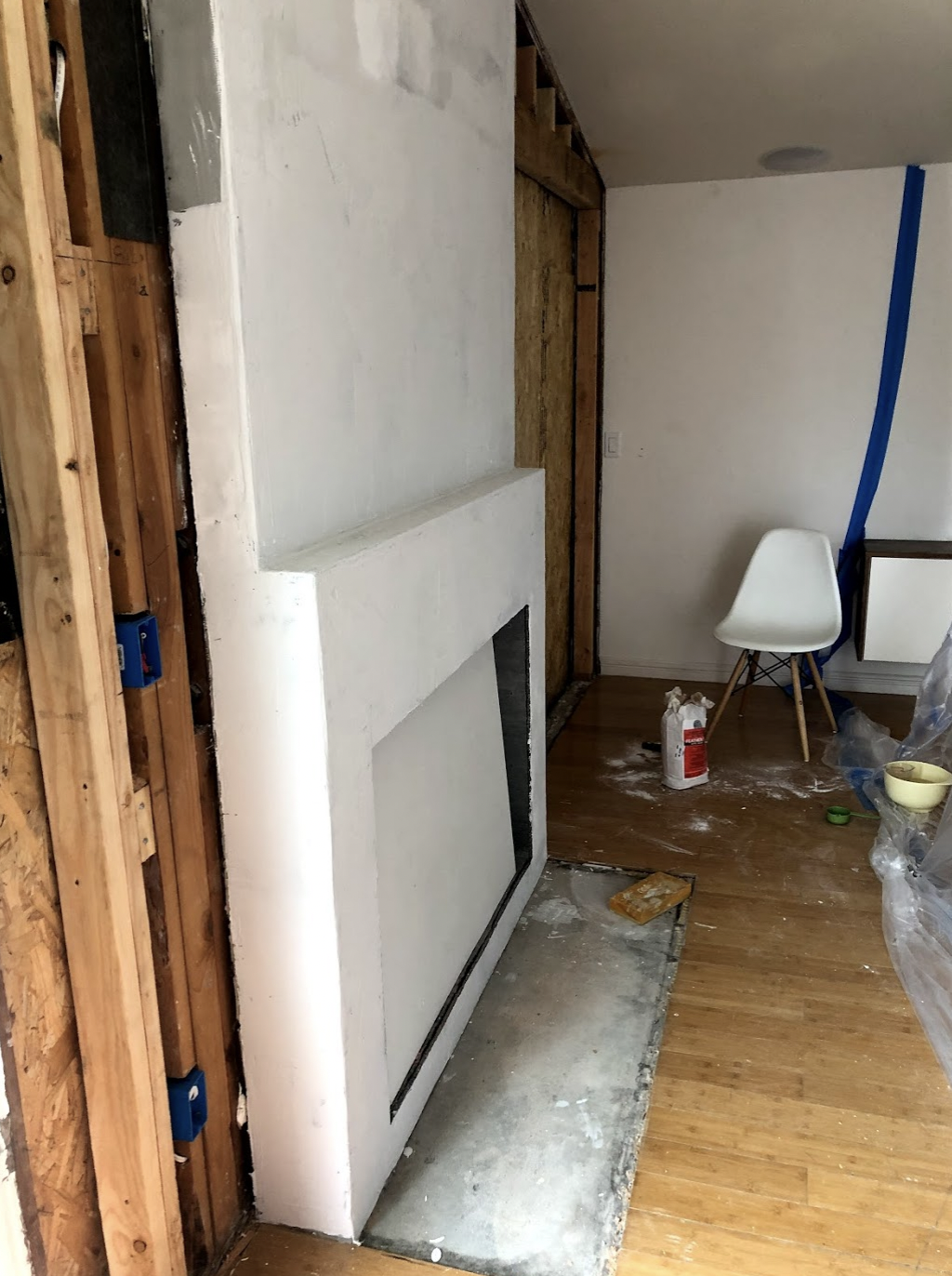 Luckily I found a quick solution…we have a fantastic drywall guy who was mudding up the rest of the walls the next day…he offered to go right over the fireplace. Said it was no problem. It would create a nice smooth surface, I was in.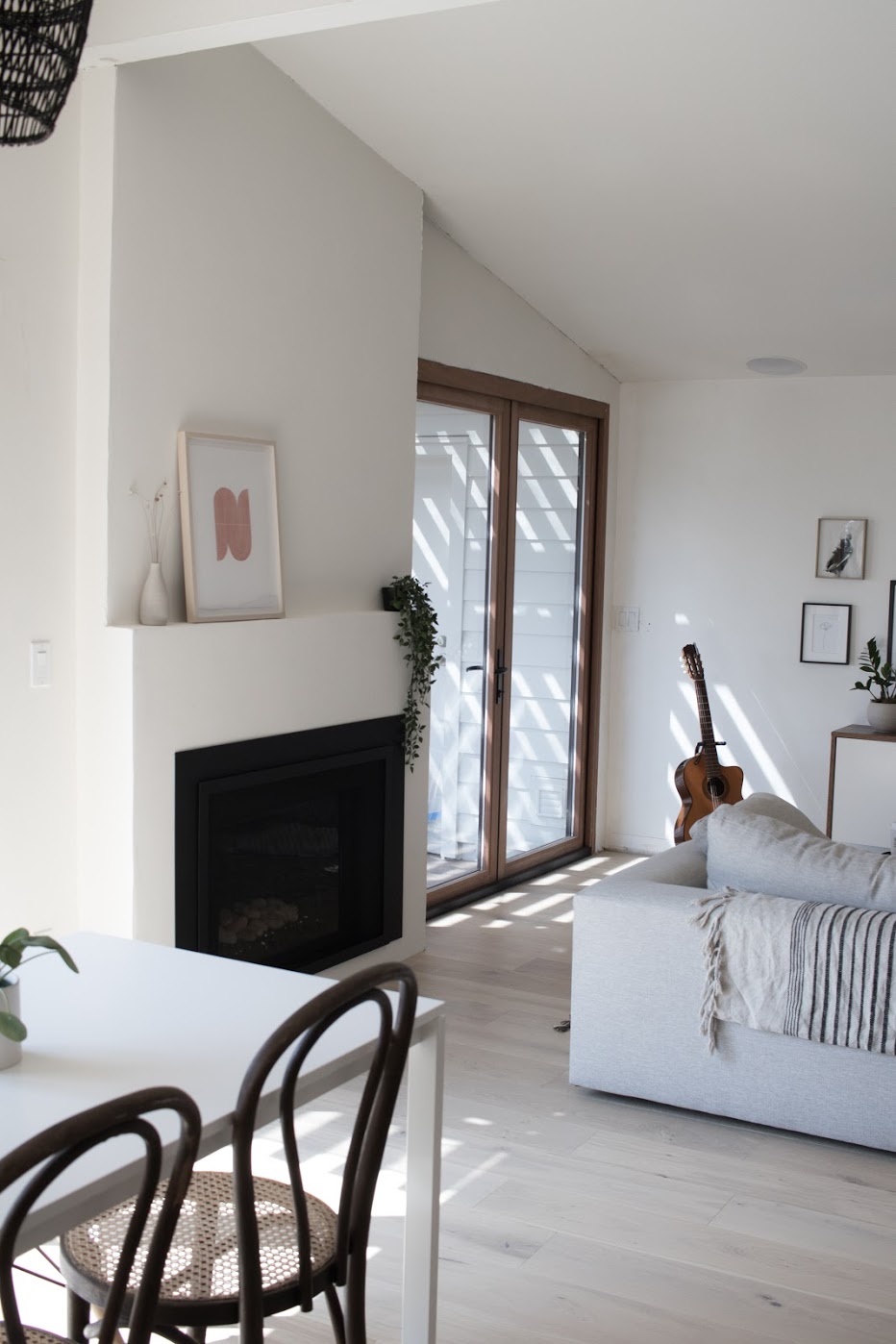 This was right after the drywall mud was dry, before paint even. Can you tell how excited I was, I started styling right away. I really love the slim mantle. I may recommend sticking with 4″ depth at the smallest just so you can fit a variety of items on the space.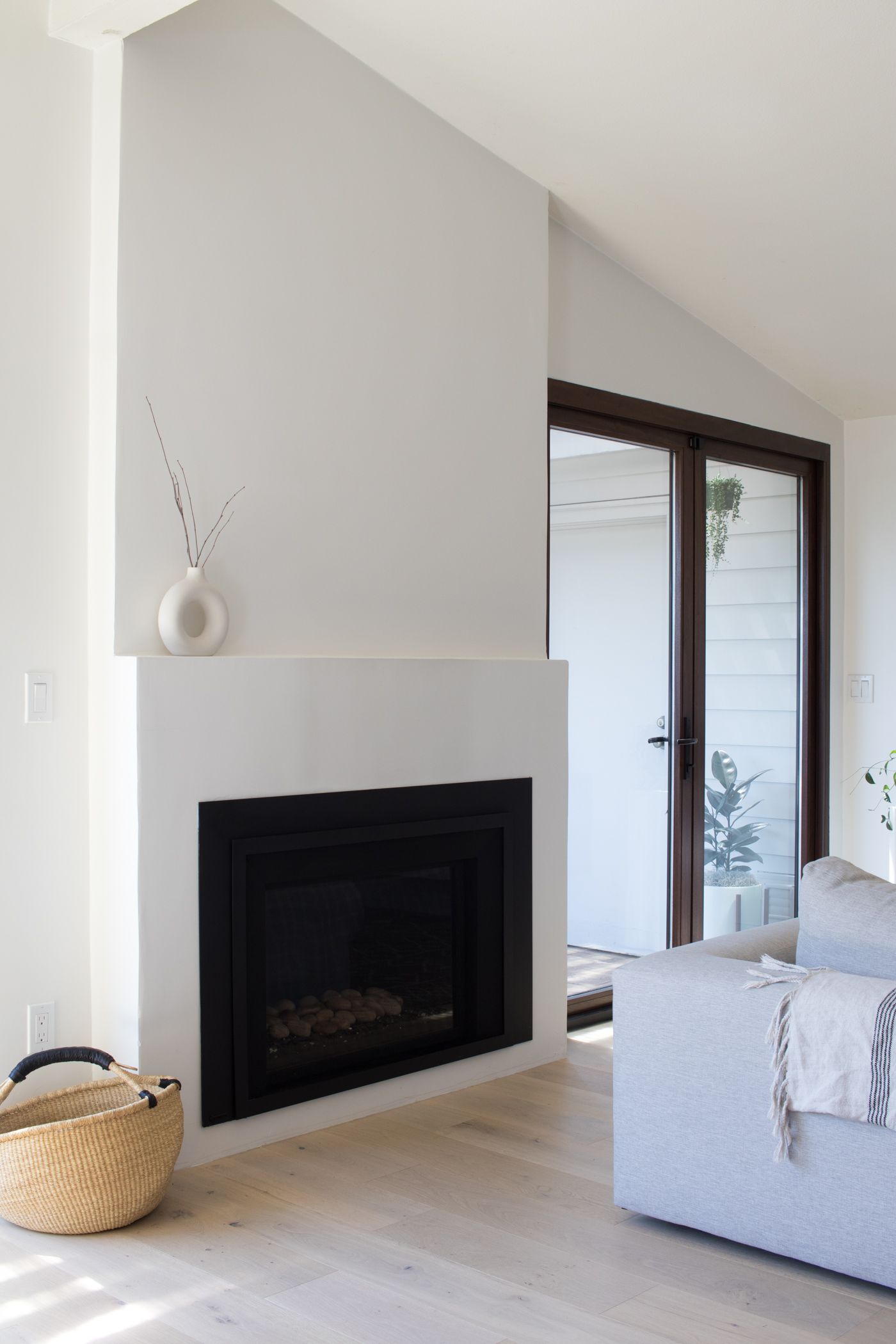 Eventually it was painted along with the walls in Dunn Edwards Whisper White in a velvet sheen. It's a nice bright but not too stark white that looks great in our home that receives a ton of natural light.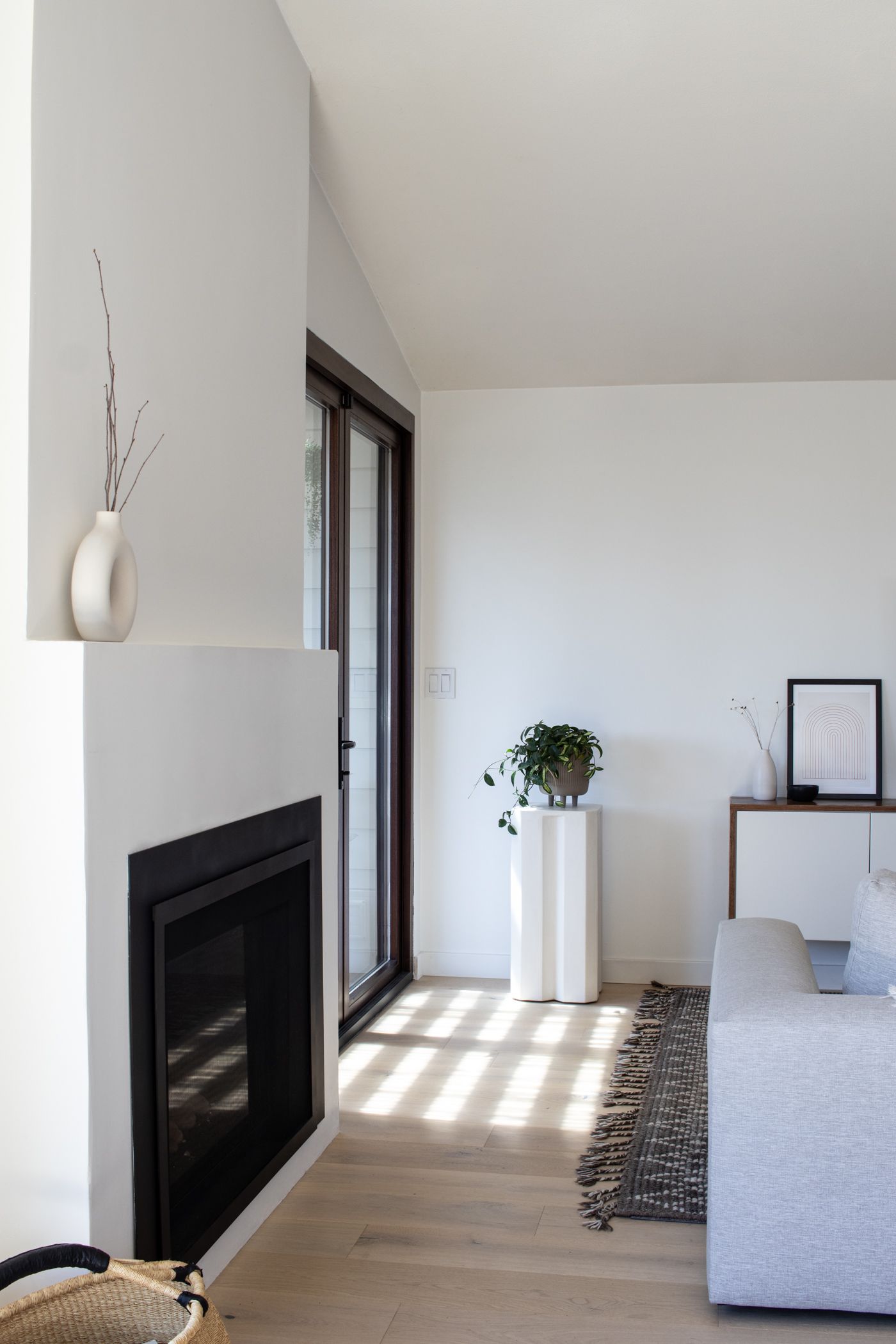 Even with the funky layout where there is no possible way to face the furniture towards the fireplace it's still the star of the show.  The amount of walkway space we gained from removing the step is a game changer. No more toddler tripping hazard.
I have been loving the clean and minimalist look of our new fireplace. I still have plans to apply a plaster like finish to the top. I found the most perfect product. So stay tuned. Maybe now I will get to it since I just told you!