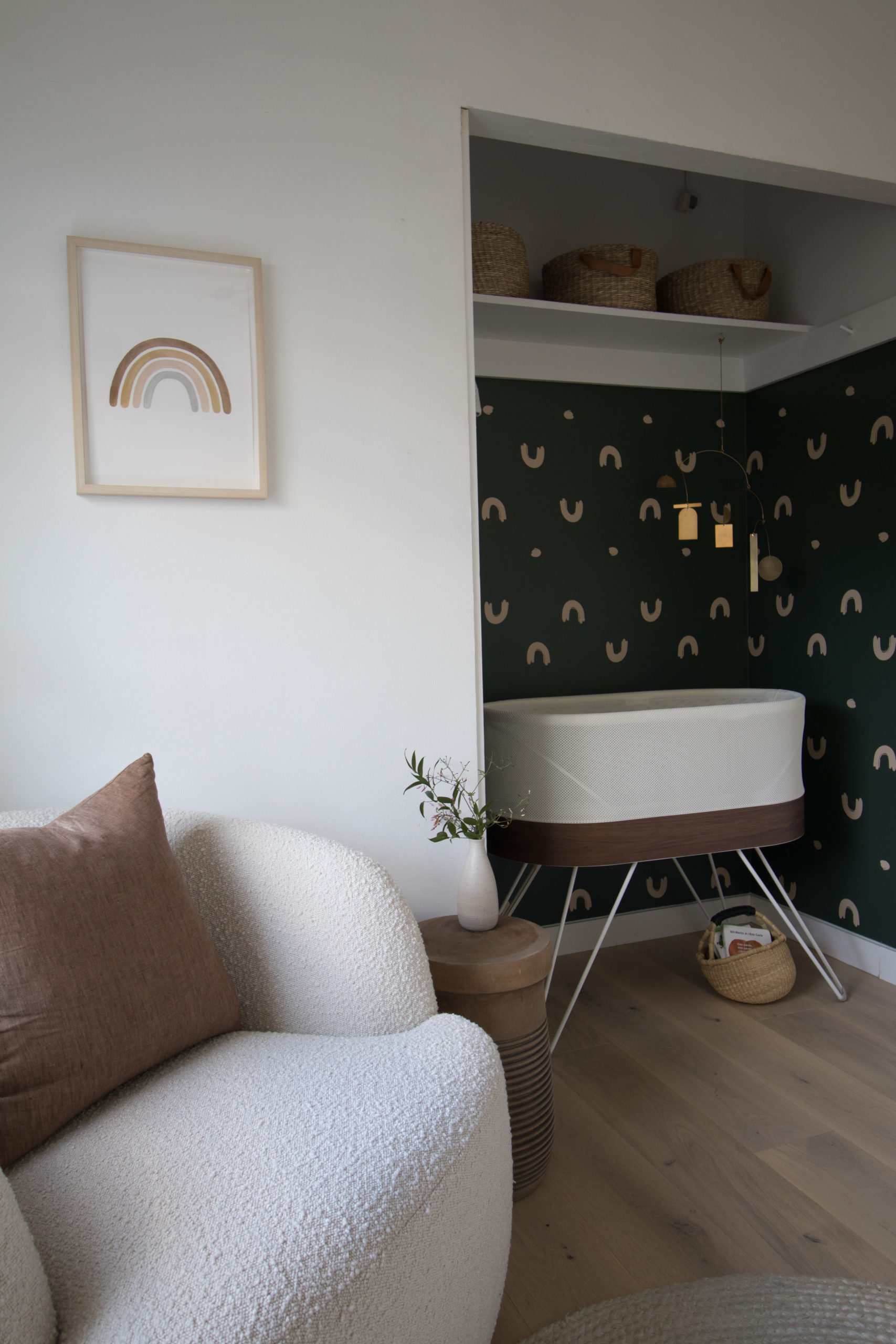 Hello Lovelies,
This post has been in my draft for awhile now and I'm finally taking the time to write the review for the SNOO and show you the nursery design for our second son. It is one of my favorite rooms in our home.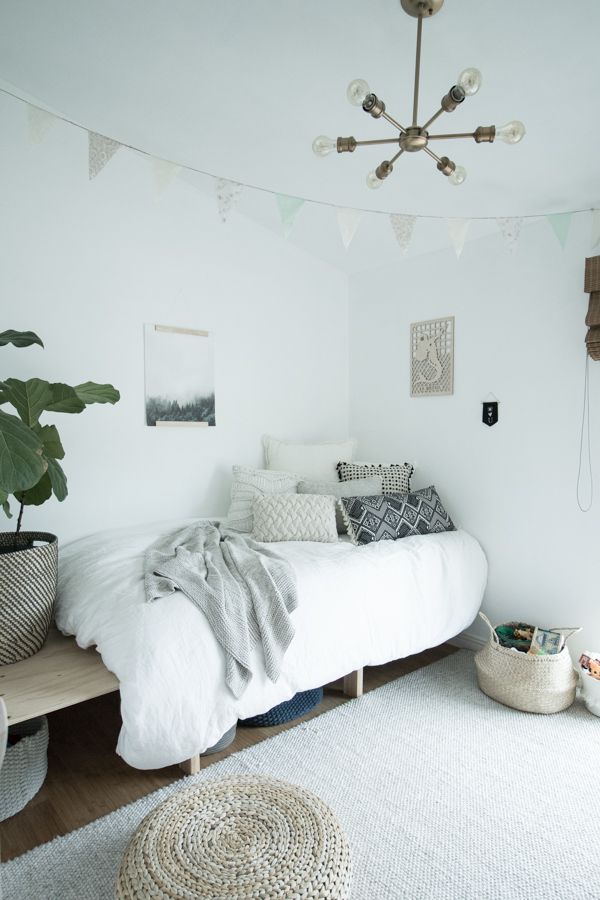 Previously this space had been used as a playroom/guest room/small workspace. For a 9 x 8 foot room it has been a valuable room in our home. Intentional design and built in furniture has made this small space work for us.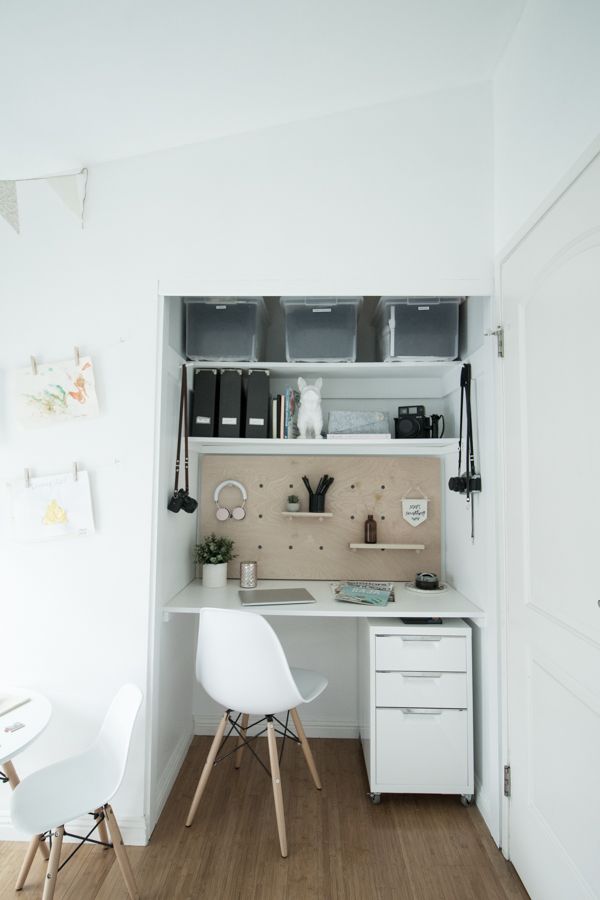 We had friends passing down a mini crib to us and the measurements fit perfectly within the closet nook. The nook I had previously been using as a small workspace. The entire design jumped off from that.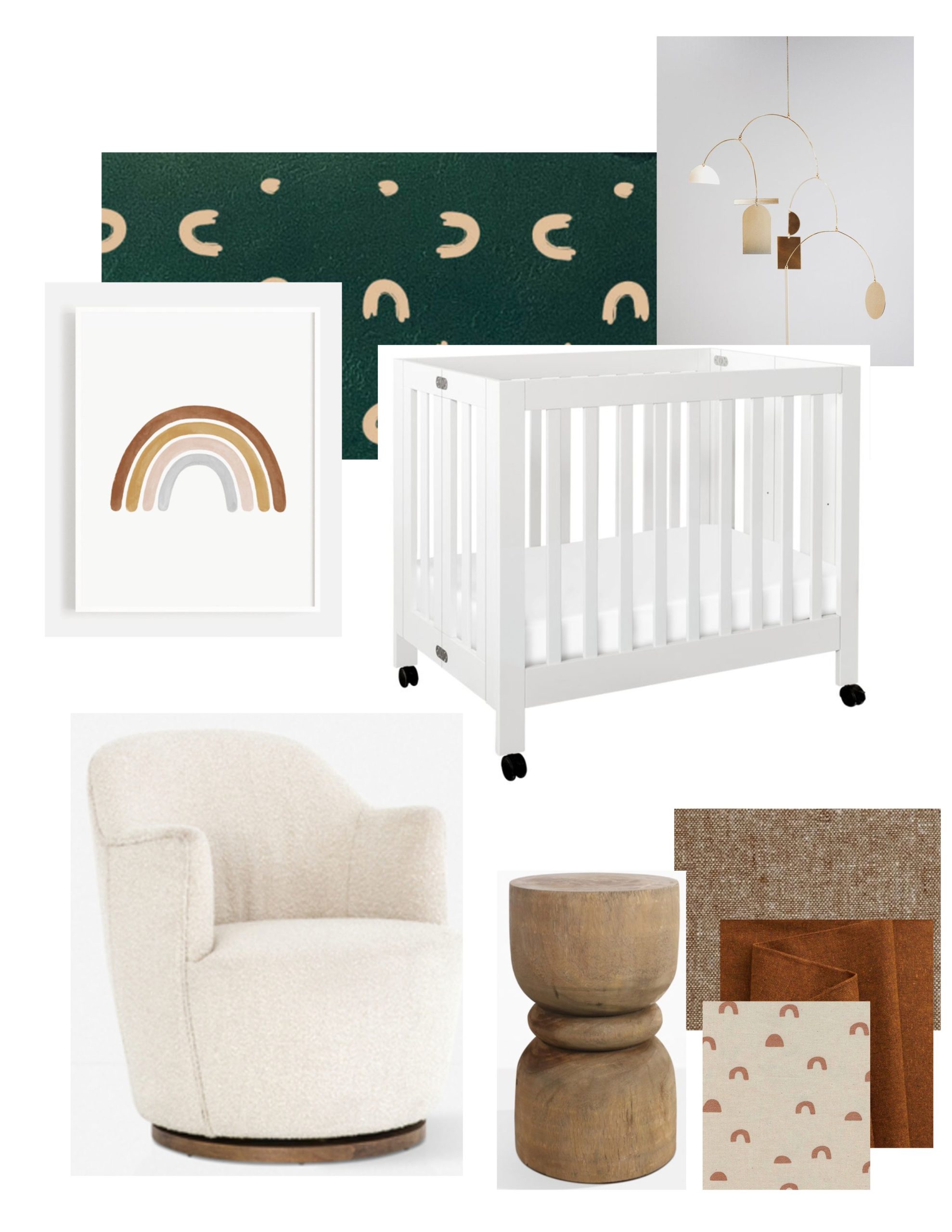 I wanted to make the new co-sleeping nook a little space of it's own so I painted the walls a deep green. The color is Coriander and Olive by Sherwin Williams. I had snagged the rainbow wall print from Rylee + Cru and with that the arches started to play a part in the design.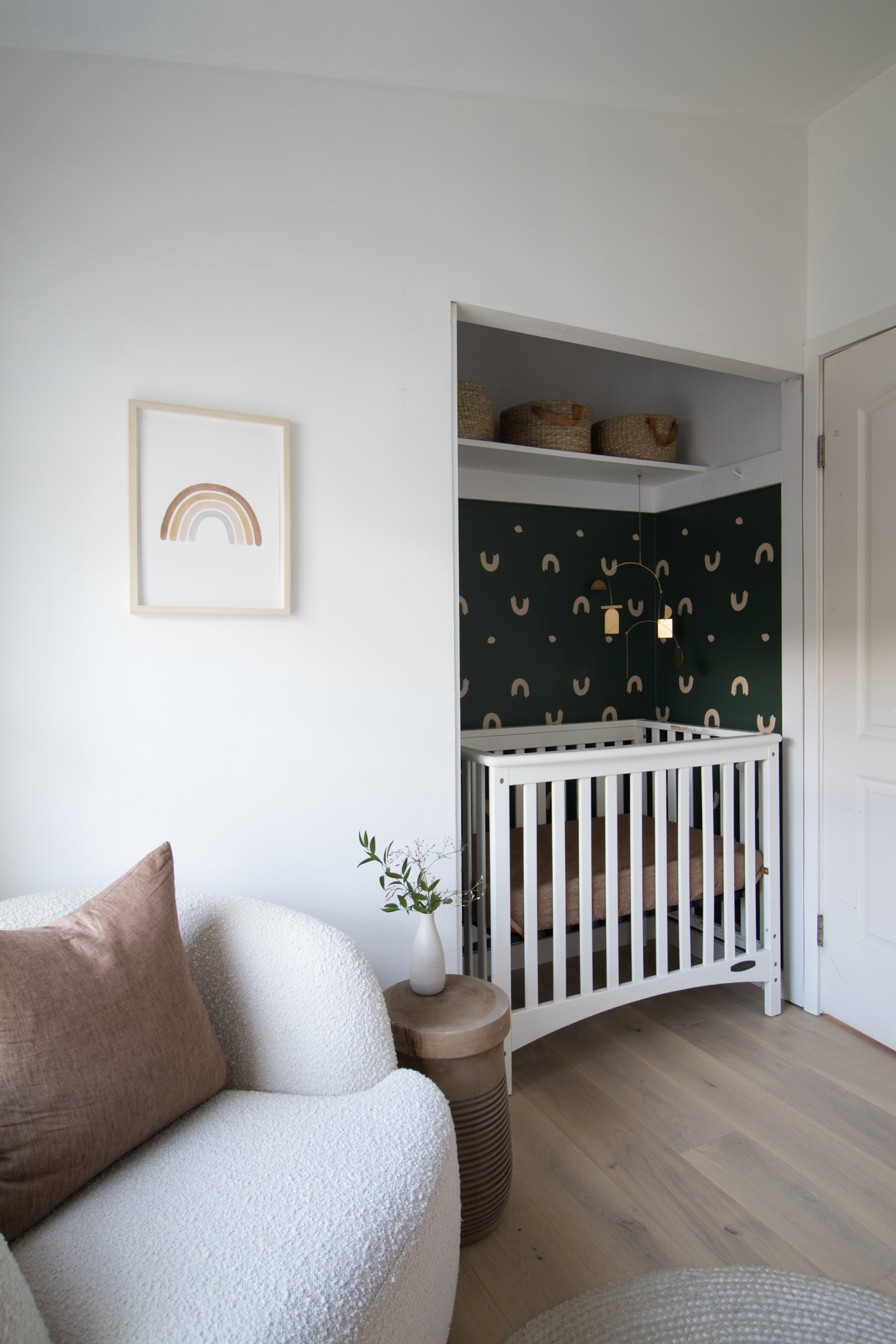 I just love the brass mobile I found from an Etsy maker. The wall decals were another Etsy find as well as the linen mini crib bedsheet.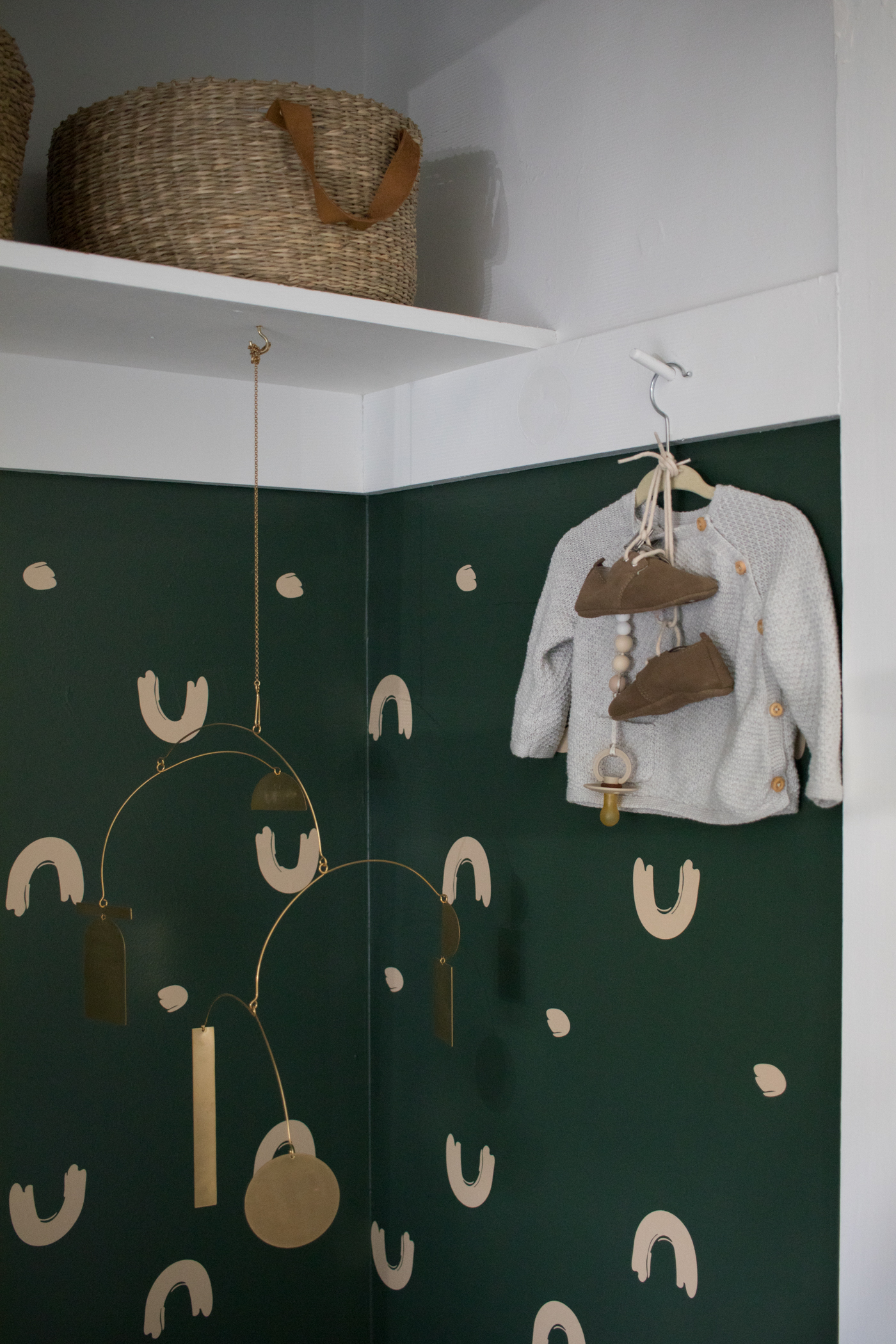 Every nursery needs a good chair. I looked for a slim rocking chair for months but couldn't settle on one I loved and was slim enough not to take up the whole room. That's when I landed on this gorgeous bouclè swivel chair from CB2. For what it lacks in rocking it makes up for in style. It has worked great for nursing and feeding, I would swivel back and forth softly as a soother. I recommend a rocker alternative like this one if you are short on space but just know it will not be the same comfort as a big rocker with a high back.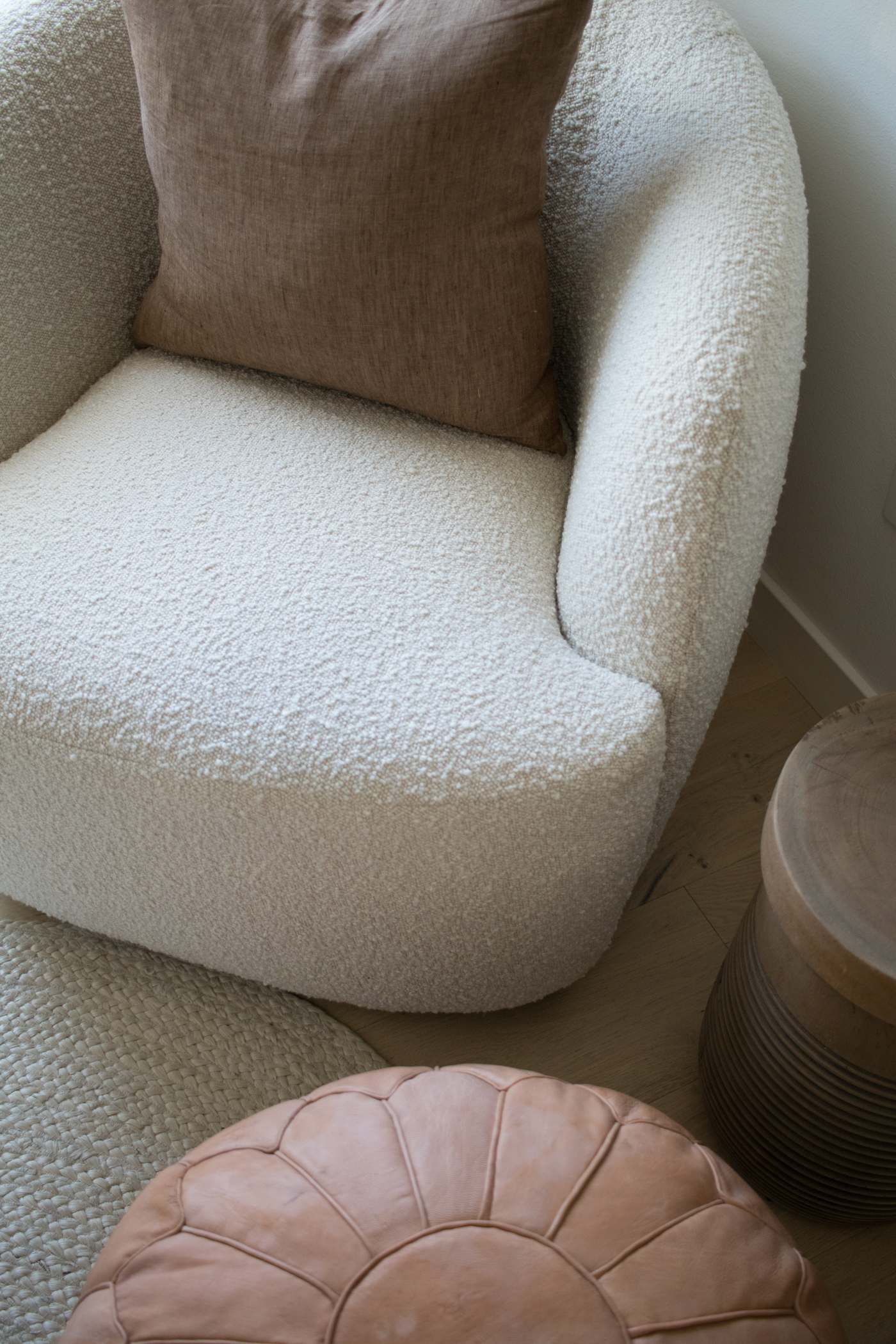 The baskets hold extra clothes, shoes and diapers. We have a dresser that houses the rest. The small teak side table is from Teak Warehouse. I love that both the chair and side table will blend in another part of our home once we have no more use for them in the nursery.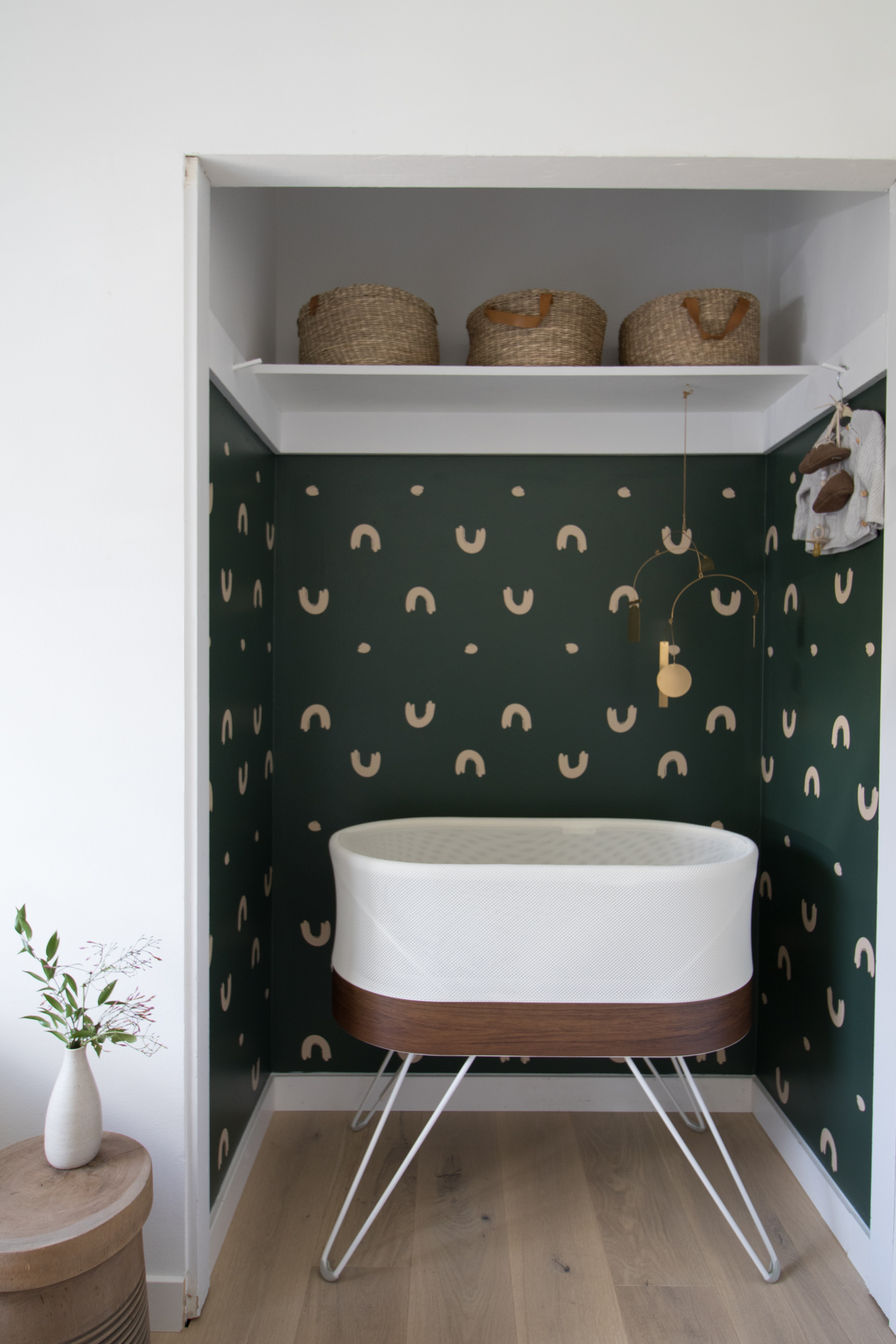 The SNOO entered our lives when our son was 3 months old. We co-slept with the dock a tot from the day he was born. The lazy newborn days where he would fall asleep on me were starting to drift by and around 2-3 months old he became increasingly harder to get to sleep – for naps especially. He would go from content to hysterical in minutes and the only way to get him asleep was to vigorously bounce him on the yoga ball while loudly shushing him in his ear. This baby liked an aggressive sleep routine. All for him to take a 30 minute nap and start the whole process over again an hour later. Needless to say I was physically wrecked…back achingly exhausted.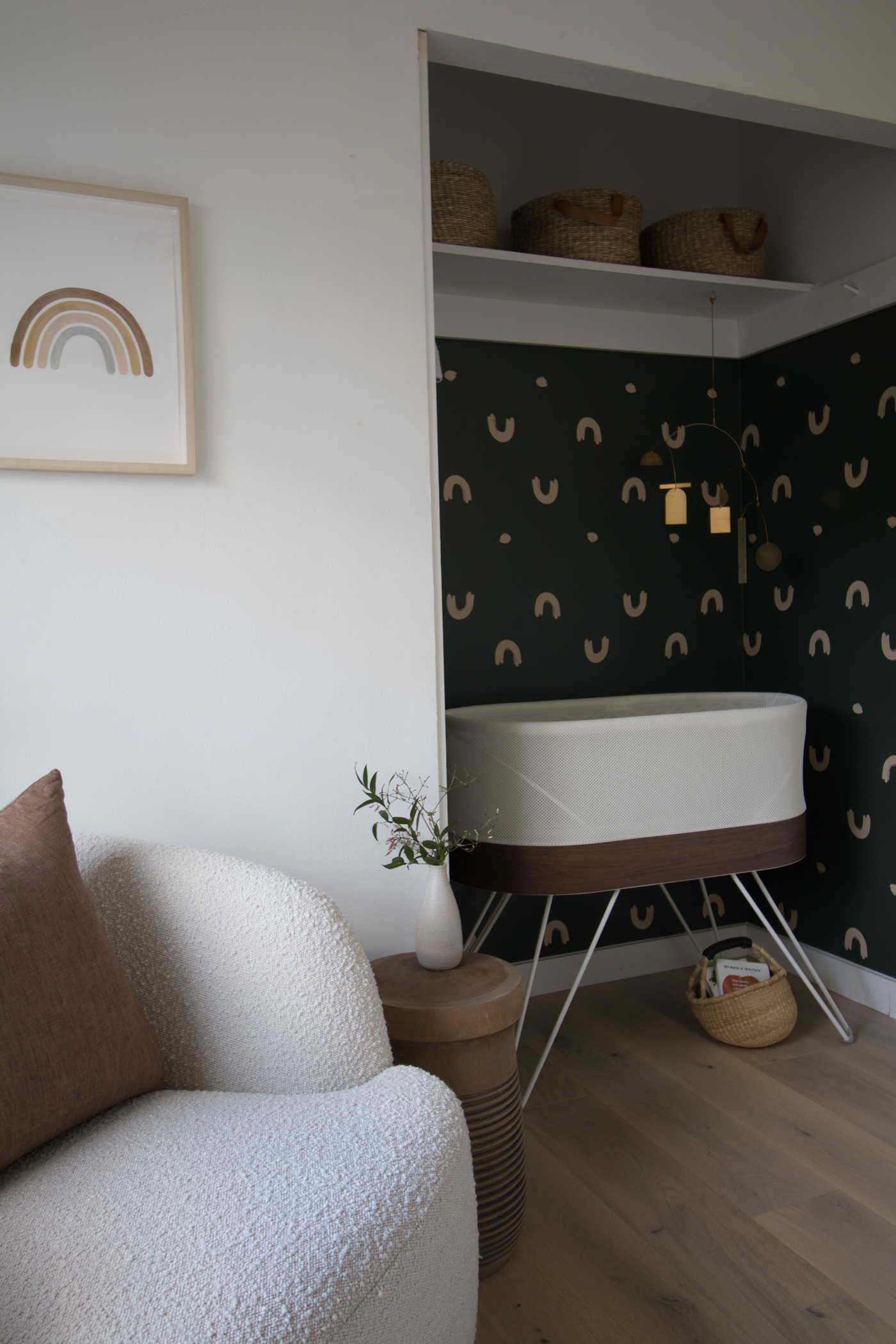 Enter the SNOO. My husband surprised me with it one day after reading about its smart technology. Him being a technology nut, he thought why the heck not. Plus it couldn't be a more perfect mid century design for our home. He took his chances. Anything to help get a baby to sleep, right? Now that you can rent a SNOO over buying one he felt it was worth the test.
I gotta say I was hesitant at first. But it was just what we needed. It was like having a second set of hands and patience.
The SNOO is a responsive baby bassinet that combines calming rocking with white noise and safe swaddling. Created by Dr. Harvey Karp writer of The 5 S's and Happiest Baby on the Block.
The combo of the safe swaddle along with the 4 modes of movement calmed our little guy down drastically easier and was a lot less wear on my back. We used it for naps and bedtime until just before 6 months when he no longer needed to be swaddled for comfort and he started to push himself up. We later learned our little guy was cutting 6 teeth during those few months and I have the SNOO to thank for getting any sort of sleep during that time.
I was nervous about the transition but it couldn't have been easier. We used the transition mode for a few nights with no movement just the loud white noise and then by night 3 he was being laid down to sleep in the mini crib with a white noise machine in the room.
With our rental of the SNOO you are required to keep all packaging so when it came time to send it back we followed the video guide online how to pack it up. Super simple, we were really pleased with the rental option and felt the money we spent was well worth it. I would recommend to anyone looking for a safe and stylish bassinet for your baby to sleep for those first few months.
I adore this little corner of our home. It has been fun to see the evolution of the space over the years. This may be my favorite yet.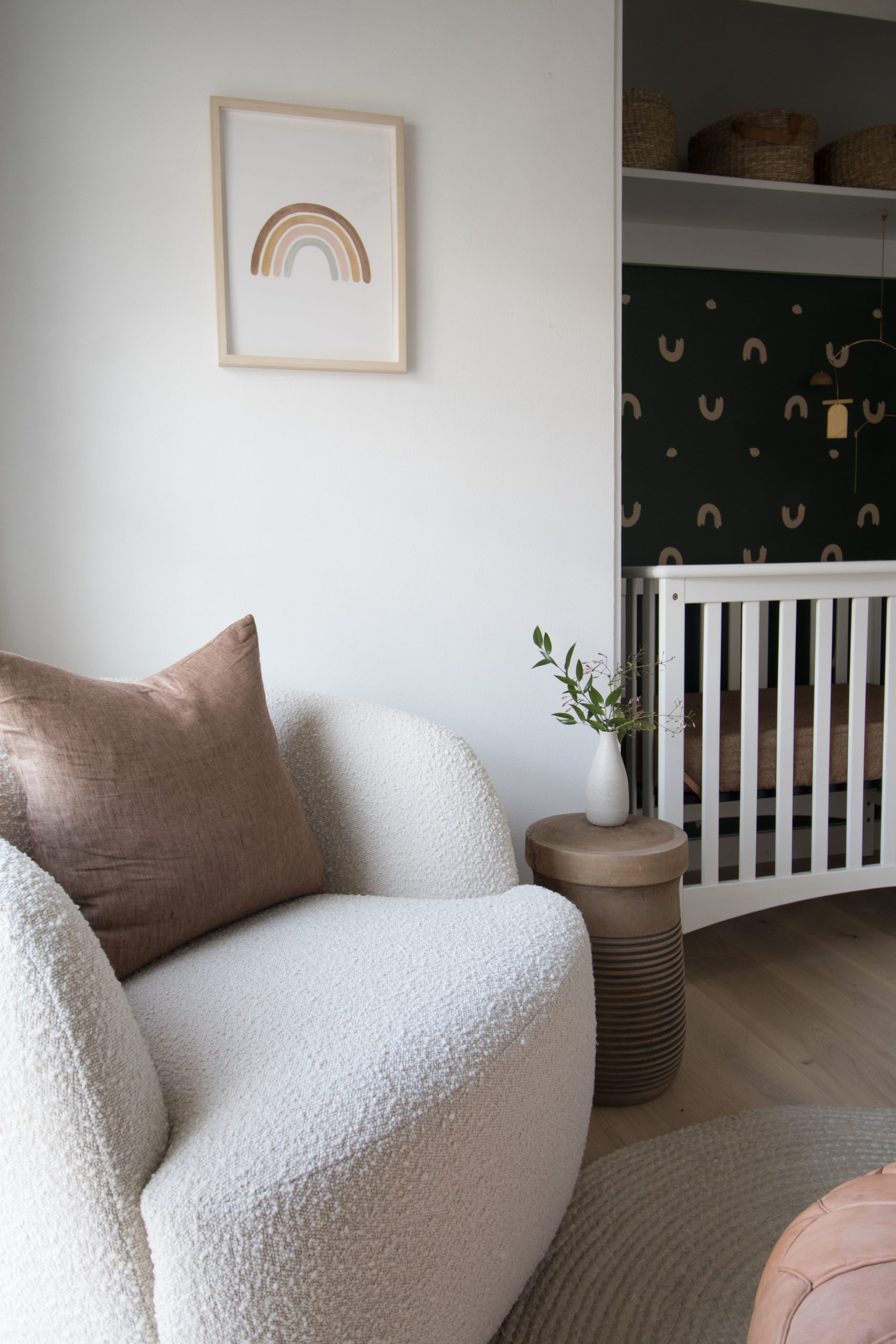 Update on the mini crib: Our son is 14 months old and still sleeping in the mini crib. He is average in height and sleeps comfortably in there. I would expect in the next 4-6 months transitioning him out of it. I know I was very curious how much time I could get out of a mini crib so thought I would share our experience so far.