Hello lovelies!
Today is the day for my Fall 2020 One Room Challenge reveal of the lounge!
If you are not familiar the One Room Challenge it is a biannual event happening in Spring and Fall. It is a 6 week challenge to transform a space of your choice and share the process along the way. The first one I ever did I made over our master bedroom and had so much fun being involved with the community I couldn't wait to sign on as a guest again.
Before we jump into the full reveal let's check out what I started with…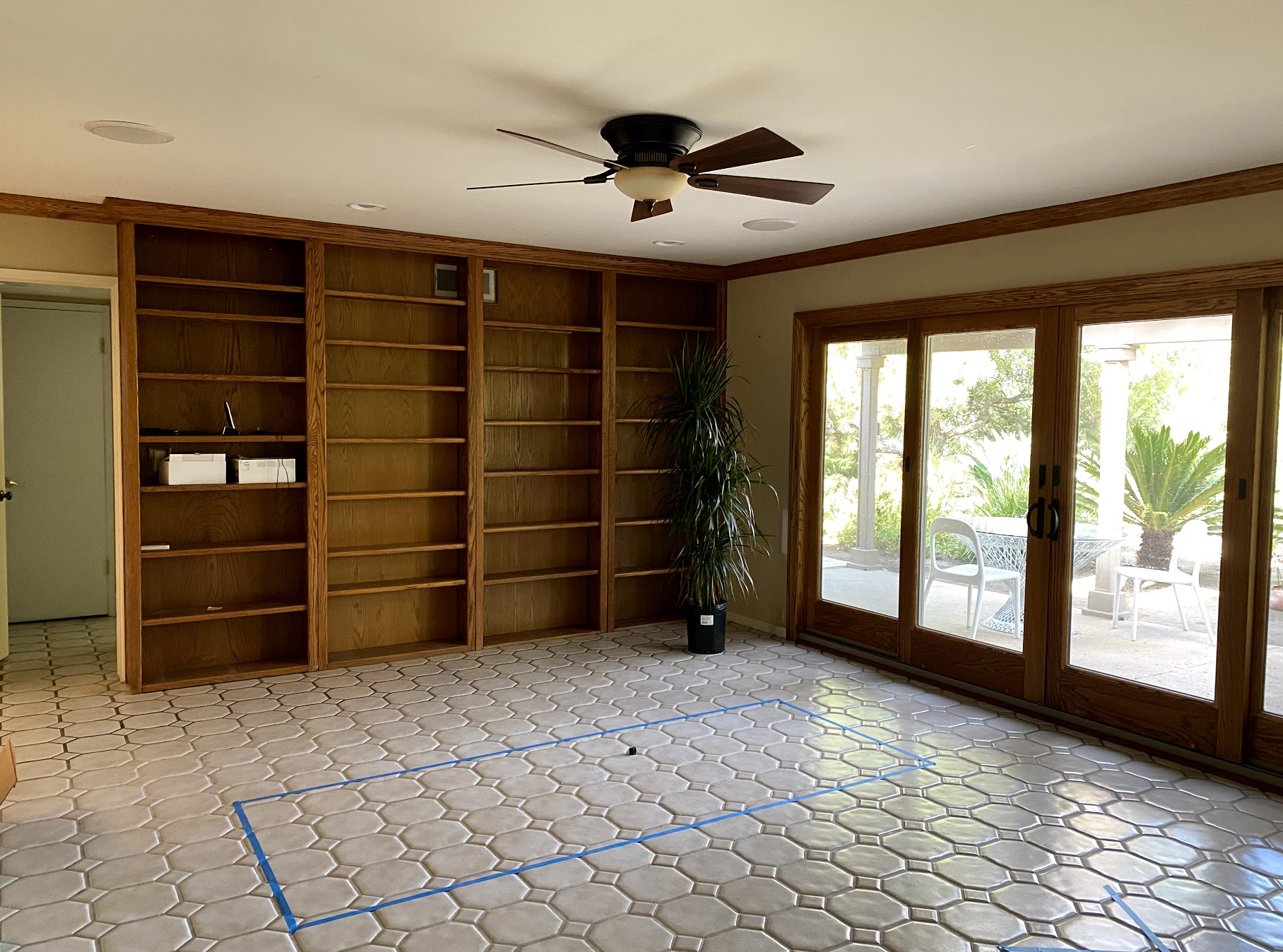 We had just purchased this 1968 mid century ranch and had a plethora of rooms to choose from to makeover. I chose this lounge space first as it is in the center of the home with a fantastic fireplace and so much potential. It was also one of the rooms that didn't need any major structural changes to spruce it up. What it did have was chunky crown molding, way too much red oak, and yellow walls. It definitely felt dated.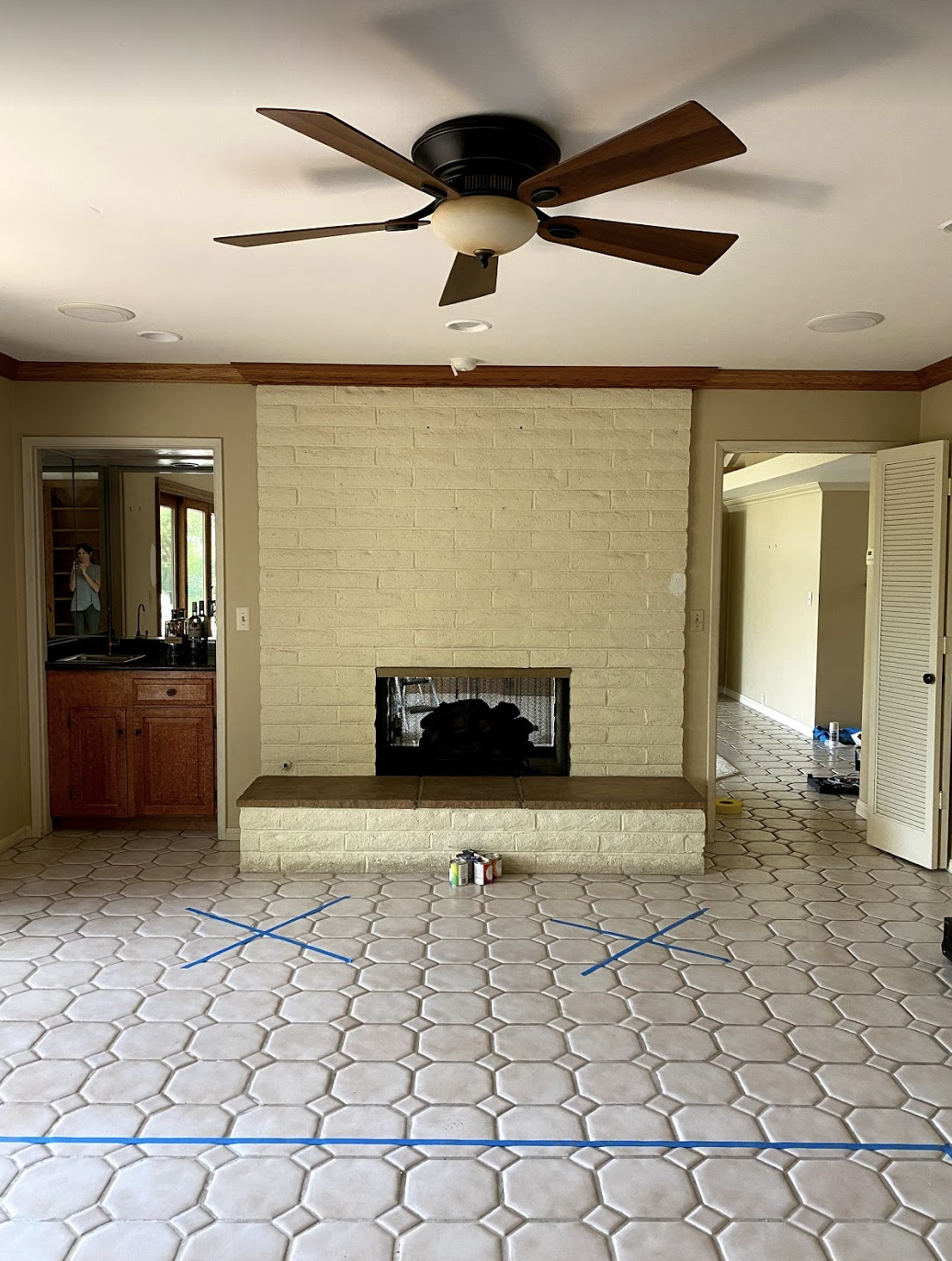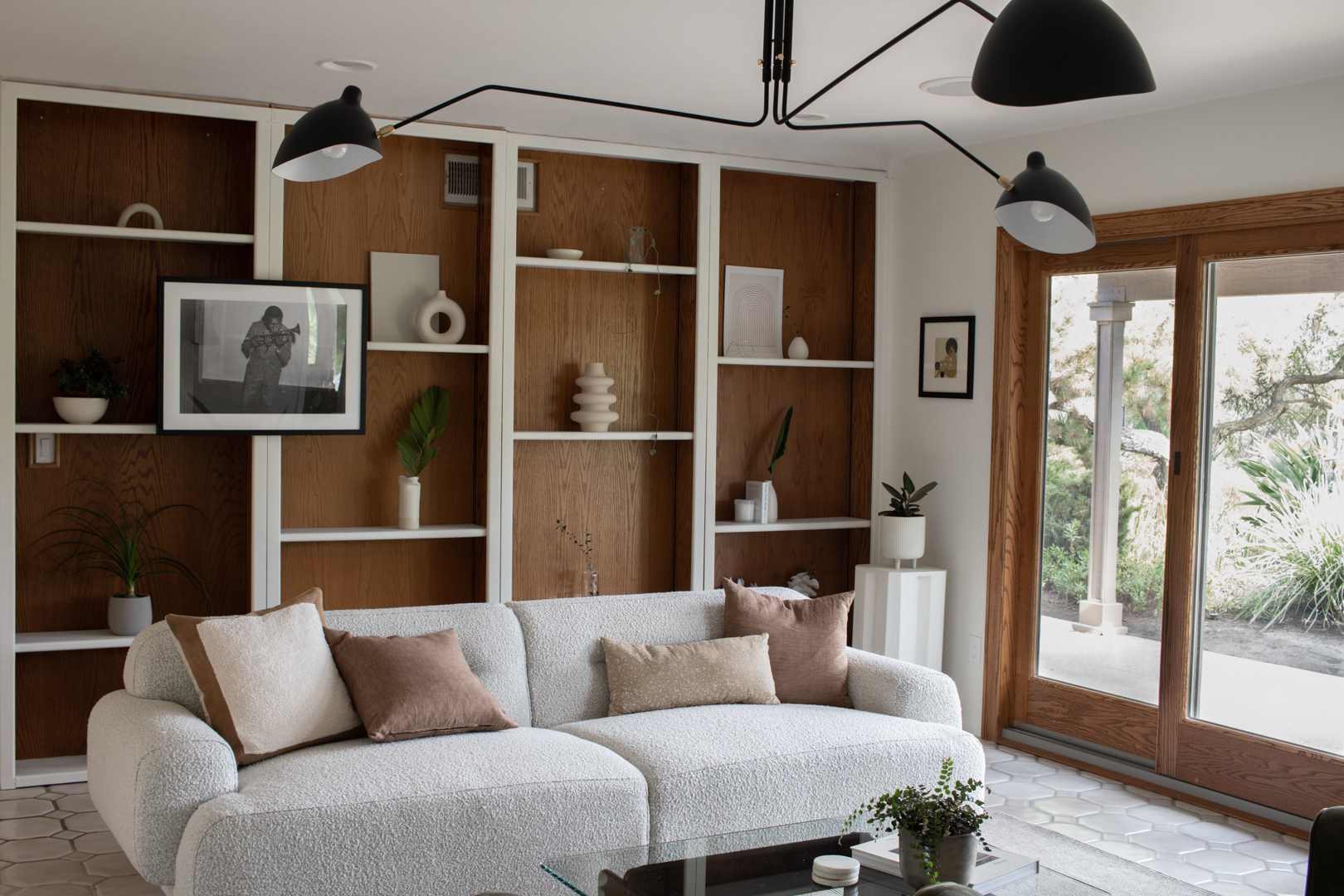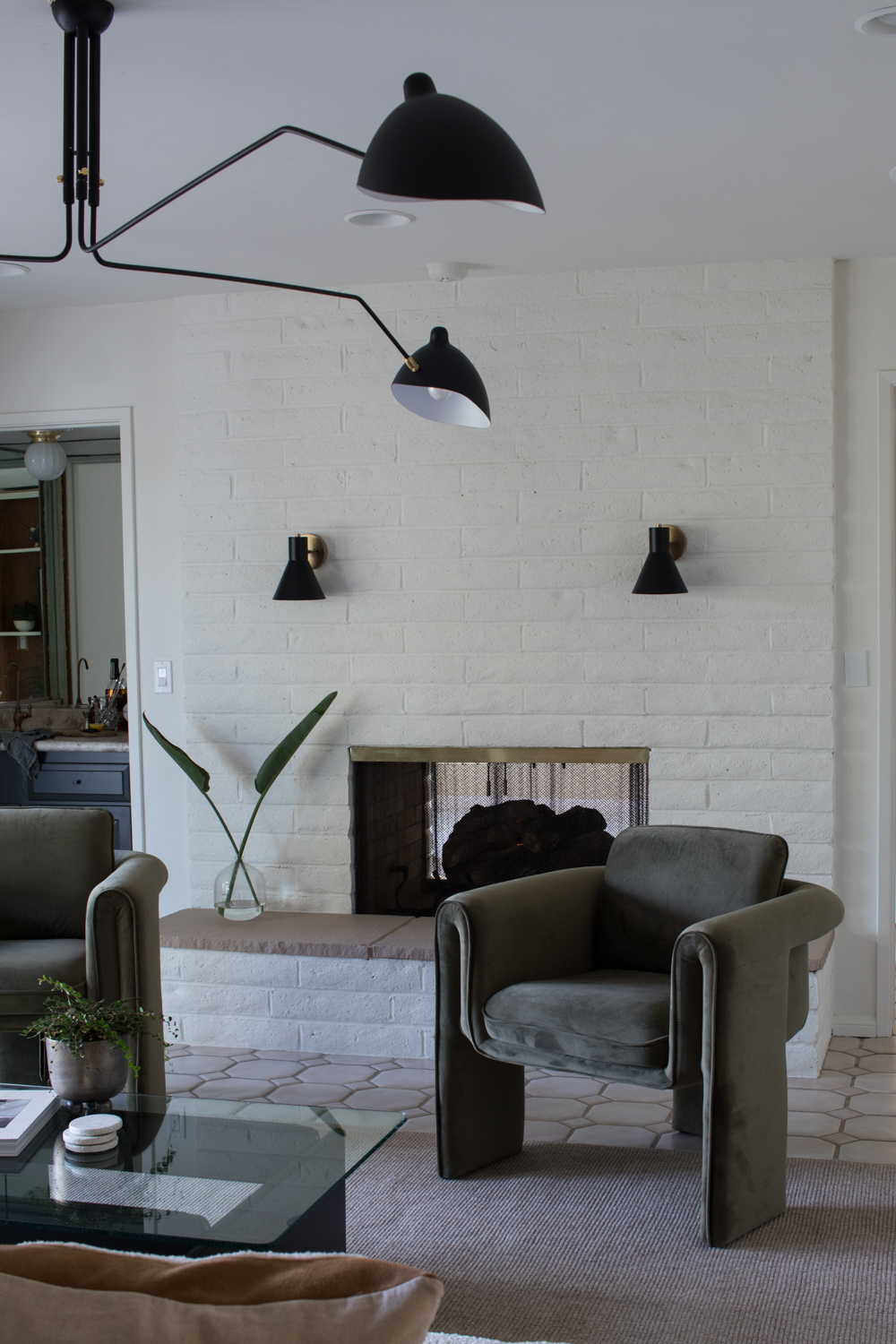 THE PLAN:
My goals were to make the space brighter, less dull and dated, and incorporate some post modern pieces. The lack of natural light was a challenge when designing and picking a wall color. I would still call it a work in progress as there are a couple furniture pieces I want to add/build as well as a touch of finishing molding to install. But I am so happy with the space and more importantly it is nice having one finished room in the house as we continue to remodel the rest.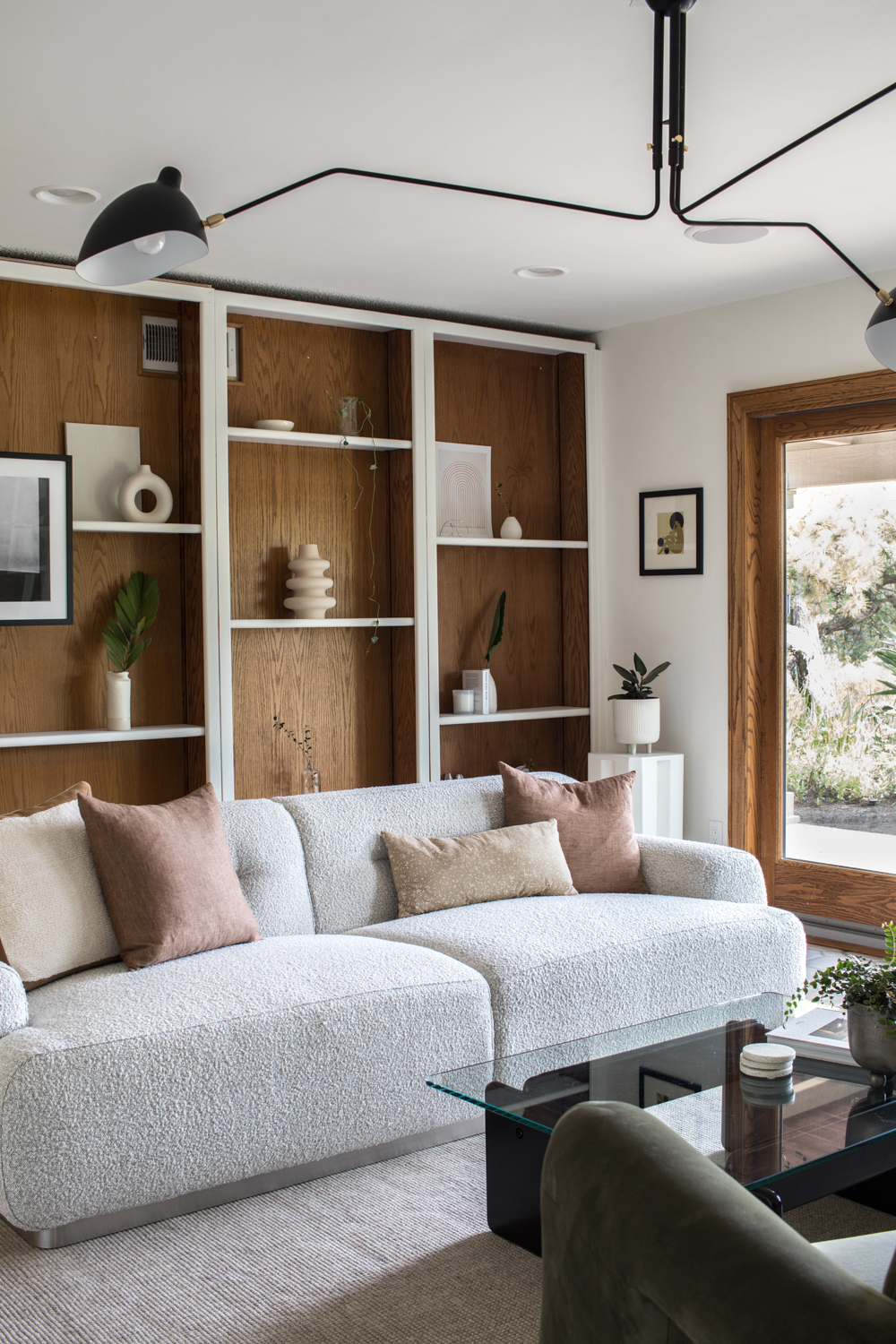 I started by removing the crown molding which made the ceilings taller once removed and honored the time period better. I painted everything a fresh coat of Benjamin Moore White Dove, including the frames and shelves on the bookcases. I decided to keep the bookcases. They are much warmer than wood I normally like but with paint and slimming down the amount of shelves it helped to modernize it and I'm really happy I kept them as they became a nice backdrop for the room.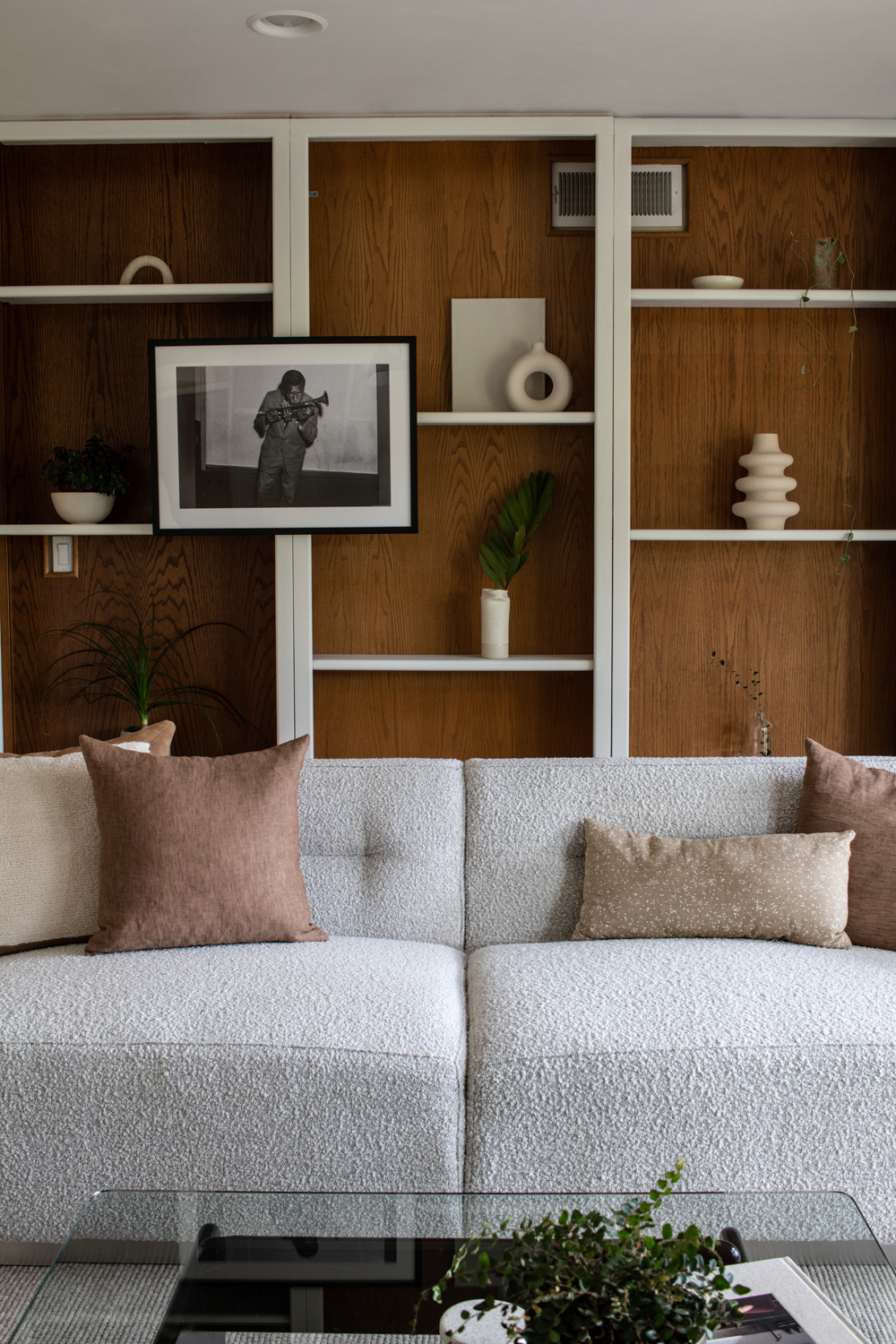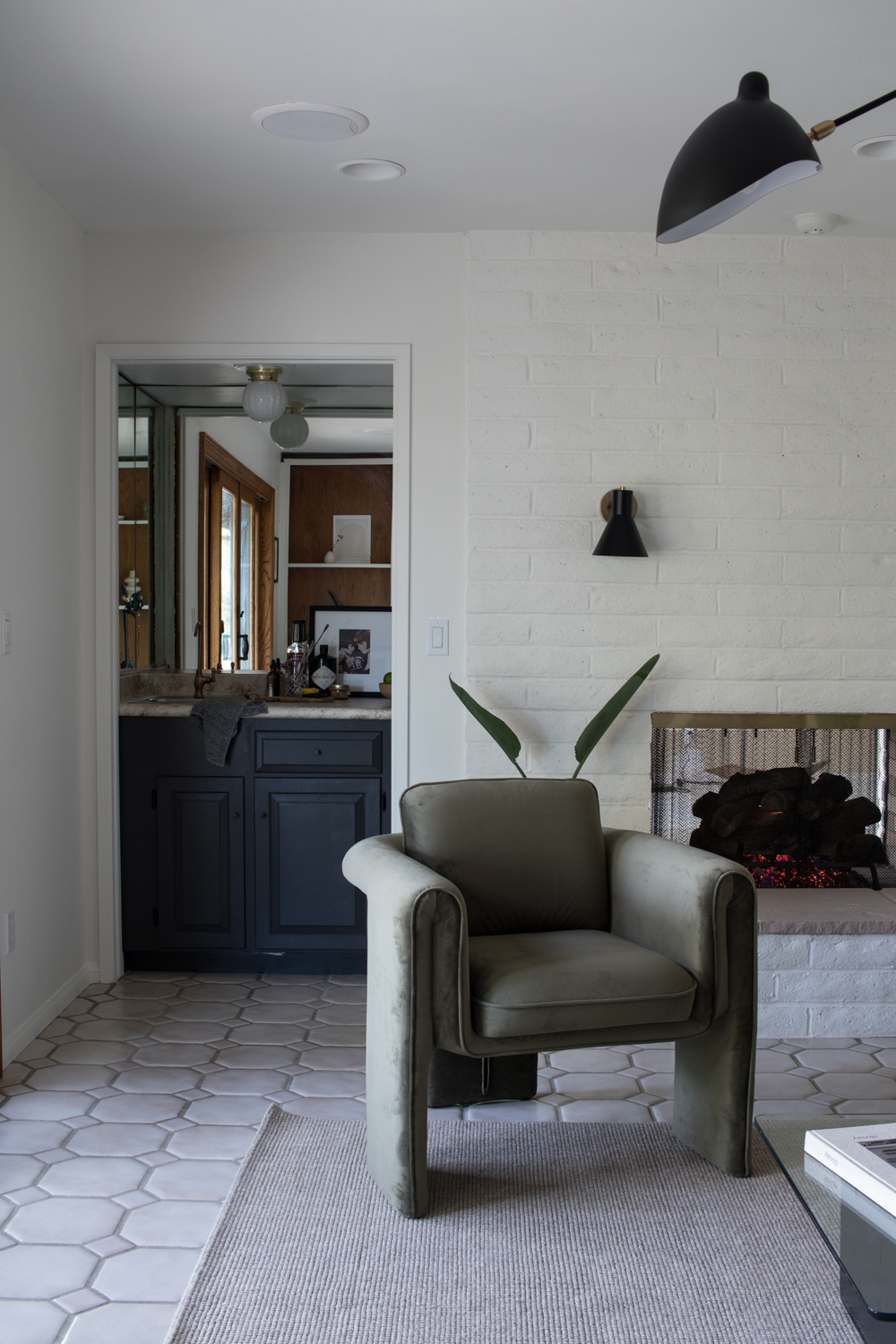 The fireplace got a fresh coat of paint over the brick as well as on the seat. I used a chalk paint that couldn't have been easier to apply. No sanding, priming or any sort of prepping. Just one and a half coats and it was done.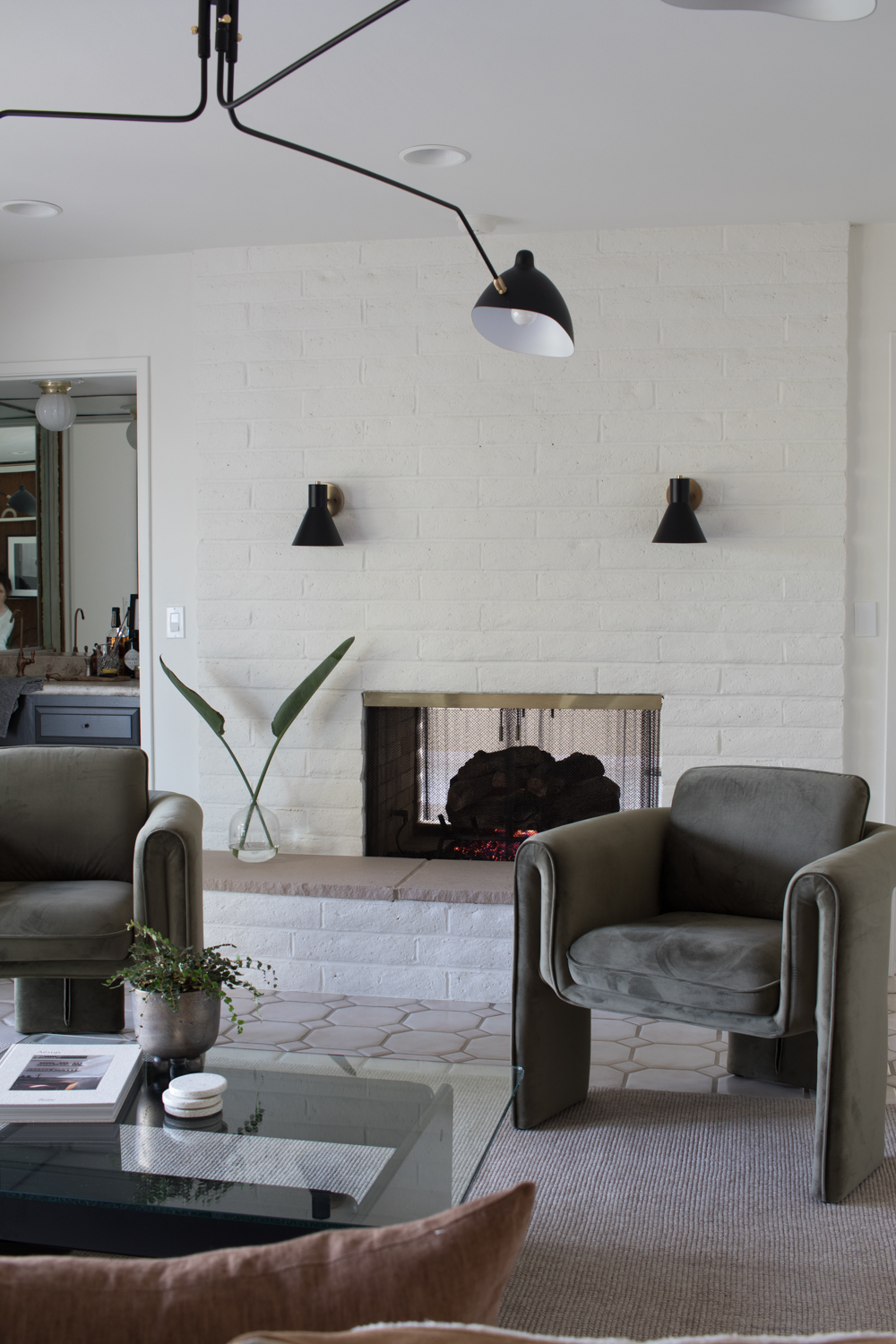 The sconces are a fun hack. I picked up the magic light trick from Brooke over at Nested with Grace and it works like a charm. They are hardwired sconces that I disregard the wiring and use command strips to attach to the brick. Then you stick a battery operated puck light where the light bulb would normally go. It can be controlled by a remote to add some accent lighting to the room.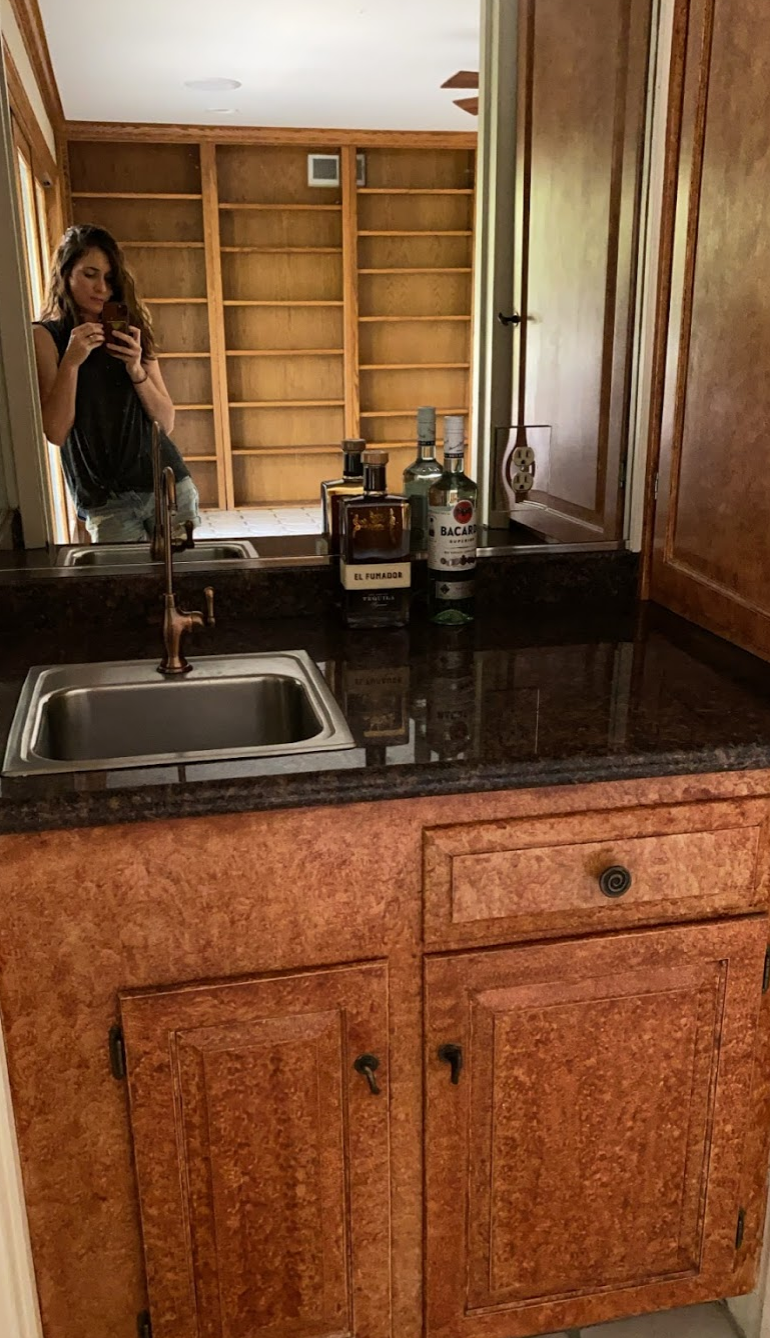 The wet bar needed a refresh in a major way.  I removed the cabinet door on the side and I will be replacing with glass shelving. I painted the cabinets with Sherwin Williams Iron Ore and used contact paper on the countertops to change the color and feel on a budget. I also replaced the can lighting with a flush mount light fixture by using the can light converter kit. I love light fixtures and felt this spot was a nice opportunity for one.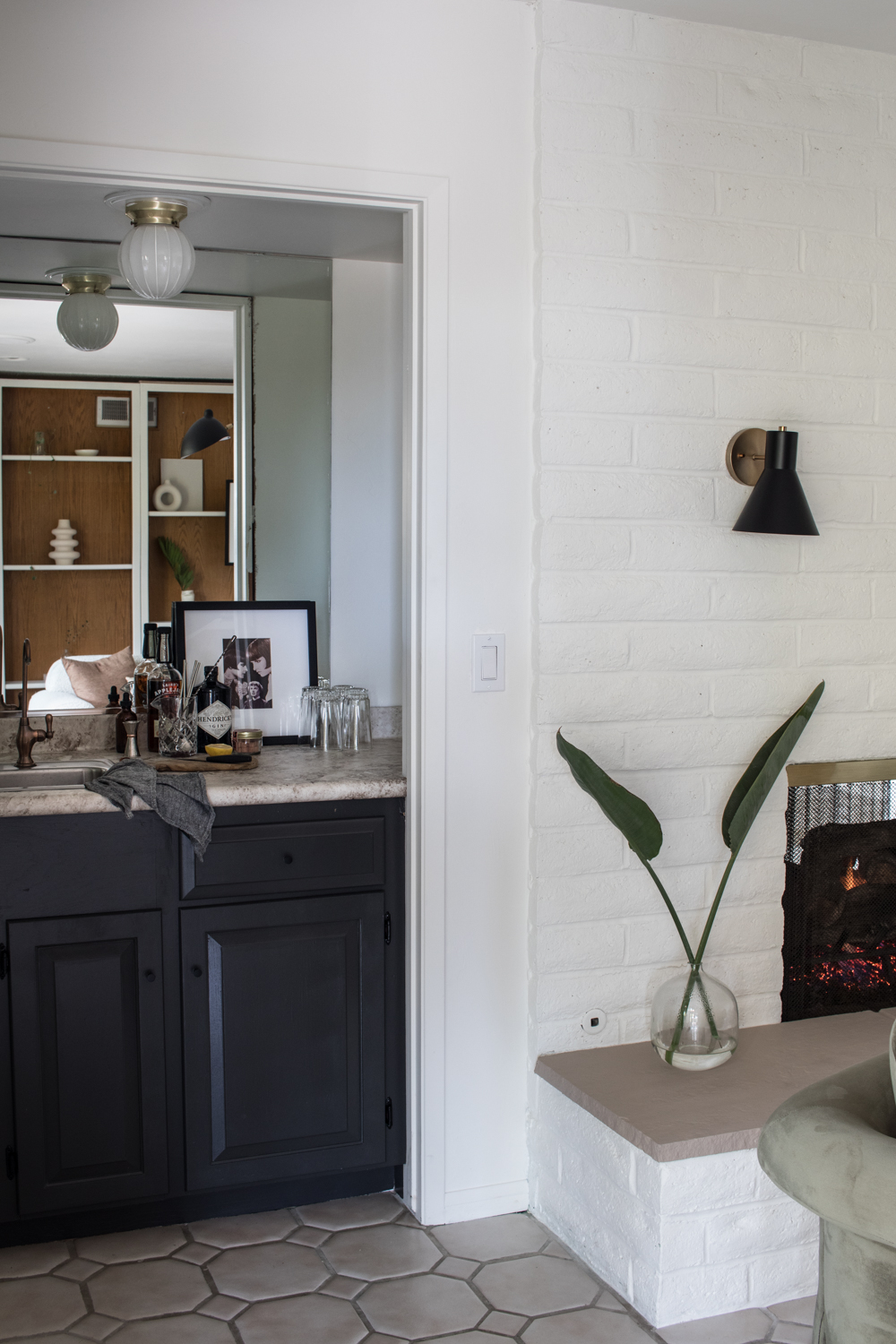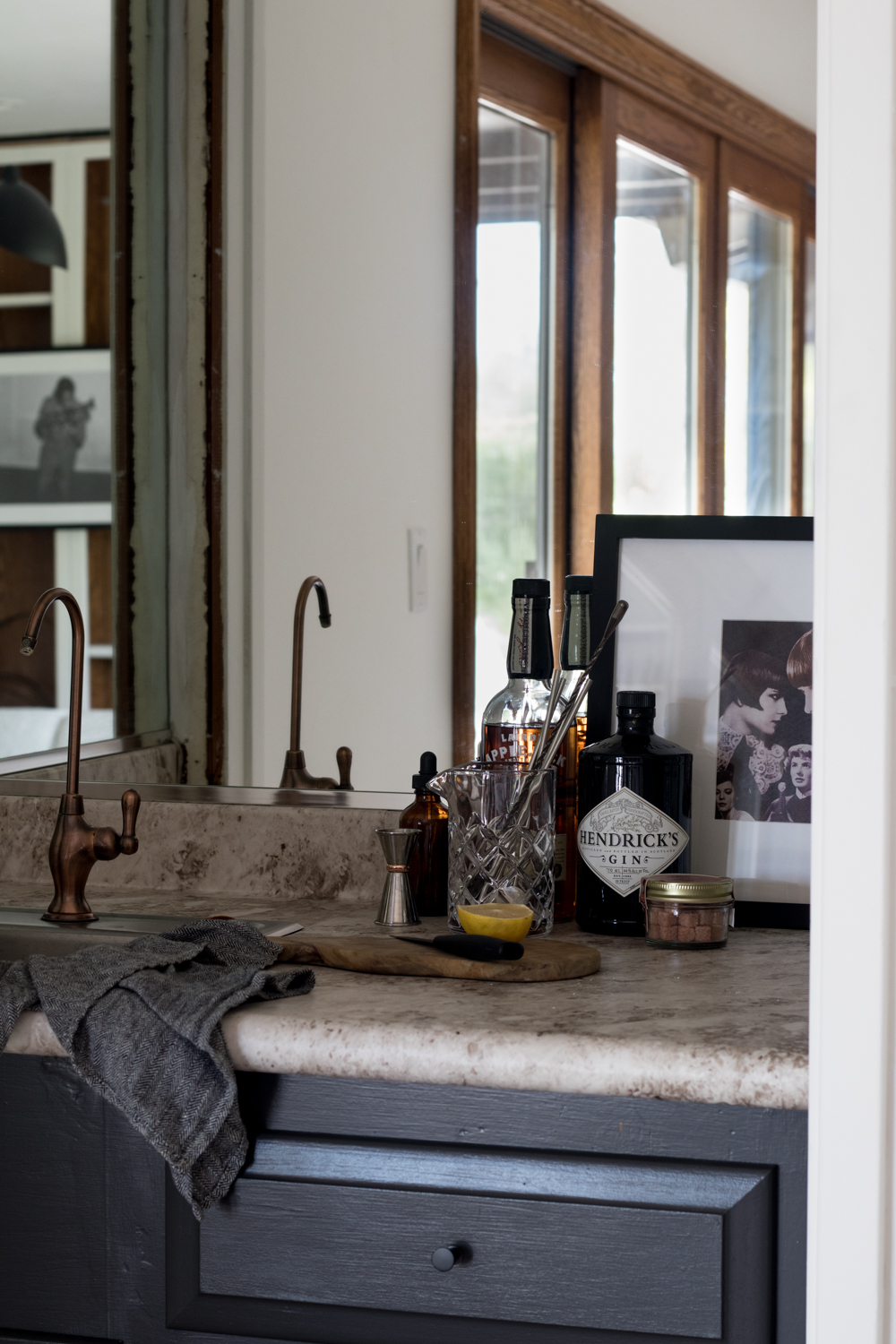 It took me a bit to narrow down the layout. I originally thought I would fit a bistro table in the back corner by the bookshelves. But I landed on creating a seating area centered and floating in the room under the large pendant chandelier.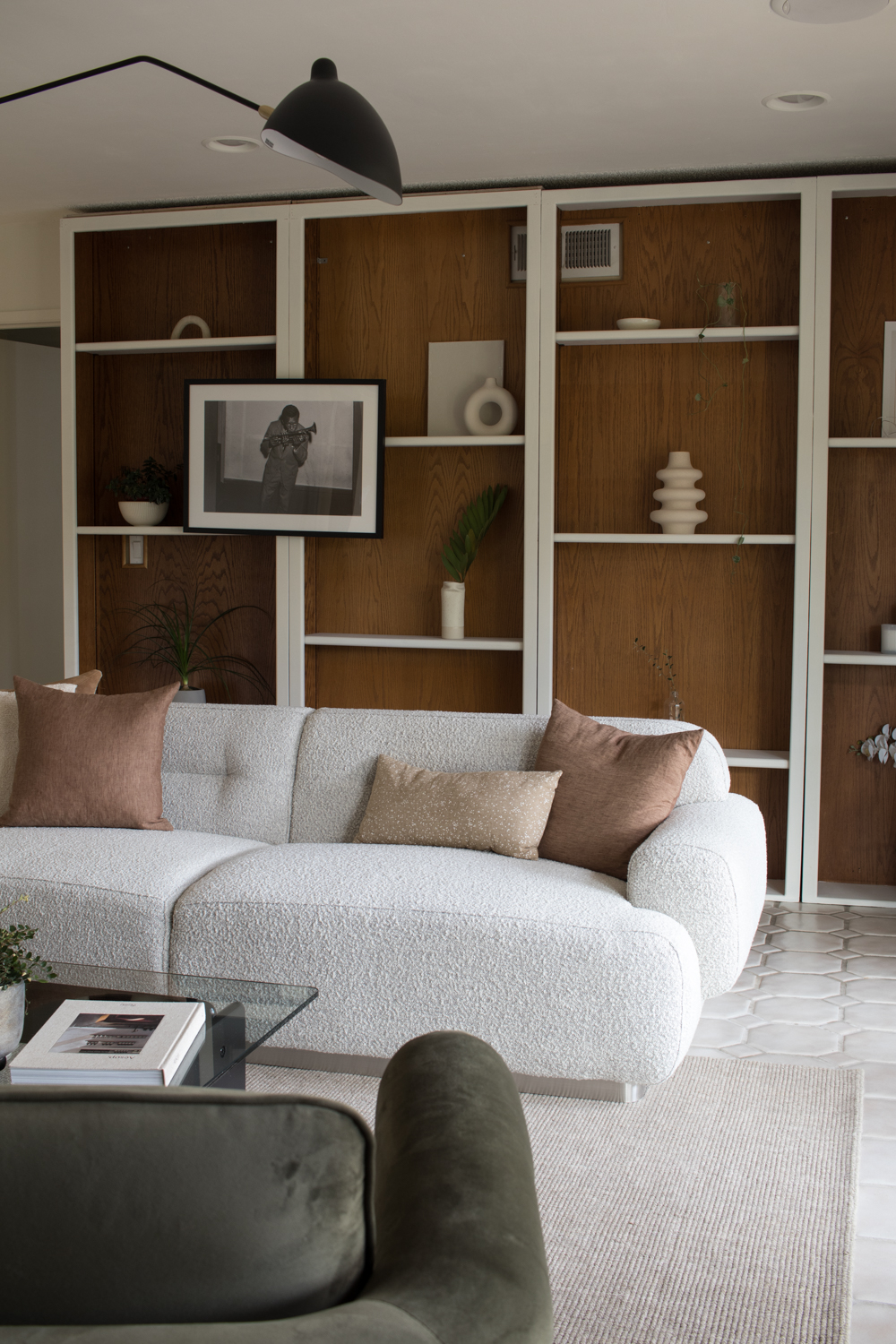 The CB2 sofa was the starting point for the rest of the furniture as I just fell in love with it when I saw it. Check out week 4-5 for a review of the sofa. I was then on the hunt for a great pair of swivels but after coming up short finding anything I loved within my budget I landed on a pair of these tripod chairs with a nice subtle green velvet texture.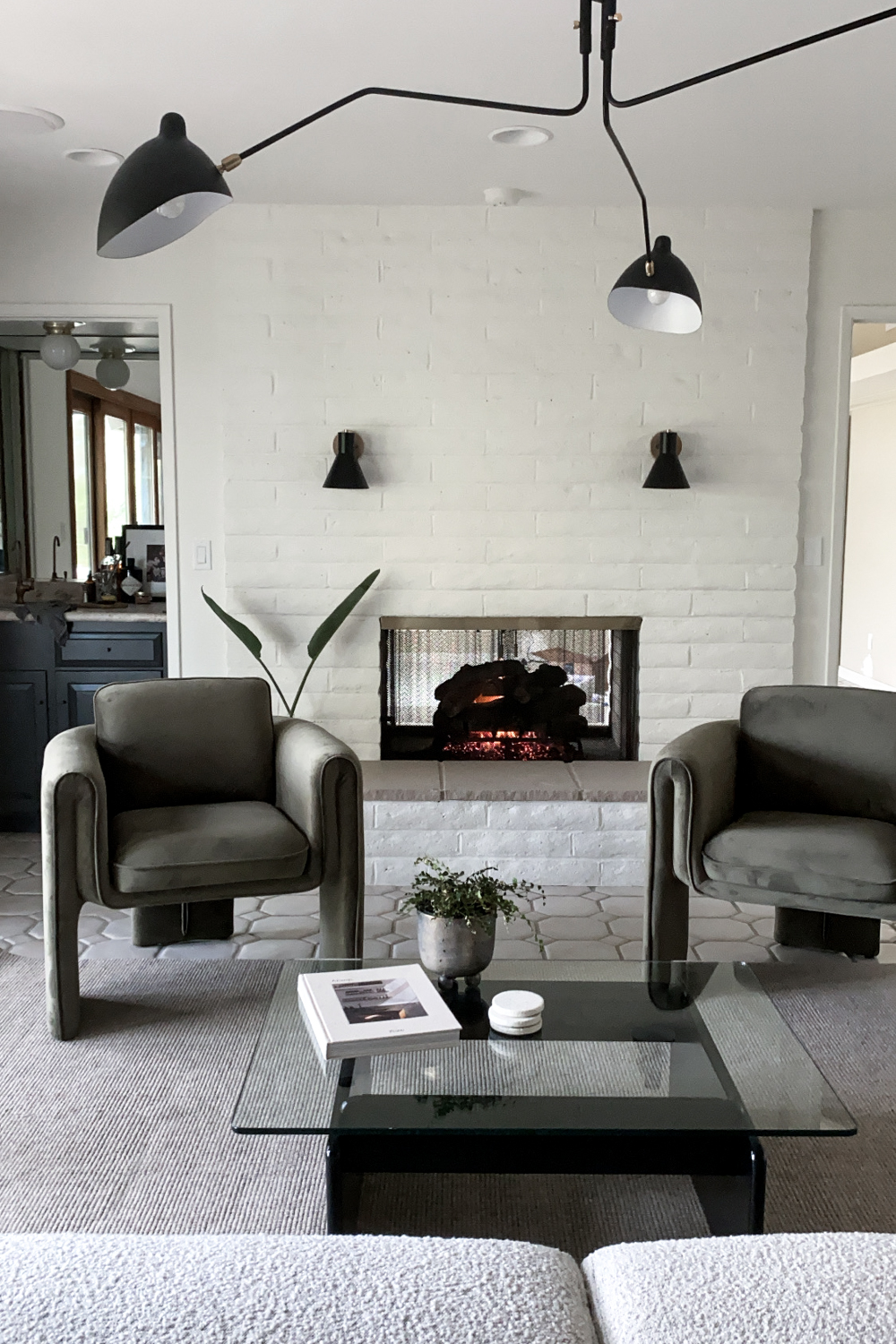 I'm loving all the curves.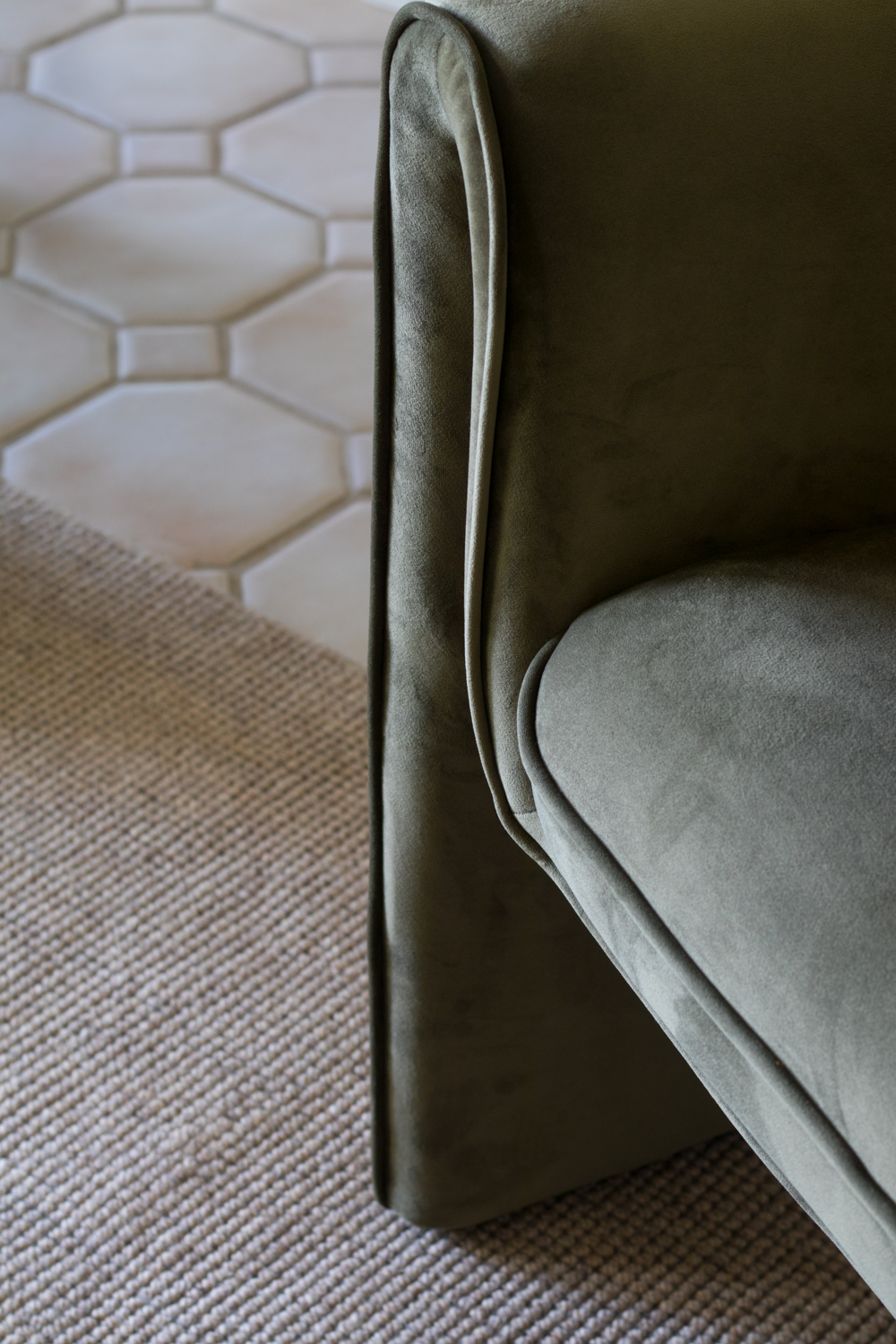 How have I not mentioned the Serge Mouille inspired light yet!? I don't even care that I see it everywhere now, I have loved this light for years and have been waiting for the day I would have a flat ceiling of my own to install it on. It's definitely a statement piece and makes me oh so happy.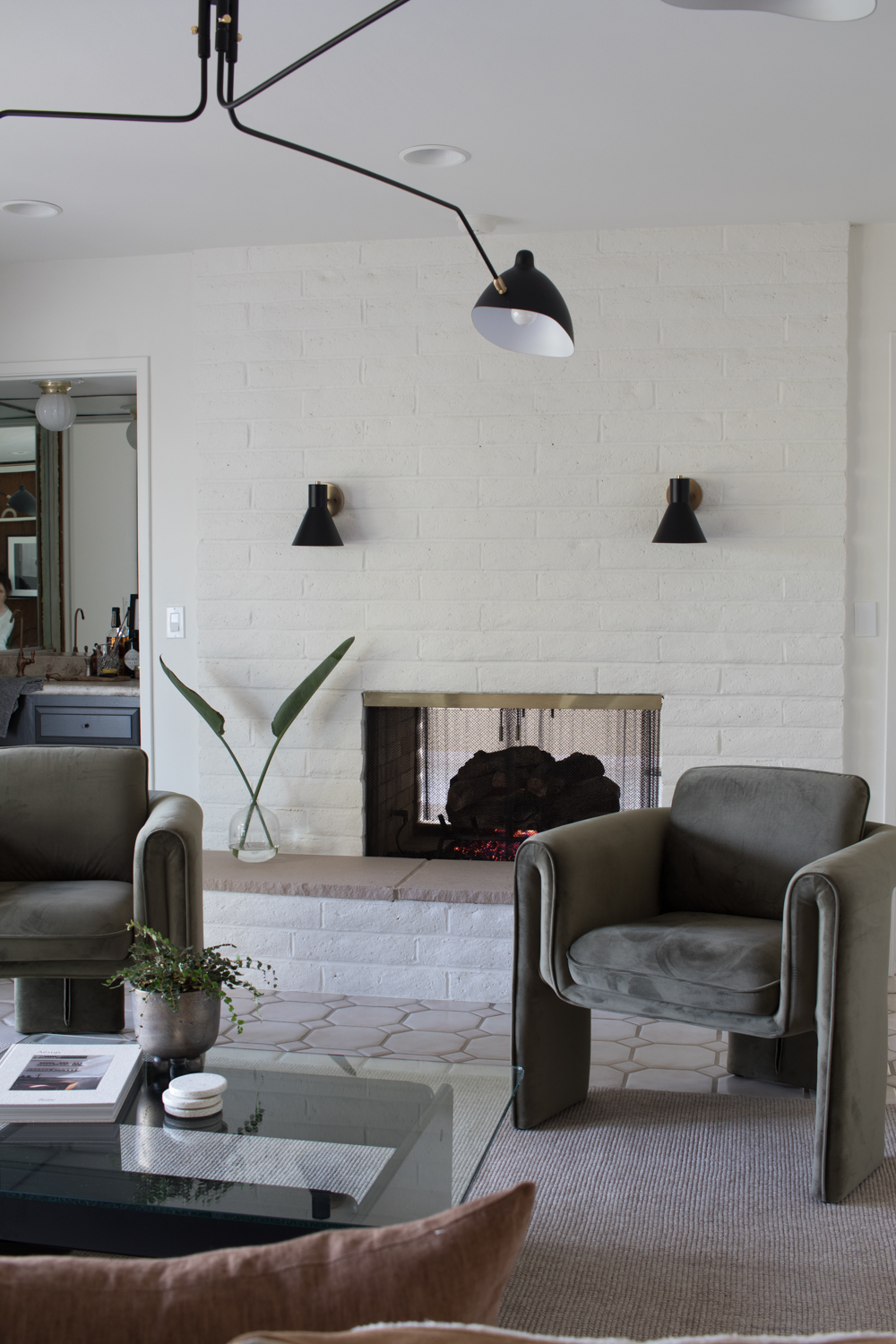 The sisal rug and glass coffee table I found on Facebook Marketplace pulled it all together. I am so happy with how this space came together. We have plans to add our record player in here to really feel those lounge room vibes.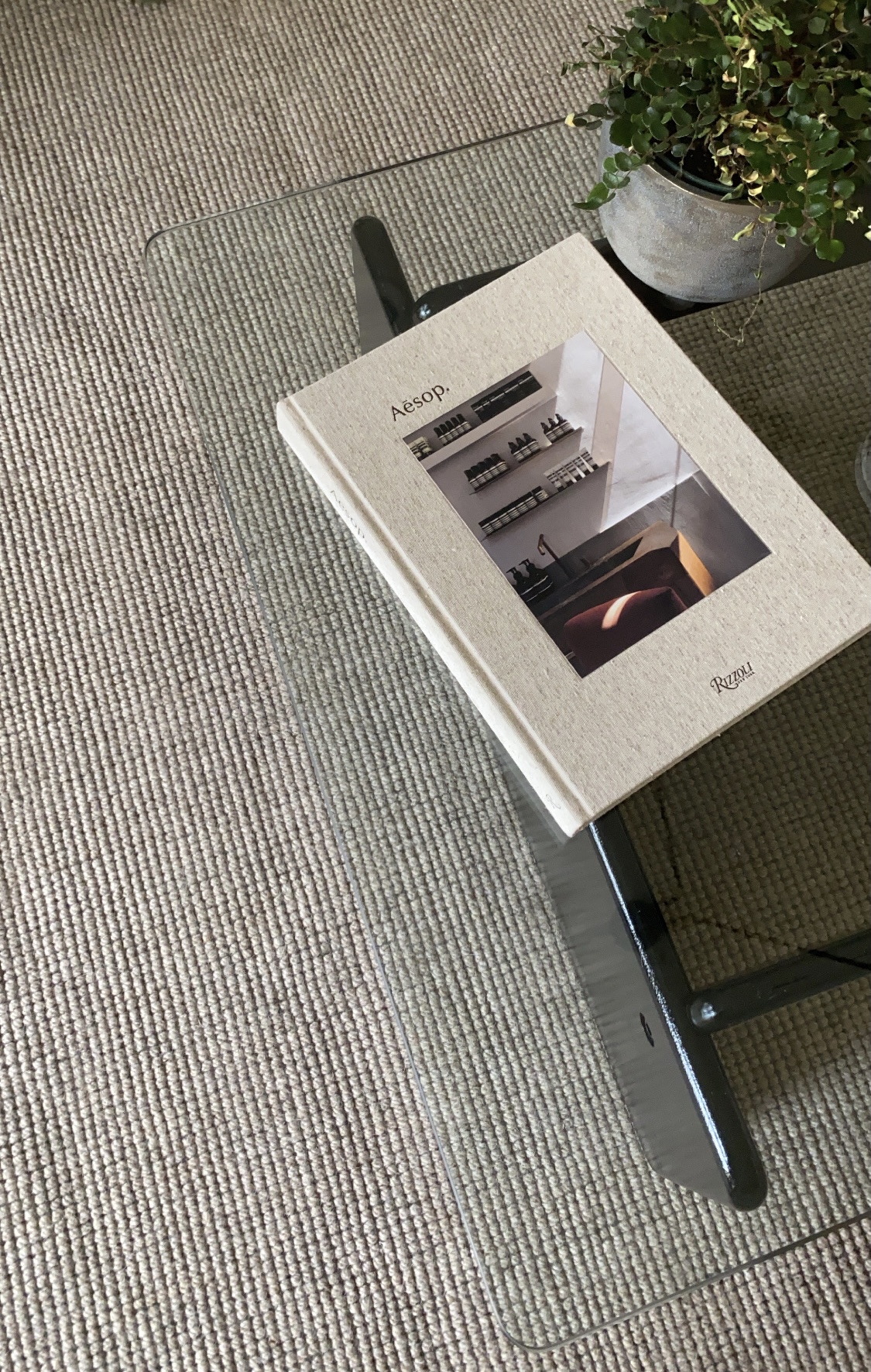 Thank you for following along with my One Room Challenge Makeover. I love sharing the process and hope you feel inspired to join in one time.
Be sure to check out the other guest participants and the featured designers of the Fall ORC 2020.
Check out previous weeks of this room….
week 1 / week 2 / week 3 / week 4-5
And a big thank you to Linda Weinstein and the ORC team along with sponsors Better Homes and Gardens, High Point Market and Sherwin Williams for supporting such an uplifting event for designers and enthusiasts.
xx
Jennie